In 2020, minimalist yet contemporary countertops are taking over most kitchens. The latest kitchen worktops are a blend of creativity and innovation that do not compromise with accessibility, elegance and functionality.
Countertops serve as the functional centrepiece in modern-day kitchens, bars or bathrooms. When purchasing a countertop for your kitchen, it becomes essential to choose the right type of material. Similarly, you may wish to have one that could stand against everyday wearing while being low maintenance.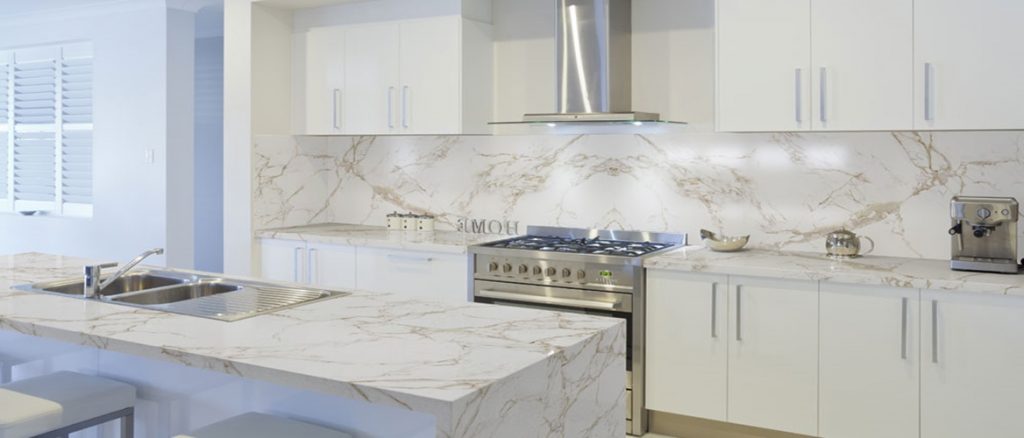 There are many kitchen worktop suppliers in the market, offering high-end Howdens kitchen worktops and other stone surfaces that are renowned to be both highly durable and functional. Good-quality worktops can withstand nicks, scratches and burns, as well as combat high moisture and heat levels.
Therefore, it becomes important to select a suitable and stylish material that matches both your budget and lifestyle. This is a beginners' guide to help you understand different types of kitchen worktop materials. It also explains why each stone is different from one another. In addition, this guide will help you find out the trending 2020 kitchen countertops that you can incorporate in your cooking space, making it a focal area of your kitchen interior.
Budget is important
Before jumping into the different type of kitchen surface materials, you need to consider your budget. It is not important to break the bank just to make your kitchen look stylish. You need to consider your budget and accordingly select the appropriate countertop material for your kitchen. No matter whether you are refurbishing, renovating or building a new kitchen in your house, you need to estimate your budget according to the materials required for the space. After that, you can begin browsing and choosing the kitchen worktops that fit your budget and personal style.
Popular kitchen worktop choices for 2020:
Once your budget is set, you can choose from the many kitchen countertop materials that are trending in 2020.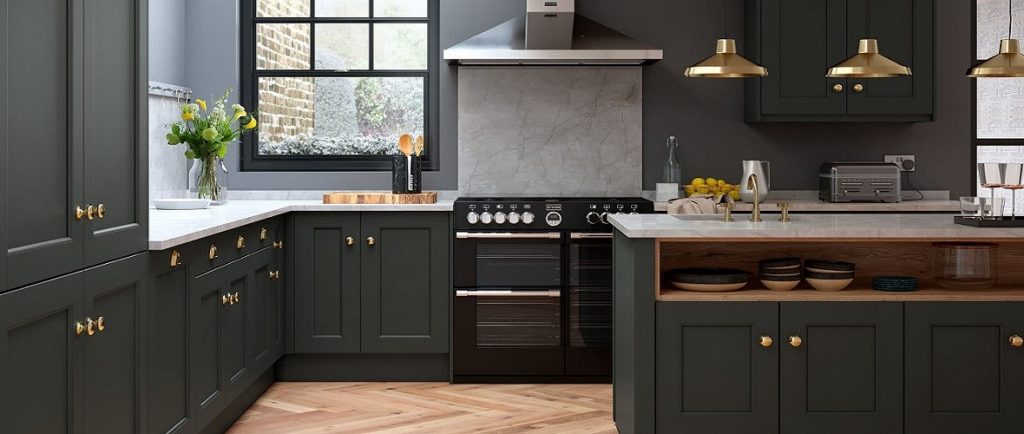 1. Natural Stone Countertops
Natural stone countertops are durable, versatile and long-lasting. Meanwhile, they also increase the value of your home or office. Some common types of stone worktops London are marble, granite and limestone. They all are amazing worktops for your kitchen; however, they require sealants to protect the surfaces against staining. We at MKW Surfaces install all worktops making them sealant treated. This is perfectly fine for residential spaces although you may wish to have a different choice for high-traffic areas such as in commercial spaces and projects. In terms of residential kitchens, homeowners often choose them over any other worktop material due to their timeless and classic appeal. Furthermore, natural stones are available in an almost limitless number of natural colours, tones and patterns to spruce up any interior.
Marble countertops
Marble kitchen worktops are timeless and classic for any kitchen style. Marble is a popular choice of kitchen worktops since Roman times and it is also known for its sturdiness, versatility and elegance. 
Kitchen marble worktops are naturally formed from calcium carbonate and come from a similar stone family as that of travertine and limestone.
Marble is available in a huge variety of colours, depending on the region where it's quarried. Marble slabs are perfect for kitchen worktops where homeowners want some dramatic veining.
You only need to take minimal care of this stunning worktop material, as it may be prone to staining when not sealed properly o when exposed to colourants due to its porous nature. It is also limited to cleaners that are PH neutral, using warm water and damp cloth. In addition, you may wish to get your marble worktops sealed every 18-24 months to prevent instances where staining may occur.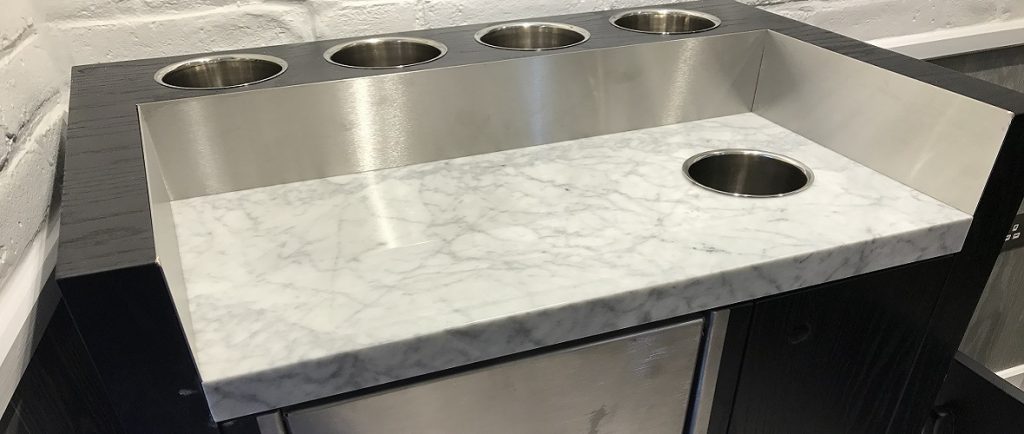 Granite Countertops
Granite kitchen worktops are among the most famous kitchen worktop materials. However, installing a granite countertop is labour-intensive and requires professionals to get them fixed into your kitchen. But once installed, this worktop material gives stunning ambience to your overall kitchen design that you and your guests couldn't resist admiring.
This stone is also available in a wide variety of sizes, colours and patterns. No two patterns of granite are ever the same. This means if you install granite slab as your worktop, it will be unique, and no other property will have the very same pattern. Compared to marble, granite is more resistant to staining, scratches and chipping. Therefore, it is historically speaking, a preferred choice for kitchen worktops, which has only recently been matched in popularity by quartz worktop materials.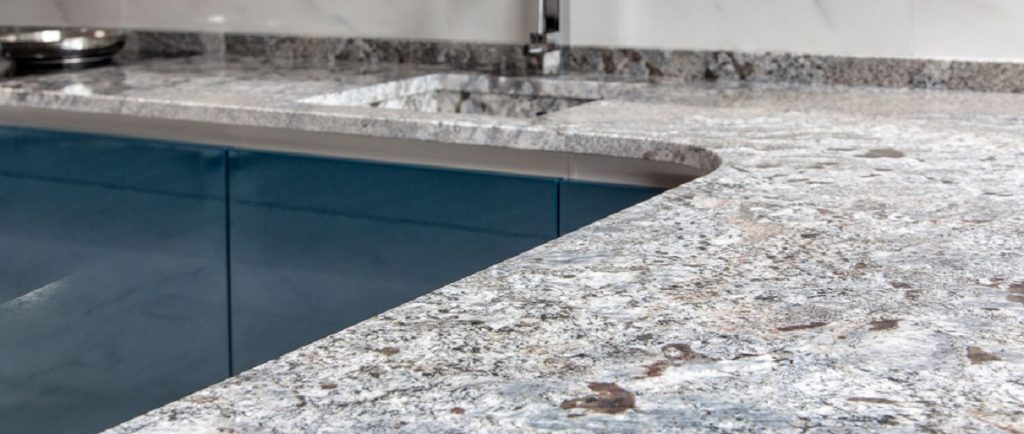 Quartzite Worktops
Quartzite kitchen worktops have become extremely popular over the last five years. This is due to the exotic looks and striking patterns that are found in natural quartzite. In addition, the number one characteristic of quartzite is that it can offer the look of marble but the strength of granite. This is a unique feature to this beautiful natural stone.
Quartzite are composed of crystallized quartz grains with a glossy appearance. As previously mentioned, it also provides you with marble-like patterns to give your kitchen the feel of natural stone, while eliminating the problems associated with natural marble worktops.
This stone is available in different sizes, thicknesses and colours. White Quartzite and Grey Quartzite seem to be the most popular shades and colours currently although the material is also found in Red, Green, Black, Blue and other exquisite colours and materials proper from this stone.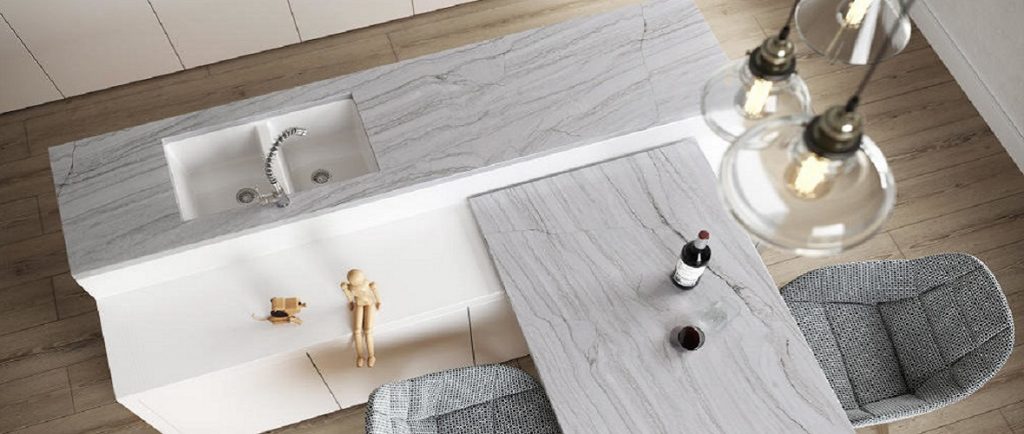 Slate Worktops
Slate is a fine grain stone that is formed from volcanic ash. Traditionally, slate is used on roofing and memorial applications. More recently and with the advance of new quarrying and transport systems, Slate Kitchen Worktops have become popular in some spaces.
The beauty of Slate is that it can offer an aged look from day one. It is popular in honed finish which accentuate marks and usage of its surface. It is an ideal stone for those working on classic designs and for those who don't mind some marks showing the use and personality provided to the stone by its owners.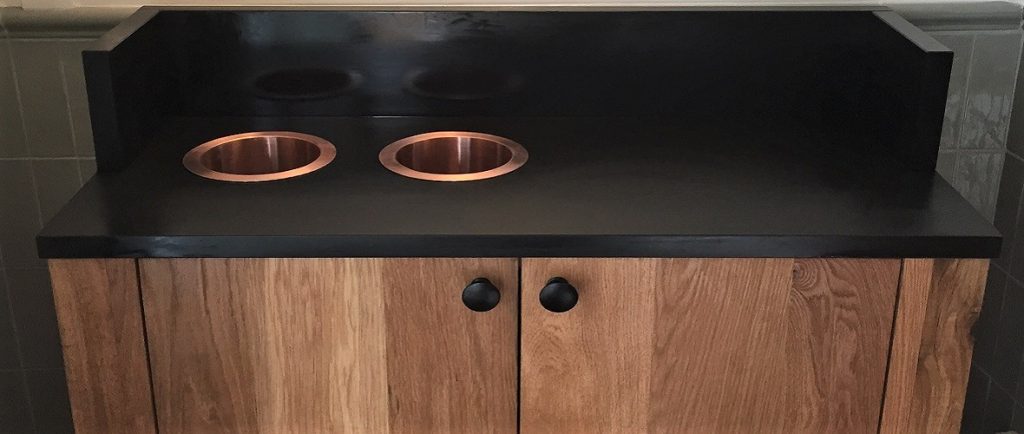 Limestone
Limestone worktops can completely transform your living room or bathroom's appearance with its gorgeous appeal. It is one of the most beautiful natural worktop materials that look like marble. Hence, it can make any interior feel more dramatic and luxurious at lower prices.
It is durable, but it does require annual sealing to protect it against stains. Nowadays sealants are both inexpensive and very easy to apply. In addition, regular cleaning with warm water and clean cloth is enough to enhance its longevity.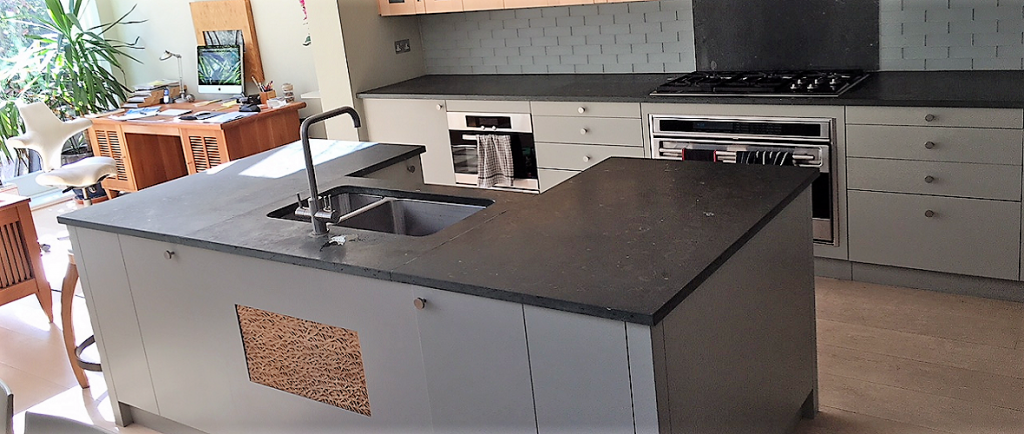 Travertine
A Travertine worktop is a form of limestone extracted from mineral springs. It has a fibrous appearance and is suitable for modern bathroom worktops or kitchen splashbacks. It is usually available in white, cream, rust, tan and silver colours. This means it can be matched with any interior decor, keeping the preference of the users in mind. In a similar way, it is best to keep travertine for horizontal applications such as claddings and furniture. This is because Limestone countertops contain calcium which may lead to etching if exposed to acidic liquids or foods.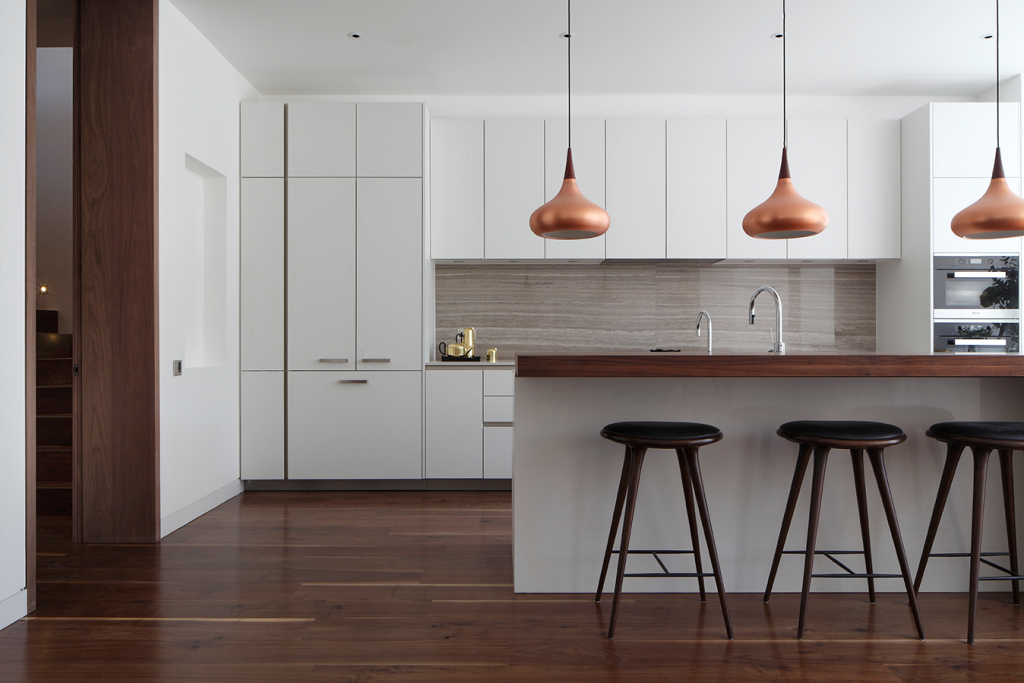 Onyx
Onyx worktops are made from semi-precious stone. Natural Onyx is mainly that's composed by quartz and silica, along with a glassy look. This is a popular type of surface featured in different types of interior designs and architectures. Onyx comes in the shades of white to brightly hued layouts that you may see in the colour spectrum. This natural stone is used to create a focal point in any place like steam rooms, kitchens, reception desks, saunas, bar tops and wall cladding. In addition, many Onyx stones are translucent which enables users to apply stunning backlit effects to embellish any room.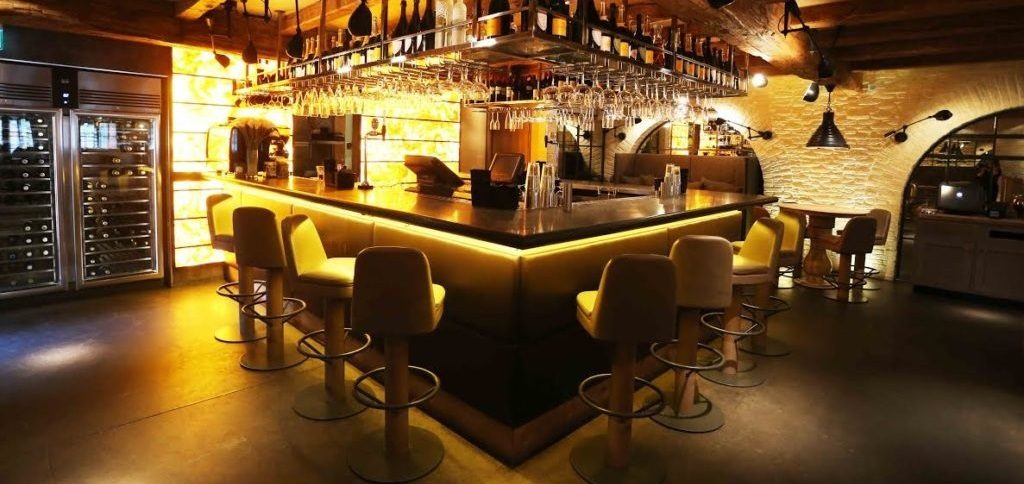 2. Man-made stone
Historically speaking, the first man-made stone were terrazzo designs. Composite marble also known as pre-cast Terrazzo marble is available for most properties since approximately 1970. With the advance new technologies, more surfaces come to the market, making waves across the architectural and design arenas. Similarly, Quartz worktops, also know and Engineered Quartz, was created in the mid 80's. More recently, there is a new breed of man-made materials that can be used in interiors and exteriors of any type. Sintered stones, also known as sintered porcelain and Ceramic worktops are becoming increasingly popular due to their amazing looks and lightweight characteristics when compared to other stones.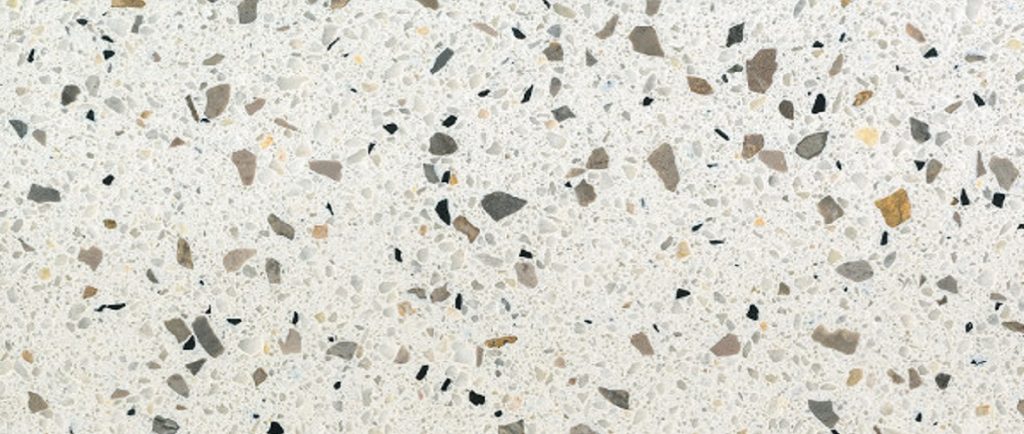 Quartz is a famous man-made or engineered stone that's available in endless designs and colours. Caesarstone kitchen worktops are one of the popular brands of quartz alongside Silestone kitchen worktops that many UK homeowners prefer due to their durability, design and functionality. Likewise, Compac quartz worktops are another renowned form of quartz that spruce up modern kitchen designs. More recently, popular brands that include CRL quartz worktops and Unistone quartz worktops have also become popular in the UK due to the mix of good quality and affordable prices they can offer.
Quartz is even designed to mimic the appearance of natural limestone, granite and marble. This means if you want the look of marble or limestone into your kitchen but don't want to bear the problems associated with those materials, choosing quartz kitchen worktops is one of the best options.
Quartz is available in a huge variety of designs, thicknesses, colours and patterns. The following are some trending quartz worktops that you need to embrace in 2020 for your kitchen worktop.
Silestone
Silestone kitchen worktops are made from approximately 94% natural quartz that makes this countertop material extraordinarily resilient and hard. It is a perfect worktop material for kitchens, flooring and wall cladding, as it requires a minimum number of joints while installation. Silestone is the leading quartz brand in the world which means you can rest assured your investment is well protected. Silestone worktops come with several exclusive benefits to the brand such as Bacteriostatic protection and the N-Boost treatment, protecting your kitchen surfaces at a molecular level within the stone.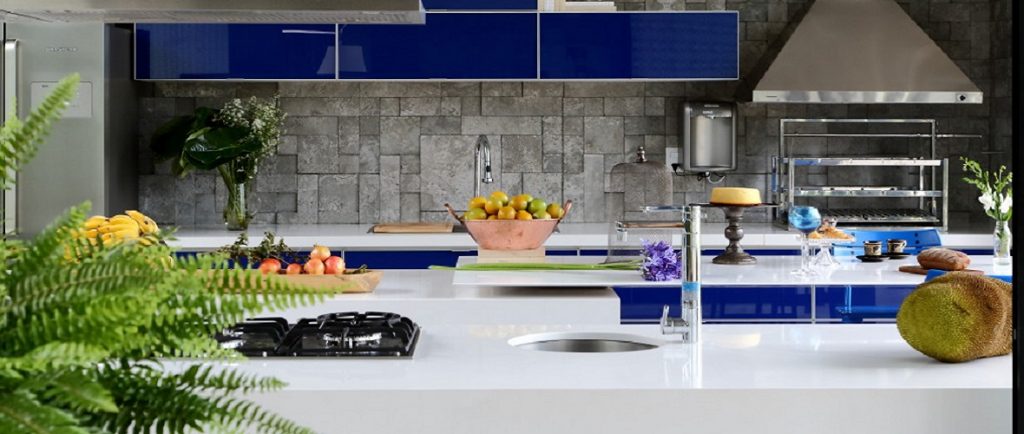 Unistone
Unistone quartz worktops are made from high-quality composite quartz material that is designed to meet the toughest demands of homeowners, along with an unbeatable functionality. It consists of 93% natural quartz, as well as granite minerals, blended with colour pigments, resin and other selected ingredients to ensure consistency, durability and resistance. It is a unique amalgam of beauty and functionality. Unistone is made in Vietnam under strict Breton-stone guidelines, ensuring the surfaces have the highest levels of quality during their production.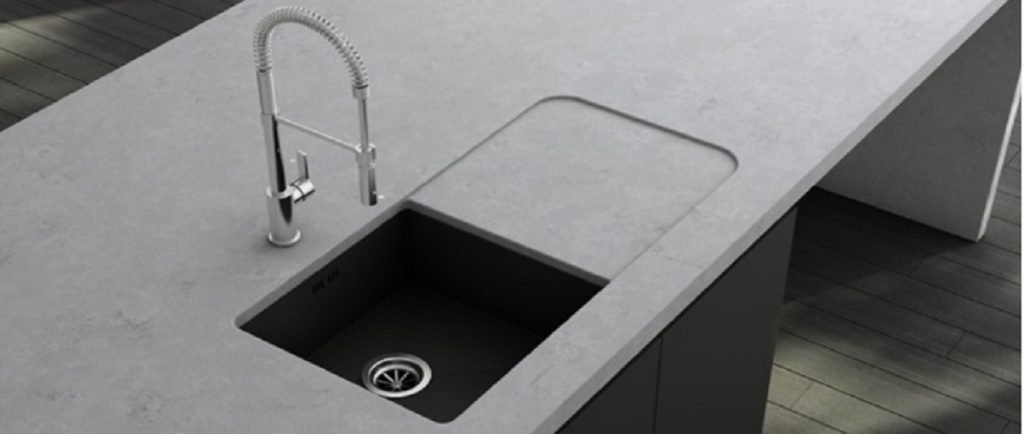 3. Other worktop materials:
Soapstone Countertops
Soapstone worktops often come in dark green to greenish-black colours. You can even find them in lighter greyish tones. This worktop material is available in smaller slabs, which makes the seams almost visible in the countertops that are longer than six feet. If you don't mind seams, it is a great material to consider for your kitchen. It can even withstand heat and acidic materials, making it a good choice of material for any busy kitchen. It also has non-porous nature that makes it resistant to stains. But the only downside is that it is susceptible to deep indentations and scratches due to its soft surface.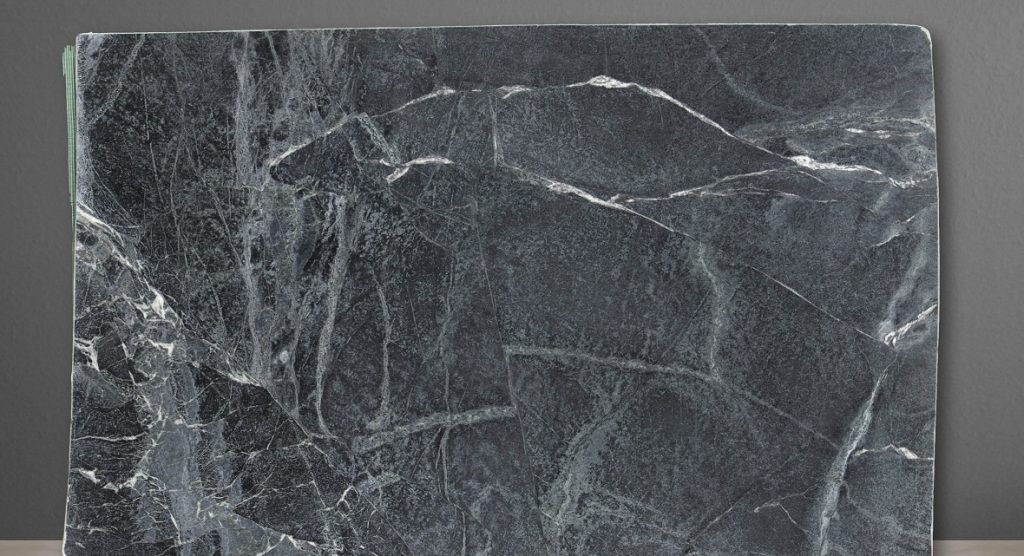 MAGNA Glaskeramik
MAGNA Glaskeramik is a product made from 100% recycled glass, industrial and glass bottles, becoming a fully recyclable worktop and surface material. It is made by using crystallization technology in which hand-made processes during its production enable the surface to acquire unique translucency. It results in a glass surface that allows a crystal-like brilliance and backlit effects. The fact that each slab is made individually, ensures the uniqueness of each surface whilst maintaining its result as a fully recycled glass slab.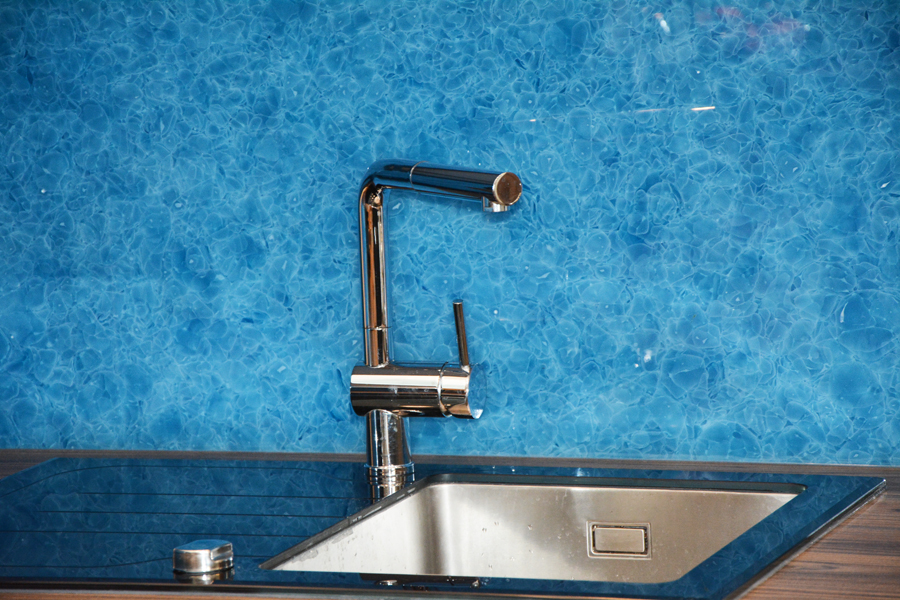 Ceramic Tile and Worktops
Porcelain ceramic tiles are available in different sizes, patterns and colours. You can choose from outlets such as Wickes worktops, Howdens or Wren Kitchens to match your home interior. However, one historic downside of this material is that it needs grout maintenance to avoid any potential breakage. However, with the recent popularity of sturdy surfaces for interiors and exteriors, some of the renowned tile manufacturers have focus their attention to making extra-large ceramic slabs that can also be used for worktops.
Some of these brands include Laminam, Ceralsio and Fiandre Ceramics. They offer a wide selection of beautiful ceramic worktops that can be used in both interior and exterior kitchens.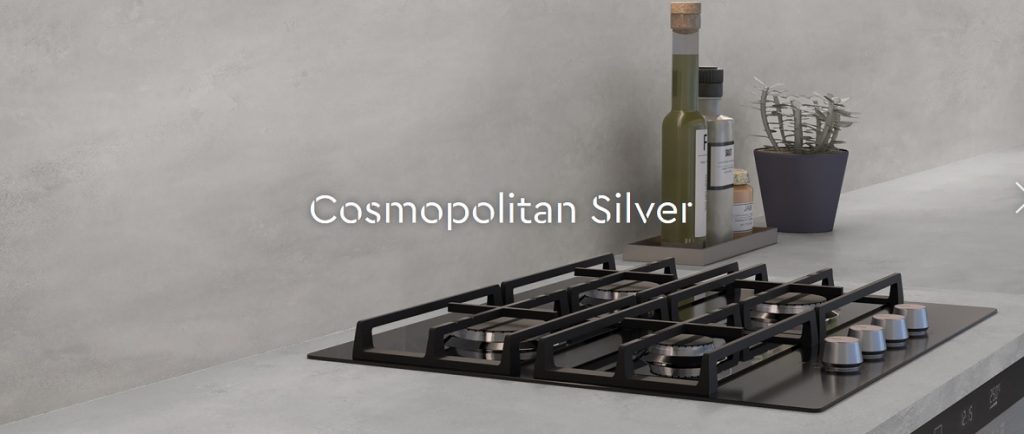 Neolith Countertops
Neolith kitchen worktops consist of a mixture of porcelain, quartz and ceramic. This worktop material is highly scratch and impact resistant. Neolith countertops are available in satin, silk, polished and river-washed finishes. Therefore, it is suitable for any type of kitchen interior or exterior theme.  Neolith offers a light-weight product that can mimic wood, marble, oxidized metals, and almost any decoration surface you can imagine with great ease. Not only that Neolith Worktops are exquisite to look at, but they are also extremely easy to clean.
Dekton kitchen worktops
Dekton Worktops are amongst the most popular materials for 2020. They are available in many colours, patterns, thicknesses and finishes which makes these extremely versatile. Dekton surfaces are made by mixing an exclusive formula made from raw materials at very high temperatures. The product is compressed by a machine that matches the pressure of the Eiffel Tower times three, resulting in an ultra-compact worktop material that can be used in both interior and exterior spaces.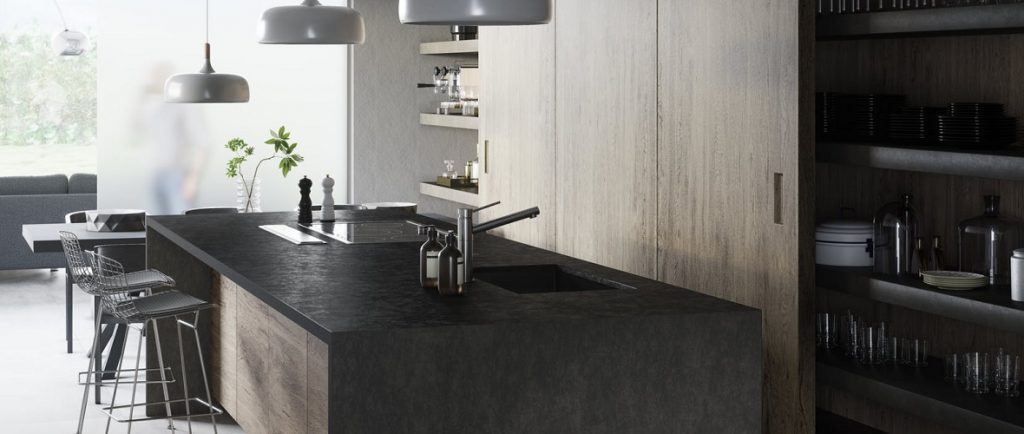 Terrazzo worktops
It is the newest kitchen trend and homeowners can't stop talking about it in 2020.  Originated in Renaissance-era Venice, terrazzo worktop is made from a technique that required fragments of precious natural minerals like quartz, granite or marble. These minerals are fused together to form an innovative speckled mosaic effect.
Due to this process of manufacturing, you can have an endless number of terrazzo worktops in different fragment sizes and shapes that can further be combined to form a diverse array of looks for your kitchen interior.