Grey Kitchen Ideas: Materials and Brands to Create your Ideal Room
Many of us like to browse through decoration magazines and online catalogues to get ideas, or just to enjoy beautiful spaces. If you are one of those people, you may have realized that grey kitchens are very much in vogue. And no wonder why: the many shades that grey has to offer, along with the different ways in which it can be combined and accentuated, make for a beautiful, elegant choice for any given space. That is why we have gathered some grey kitchen ideas to answer the main questions that people usually have when considering this colour for their homes.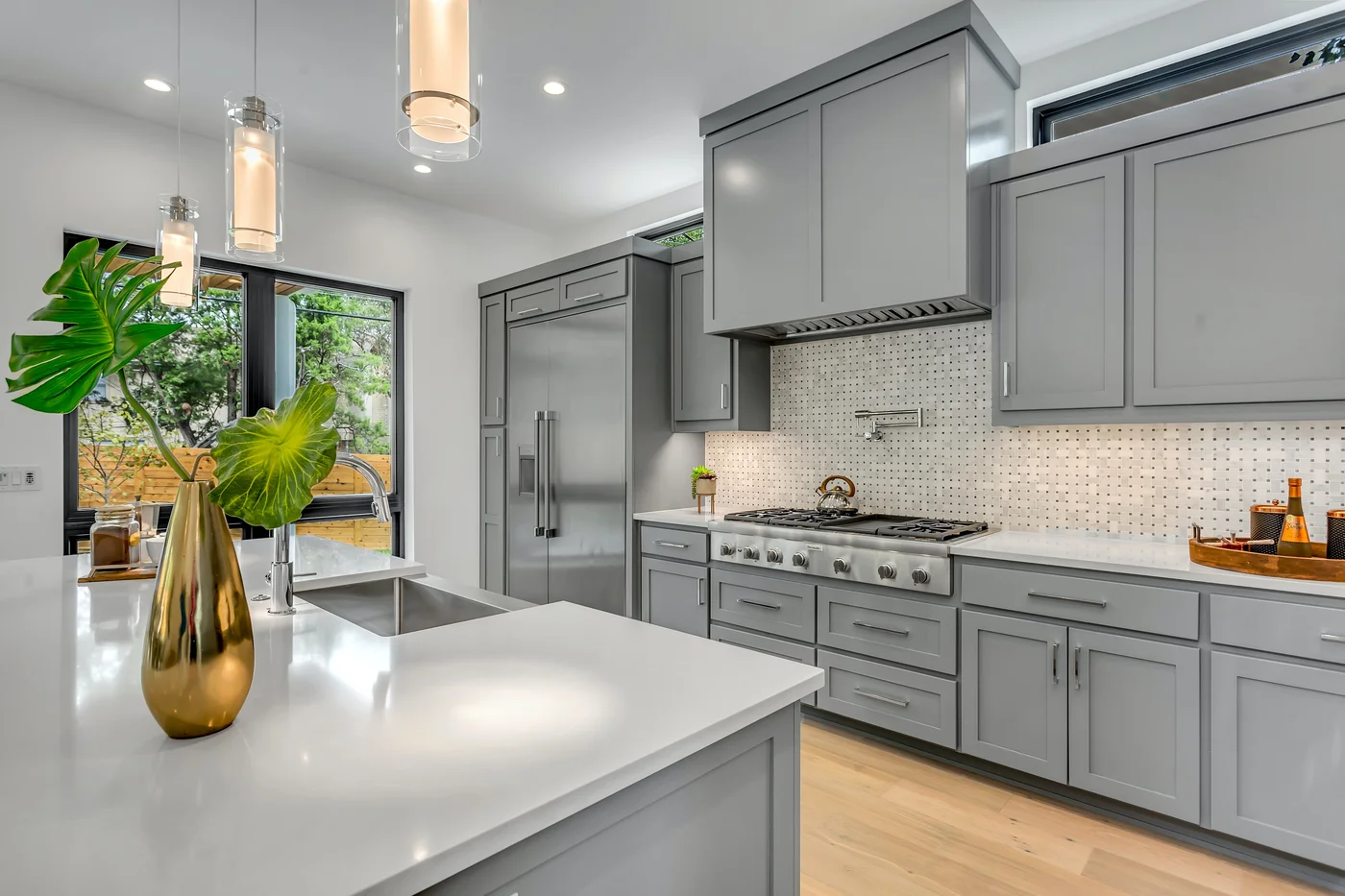 How to Style a Grey Kitchen
So, you may have decided to go for a grey kitchen, but now the big question arises: how to do it? Grey is a great choice if you want a modern look for your kitchen, but not all grey kitchen ideas are equally good. For instance, if you choose grey kitchen cabinets and grey walls, you should get a lighter colour for your worktop and floor, specially if your kitchen is not very big. In fact, when working with these shades, the key is to play with contrast and accents. Let's see how.
What Colour Goes with Grey Kitchen Units?
We have got some fantastic options to share with you if you are wondering what colour goes with grey kitchen units. Selecting colours can be challenging at times, particularly when going with a grey scheme. But do not fret! We'll provide you with some important choices to help you make a choice.
As we were saying, grey is a great option for modern-looking and elegant kitchens, but it needs to be used wisely. You can take advantage of this opportunity to show a bit of yourself in the decoration of this essential part of your home. By playing with lighter and darker shades of grey, or even with bold colour contrasts, you can create a more elegant and refined space, or a fun and unique room.
If you prefer the former, we recommend using the same shade of grey in your kitchen cabinets and walls, so there is a continuity in the upper part of the space. Then, introduce lighter colours like white or creams through your worktop and floor, and you will get a spacious and airy feel. Matt-finished cabinets go specially well with big spaces, whereas glossy furniture is usually left for smaller kitchens.
The right colour combination can completely change a space when it comes to light grey kitchen ideas. The grey and white kitchen combination is a timeless option that offers an elegant blend of colours. Imagine this: The combination of modern grey kitchen cupboards and a spotless white worktop – It is beautiful and attractive.
The beauty of grey kitchen units lies in their versatility. They serve as an excellent canvas for various colour schemes. For instance, incorporating vibrant accents like citrus yellows or aqua blues can add a refreshing pop to the room. Transitioning from light to dark tones within the grey palette itself can create depth and character.
Experimentation is key! Consider adding wooden elements or metallic finishes to complement the grey and white ensemble. These touches can infuse warmth or a touch of contemporary style, elevating the overall aesthetic.
Grey kitchen cabinets offer a great base for any style, from a bold statement to a minimalist feel. With the right transitional colours and smart additions, your kitchen can effortlessly exude sophistication and charm.
What About the Worktop?
Grey kitchen worktops are also a very popular choice nowadays, but we would not recommend one of those for a grey-themed kitchen. Your worktop is actually a great opportunity to introduce a different shade or feel to your design, so you should consider it carefully.
Among the grey kitchen ideas of great designers, there is one that always makes the cut: a grey natural marble worktop. The contrast between the beautiful veins and the plain cabinets adds texture and depth to your design, along with an elegant, timeless look. 
Black slate worktops are also becoming increasingly popular for all types of kitchens, and the contrast between a light grey kitchen and a dark countertop will create a modern and unique space for you and your loved-ones.
Speaking of contrast, there is no reason why you should make do with a grey and white kitchen if you are craving some colour. When you match a grey kitchen with white worktop, magic happens! It's like adding a touch of class and modern vibes to your kitchen. Picture this: the calming grey sets the mood while the white worktop brings in this fresh brightness, making the kitchen pop. The way these colours blend? So elegant, trust me! It's likeadding up a new dimension of flair and style to your kitchen.
Whether you're into that contemporary feel or prefer something more classic, this combo fits right in. It's that perfect mix of subtlety and energy, making any home feel just right.
The good thing about grey and is that it goes well with many other shades. So why not combining your grey kitchen cabinets with a glossy white or red glass worktop? With grey kitchen ideas, the sky is the limit! 
Should the Floor be Grey as Well?
As we have repeatedly stated throughout this post, there are no good or bad grey kitchen ideas, it is a matter of how well you combine one idea with the rest. So, if you want a grey concrete floor for your kitchen, that is fine! You will actually get a very modern industrial feel that many important designers are crazy about at the moment. Moreover, you could even choose some porcelain grey kitchen tiles, as long as your cabinets and walls have some different shades and accents. 
However, we must admit that our personal favourites, specially for a dark grey kitchen, are the classic grey and white or grey and wood pairs. The lighter, warmer tones give your kitchen a homey feel, and add light to a space that, at the end of the day, needs to feel welcoming and cosy.
Will Grey Kitchens Ever Go out of Style?
Whether you decide that you prefer a light grey kitchen with warm accents (for instance, metallic handgrips) or a large dark grey kitchen with matte-finished cabinets, one thing is clear: these grey kitchen ideas will never go out of style. 
Grey and white kitchens are a classic, and a timeless, modern choice at the same time. At the end of the day, it all comes down to one thing: one needs to be careful when choosing the details, like the right splashback for your kitchen, the perfect colour for the walls or the right worktop. 
For the latter, do not forget to browse through our online catalogue. My Kitchen Worktop works with the best providers in the United Kingdom, and our experts will be happy to help should you have any questions regarding the design of your kitchen.
Published by Jesus Alberto Mouzo on June 14, 2022