Caesarstone quartz is a versatile and durable worktop material that doesn't require much maintenance or cleaning routine. However, you need to clean it after preparing food to maintain its beautiful finish for several years.
Caesarstone quartz combines luxurious appeal with unbeatable durability and strength. It is one worktop material for which a high degree of maintenance is not needed, hence its suitability for today's busy lifestyle. That said, always keep in mind that it is recommended to clean it after cooking on it, so as to maintain its finish.

Best Tips on How to Clean Caesarstone Worktops
For cleaning Caesarstone quartz surfaces, we suggest you use warm water with mild soap or detergent. You can even use a mild non-abrasive cleaning agent to clean the surface to enjoy its unmatched performance and alluring beauty for years to come.
Minimal Maintenance
Caesarstone worktops are virtually maintenance-free. It is a hard, non-porous surface which is easy to clean and doesn't need sealing to renew its ever-lasting lustre. In many cases, only water and soap or a mild soap are enough for making it look like new again. But if food residues are stuck to its surface, you require non-abrasive soft cleaner and a soft scrub pad for proper cleaning. After that, rinse the surface with clean water and let it air dry or wipe off with a dry cloth.
Dried Spills or Stubborn Stains
For removing any adhered material like gum, food, nail paint, etc., you need to scrape off the excess material using a plastic putty knife. After that, you can use a damp cloth for removing residual dirt or marks. If there are stubborn stains, use a no-scratch scrub pad with the non-abrasive cleaner to clean the surface, as indicated before.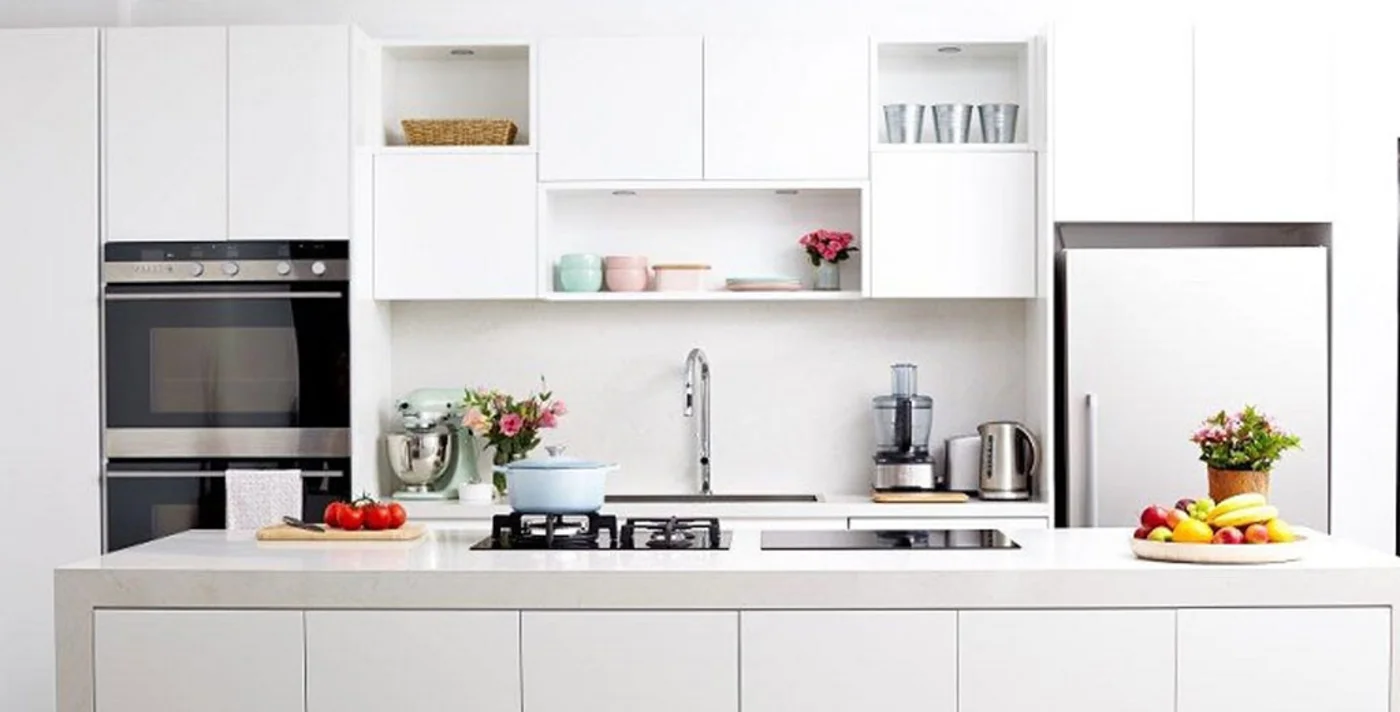 Avoid Sharp Tools
Caesarstone is a highly scratch-resistant material. However, you must avoid using any sharp object like knives or screwdrivers on its surface. You may never know how this tool can accidentally chip off your worktop surface.
Heat Tolerance
Caesarstone kitchen worktops are highly resistant to heat compared to other countertop surfaces like granite, limestone and marble. Quartz is not even affected by low or high temperature. However, Caesarstone can be impacted by sudden temperature changes. Therefore, it is suggested to avoid them as much as possible.
If you are habitual of putting hot pans and pits directly on your worktop surface, you must stop it right away. You should never put hot pots or pans directly on its surface. Instead, use a trivet or hot pad under the hot utensils or cooking units like crock pots, electric frying pans or roaster ovens. This way you will be able to maintain the sheen and elegant of quartz for many years.
Cleaning Agents to Avoid
You must be aware that just like other worktop surfaces, even Caesarstone could be damaged when it encounters strong solvents and chemicals that may affect its physical properties.
You must never clean your Caesarstone countertops with cleaning agents containing Methylene chlorides or Trichloroethane, such as strippers or paint removers. Also, avoid using highly aggressive and abrasive cleaning agents like dishwasher polishing agents and grill/oven cleaners with pH levels between 5 and 11.
Even products containing oils should be avoided when possible, as these agents can leave residue on the surface. If your Caesarstone worktop surfaces become dull, you can mix CIF cream with a little bit of warm water. Use a scouring sponge and rub it around the affected area with circular motions until it becomes a foamy solution. You should then rinse the area with plenty of hot water, to remove any oils whilst restoring the original shine of your Caesarstone work surfaces.
Be careful and never expose your worktop surface to any of these damaging products. When cleaning quartz, the surface must be rinsed thoroughly with water to neutralize the effect of any cleaning agent.
Knowing how to clean your Caesarstone worktops is key in order for it to last years to come. What did you think about all of our tips and pieces of advice? Do not forget that you can contact us in case of having any doubts. Also, you will find more interesting and useful posts on the My Kitchen Worktop's blog.
Published by Jesus Alberto Mouzo on September 13, 2019