A kitchen almost frames the mood, tone and style of the rest of the home. While earlier kitchens were areas where individuals paid the least amount of attention in terms of the design aspect, it is not so today: it is important to know to match a splashback to your worktop.
In modern homes, the kitchens are what showcase your style, your overview of the world and the tone which you want your home to represent. They decide if the home is cosy or edgy, and further, how edgy or cozy it gets. Splashbacks, countertops and upstands make the kitchen what it is, depending upon the material and the design. These are the basic elements in which an individual can experiment and show their artistic abilities. The interiors of a kitchen serve multiple purposes: of course they make for a stylish kitchen, but they also bring a coherent flow of energy, as well as determine how closed or opened up the space looks. One of the biggest confusions that homeowners have in terms of choosing their splashbacks and worktops is whether to make them match, contrast or keep them stark different. If you have this doubt, we bring you easy tips on how to match a splashback to your worktop!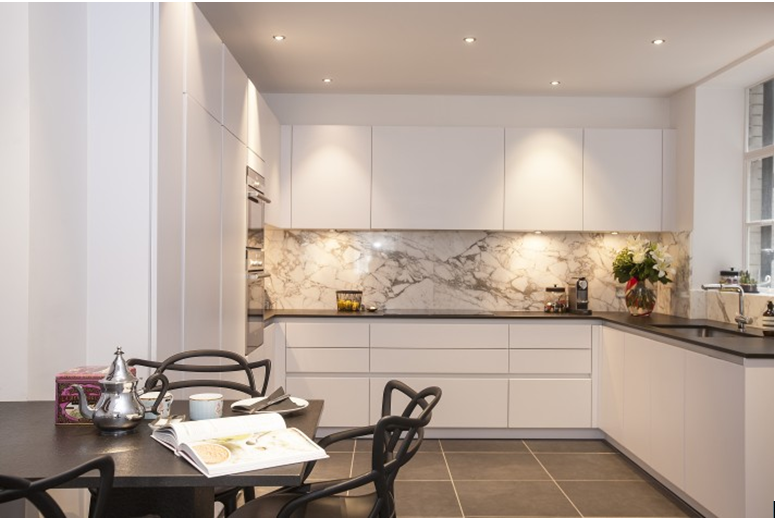 Arabescato marble book matched splashbacks and Absolute Black granite worktops by My Kitchen Worktop 
There are two basic approaches in order to know how to match a splashback to your worktop. Let's take a look:
Style One: Since a large percentage of your budget will go into purchasing the countertop, buy this element first. We suggest choose a granite or marble worktop in UK, which you can not only easily clean, but you will also have a local point of contact if further assistance is required after installation takes place. Once you have chosen the worktop, you can either choose a bare worktop splashback with simple colours in contrast to the worktop or even the same colour. This can either be a simple, pastel colour or a glossy finish. Another thing which you can do is a mosaic tile or a glass mosaic finish, which may use lighter and darker colours in combination. This helps accentuate the whole look of the countertop. 
Style Two: If you are a little style-challenged and don't believe that you can execute the above method to perfection, then a good option is to use the same product for both elements. For example, the style can be done well by using granite or marble for both the worktop and the countertop. Products such as Howdens worktop splashback  are a great option to set the tone of your kitchen. Products such as Howdens worktop splashback are a great option to set the tone of your kitchen. You can buy Howdens worktop splashbacks or granite worktops, as well as marble worktops, in the UK. You should opt for a reliable supplier that has worked with Howdens for a good amount of time, such My Kitchen Worktop, in order to properly know how to match a splashback to your worktop.