Can you put a hot pan on a Quartz Worktop?
If you have been considering changing your kitchen worktop you've more than likely heard about Quartz Worktops in your research. Quartz worktops have a wide variety of colours and designs so you're sure to find something that matches the design of your house.
Quartz Worktops: Heat Resistant, But How Much Quartz Heat Can They Withstand?
One thing you should know is that Quartz worktops are indeed heat resistant, but they are not heat proof, and that means that even though they resist to heat, they can be damaged if exposed to too much heat.
If a countertop is resistant to heat, it is more resistant to flames. Since most fires start in the kitchen, getting a fire-resistant countertop substantially reduces the chance of small fires spreading. 
Heat-resistant countertops last longer and are not damage prone, saving you unnecessary costs in repairs or replacement. 
But mistakes happen, and if this happens to you, It's not the end of the world. If you for instance placed a very hot pan on your quartz, you'll almost immediately would see burnt marks that are usually brown or yellow, and that does not mean that the worktop is ruined forever. When this happens it's usually because the resin in the Quartz got burnt – but we at My Kitchen Worktop never give up, and when something like this happens, we would do everything to repair it.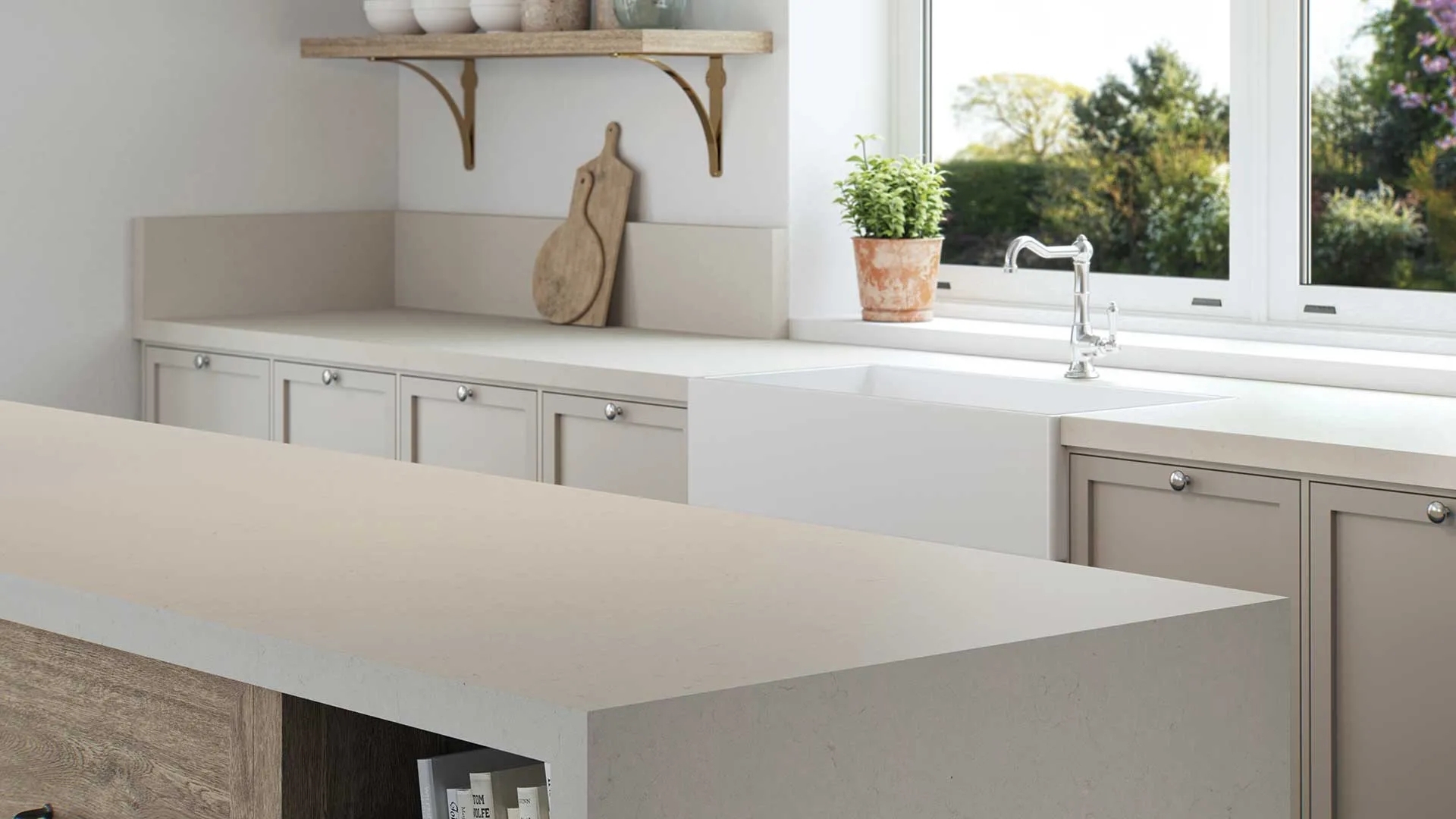 Here are some tips to prevent heat damage on your quartz worktop.
Please don't sit or stand on your quartz countertop – While this might sound really silly, this is one of the most common things that people do that damage their worktops, so please do not use it as a sitting or a standing tool
Do not wait for spills to dry up – Clean them right away. Spills are the most common things that happen in a kitchen, but while you may be tempted to finish your delicious meal and wait to clean it you can't do it, you must clean them straight away. Please be wary that acidic substances such as coffee, soda, wine and cooking oils can permanently stain your worktop, so you need to make sure you wipe the spills before they dry so they won't stick or stain.
Choose your worktop cleaner wisely – If you want to keep your worktop looking like new all the time you need to e selective with the type of cleaner that you use. Warm water with soap will do the trick. Never use alkaline high products like bleach or glass cleaners, since they can significantly damage your quartz worktop.
Use Hot Pads to protect your quartz worktop from extreme heat – since you now know that placing a hot pan might damage your worktop you should keep protective items near the worktop to avoid accidents like placing a hot pan on the worktop.
Conclusion:
Quartz kitchen worktops are heat resistant and they will protect you against the spread of fire. However, you need to have extra caution because the worktop can be damaged if exposed to excess heat. Please ensure that you use heat protectors such as coasters, hod pads and trivets to protect the worktop from heat damage.