Kitchen splashbacks can instantly enhance the overall look of your cooking space, only if you choose the right material and colour complementing the kitchen theme.
Whether the choice is endless or restricted, purchasing the right elements becomes overwhelming. Here we are referring to the choice of kitchen splashbacks, which are available in plenty of colour and design options these days. You would undeniably like to invest in the ones that not only protect walls from food stains and splatter, but also add to your kitchen's aesthetic appeal. Take, for instance, the kitchen glass splashbacks that make kitchens appear lighter and brighter. Whenever you are out to shop for a kitchen splashback, keep the following tips in mind for an ideal purchase.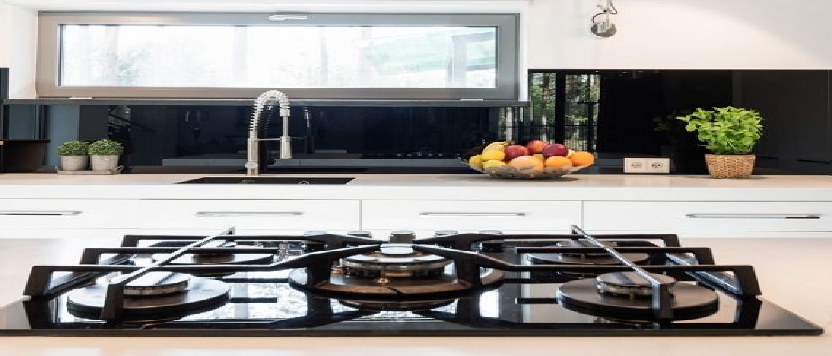 Choosing the Right Material is the Key 
As kitchen splashbacks are available in different materials, you have to choose the one that best suits your kitchen interior. The most common materials used for making kitchen splashbacks are glass, stainless steel, tiles and pressed metal. Besides look and appeal, you need to think about cleaning and maintenance of the material while choosing one for your kitchen. For example, if you want a traditional kitchen look, you must pick tile splashback set behind quartz worktops or the one made of pressed metal. But don't forget that a splashback made of small tiles (mosaic) is difficult to clean. Stone splashbacks give kitchens an elegant and streamlined look, but they are hard to install and clean.
Choosing the Right Colour is also Important
You also have to be careful about the colour choice while picking a kitchen splashback, as it has to be in harmony with the worktop and other elements in the kitchen. Suppose you have installed a pretty white quartz worktop, which you want to be the centre stage of your kitchen, then you should install a minimal splashback that doesn't take away the attention your worktop deserves. Conversely, invest in a bright and attractive splashback if the other elements present in your kitchen are light and subtle. Light coloured splashbacks can create an open and bright feeling; while dark ones hide food stains and splatters well.
A Splashback that can Let in Extra Light
If you feel that your kitchen requires extra light, then glass splashbacks are what you should be looking for. They are like windows that let in extra light during the day and also allow those working in the kitchen to enjoy the fantastic view outside. Besides adding light and brightness to your kitchen, glass splashbacks offer convenience, as they are easy to clean.
Try a Mirror Splashback for Bigger Effect
If your kitchen is not that big, but you wish to make it appear bigger, then you should look for a mirror backsplash. Set against quartz kitchen worktops in not so big kitchens, they tend to give the overall space a bigger effect. However, you should avoid installing mirror splashbacks if there is little natural light in your kitchen.
Don't Forget the Maintenance
It is but natural to feel tempted to install a splashback that looks amazing. However, choosing a splashback based only on its looks won't do any good. You must keep in mind its maintenance also, as cleaning the grout can get problematic with time.
Add Bold Character with a printed Splashback
If you love to give bold statements to rooms and other spaces in your home, then a printed splashback is probably what you should install in your kitchen. Additionally, splashbacks with attractive prints can complement neutral worktops and cabinets pretty well. They can be a decorative element in your kitchen with a simple design. Go for patterns and prints that you love and think would look best in your kitchen.
Published by Jesus Alberto Mouzo on November 23, 2020