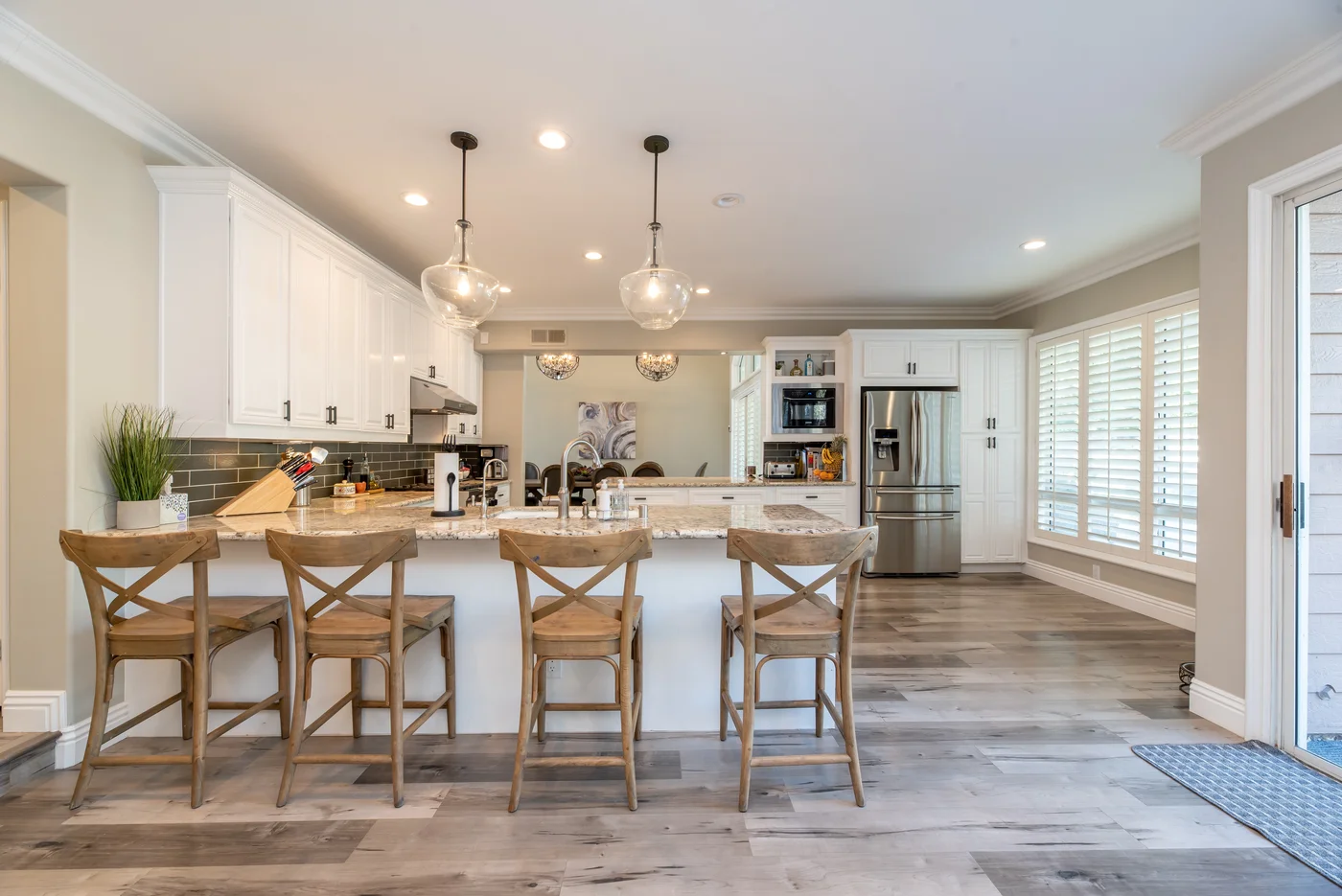 Open-plan kitchens have become increasingly popular during the last decade. Their open layout creates a larger, lighter space and turns the kitchen into the focal point of the house, making it easier to go from the living room to the food prep and dining areas, something specially useful if one likes to have people over.
With that in mind, it must be said that open-plan kitchens are as diverse as the people who use them. Their design and layout depend on the home, the space devoted to them, the tastes of the owner… 
However, there is one thing that almost all of them have in common: the kitchen island. This worktop area, separated from the rest, is not only useful for cooking, but also for creating a sense of separation between the kitchen and the rest of the open-plan room. What is more, if we choose a kitchen breakfast island bar, we are also getting a specific spot to eat, cook and chat while in the kitchen. 
Why a Kitchen Breakfast Island Bar?
So, what are the advantages of choosing a kitchen island with breakfast bar? For starters, it is extremely practical. We all know that it doesn't matter how big our kitchen is, in the end, we run out of space, specially if we are good cooks. However, kitchen breakfast island bars offer an additional worktop surface, extra storage room and, of course, a place to eat. 
In addition, it is a fact that kitchen breakfast island bars become the social focal point of the house. Whether it is an everyday dinner, a special event or just a quick snack, they offer a place to prepare the food and eat it, so everyone involved in the process can stay together without feeling like they are in the way of the cook.
How to Build a Kitchen Island Breakfast Bar: Tips
If you are considering this for your own space, there are several options at your disposal. For example, if you already have a little kitchen island, and you want to add a breakfast bar, you can always expand it. On the other hand, if you are new to this, you can design a kitchen island breakfast bar from scratch and adjust it to your kitchen's layout. There are lots of options: a U-shaped bar, a wall-fixed bar and table, a bar with a table attached… You just have to find the one that works best for your own space and needs.
Best Materials for Kitchen Islands
Apart from the shape, layout and size, the worktop material is one of the keys when buying a kitchen breakfast island bar. As far as colour and texture go, there are basically two options. 
On the one hand, we can choose the same material for all the kitchen's surfaces. For example, if the worktop is made from granite, a long-lasting and exquisite material, we can also opt for a granite kitchen island, so the look of the kitchen is consistent. 
On the other hand, we can turn the kitchen breakfast bar into a contrast item and choose a different texture and shade, such as a wooden finish, which, combined with painted cabinets, gives the space a farmhouse look. In fact, if you are looking for such a style, quartz is also a suitable option for rustic kitchens.
As far as stone materials go, glass is also a popular choice for kitchen islands with breakfast bars, as its wide array of colours allows for a fun and modern look. Actually, if smaller worktop surfaces have a good thing, it is that a bolder and more luxurious material can be chosen without having to worry about getting tired from it or spending too much. So, don't hesitate! If you've always wanted a cascaded marble worktop for your breakfast bar, go for it. 
What is more, glossy surfaces bring more light to your kitchen, so in this case, if you are not sure whether you should choose a matt or gloss worktop, take into account that this is a smaller surface.
Another popular option is to mix materials. For example, if a complete quartz worktop is too expensive because you have a big kitchen breakfast island bar, but you still want that exotic and beautiful finish, you can mix it with wood. This would also protect your stone surface, as it is the wooden surface which would be used for all the 'hard work', such as cutting.
Whatever the material you decide to use, don't hesitate to contact our team of experts in stone surfaces in the United Kingdom. My Kitchen Worktop works with the best suppliers and brands. We will make sure to turn your dreamed kitchen breakfast island bar into a reality.
Published by Jesus Alberto Mouzo on 1st of July, 2022