Pros and Cons of Terrazzo worktops
Terrazzo countertops have become the newest star in kitchen décor. This modern, chic material is a dream come true for homeowners seeking a blend of present-day style and classic charm.
Born in Italy over 500 years ago, terrazzo has witnessed significant evolution since its inception. Traditionally  seen as a budget-friendly alternative to marble, it consists of glass, marble chips, cement, and resin. Today, it's a sought-after versatile material, perfect for those looking to ride the wave of current trends.
Before you join the terrazzo train, let's explore the pros and cons of terrazzo countertops.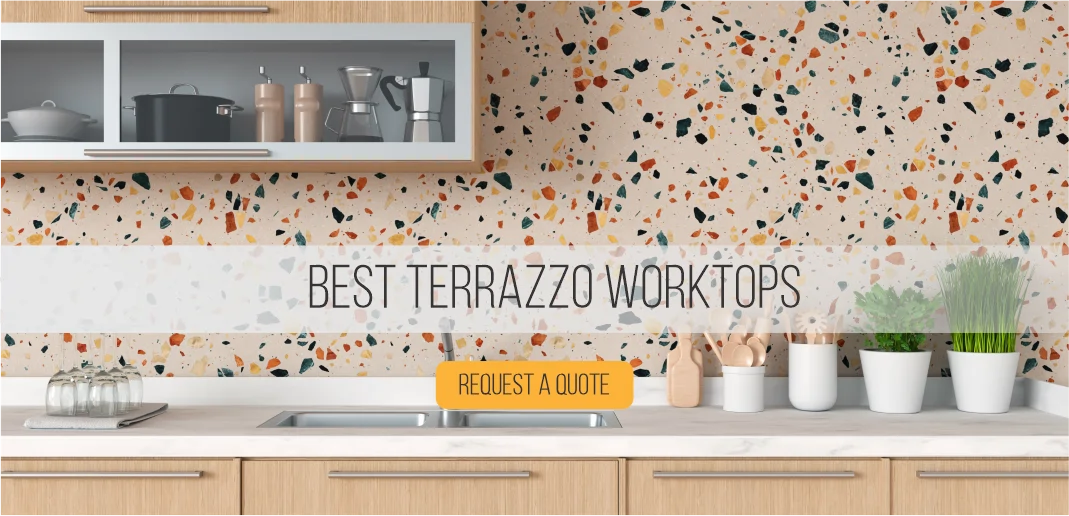 1. ¿Is Terrazzo a heat resistant material?
Modern terrazzo shows remarkable resistance to heat, making it ideal for countertops and backsplashes near heat sources like stoves and ovens.
On a heat resistance scale, terrazzo matches granite, despite containing marble chips. Unlike natural marble countertops, terrazzo surfaces cool down rapidly.
The upshot? You can place hot items on your terrazzo countertop without a heat pad, without fretting about scorches or dark spots.
2. What is the longevity and durability of terrazzo countertops?
Contemporary terrazzo undergoes high compression strength manufacturing, facilitated by a vacuum-and-vibration process. The outcome is a highly compact, durable material that can endure heavy machinery and constant foot traffic.
Comparatively sturdier than traditional terrazzo, new-age terrazzo, such as Aurastone's, possesses a hardness of 4 to 6, making it an enduring choice.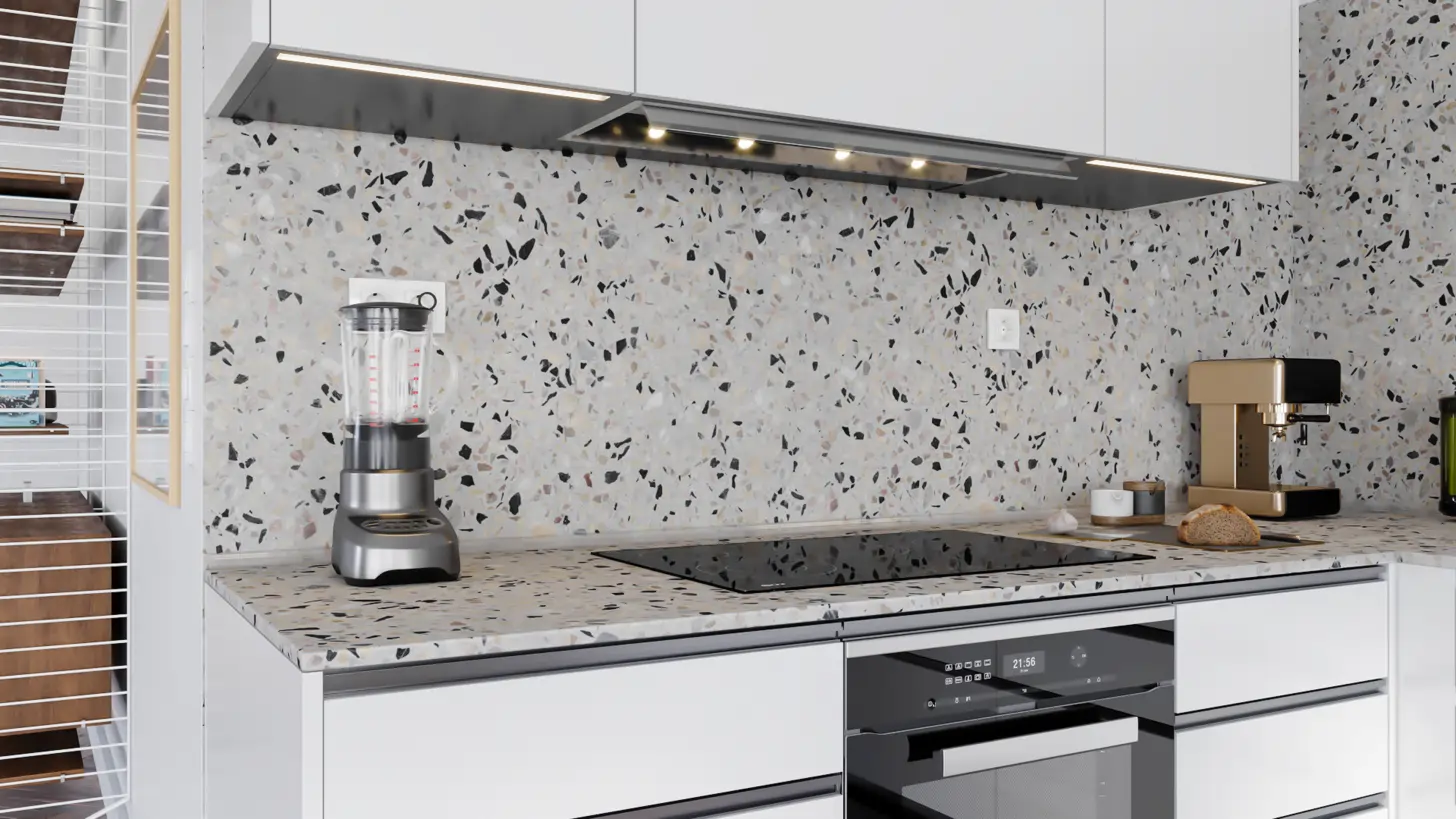 3. What kind of versatile usage can be expected from terrazzo countertops?
Initially, terrazzo was exclusively used for flooring.
Now, its usage has diversified to encompass kitchen countertops, backsplashes, tables, shower stalls, wall claddings, and even staircase coverings.
Terrazzo's resistance to high heat, UV rays, and natural elements also make it apt for outdoor use.
Pushing boundaries even further, terrazzo can now be seen in unique decor pieces like planters, coasters, and lamp holders.
4. How does choosing terrazzo countertops contribute to an environmentally conscious choice?
As eco-awareness grows, homeowners seek greener kitchen materials. Terrazzo fits the bill perfectly.
Terrazzo comprises numerous recycled materials like various stone chips (marble, granite, quartz) and glass fragments, all combined with cement and resin to form distinctive slabs.
This utilization of recycled elements and the lack of volatile organic compounds (VOC) in the production process make terrazzo a more sustainable choice.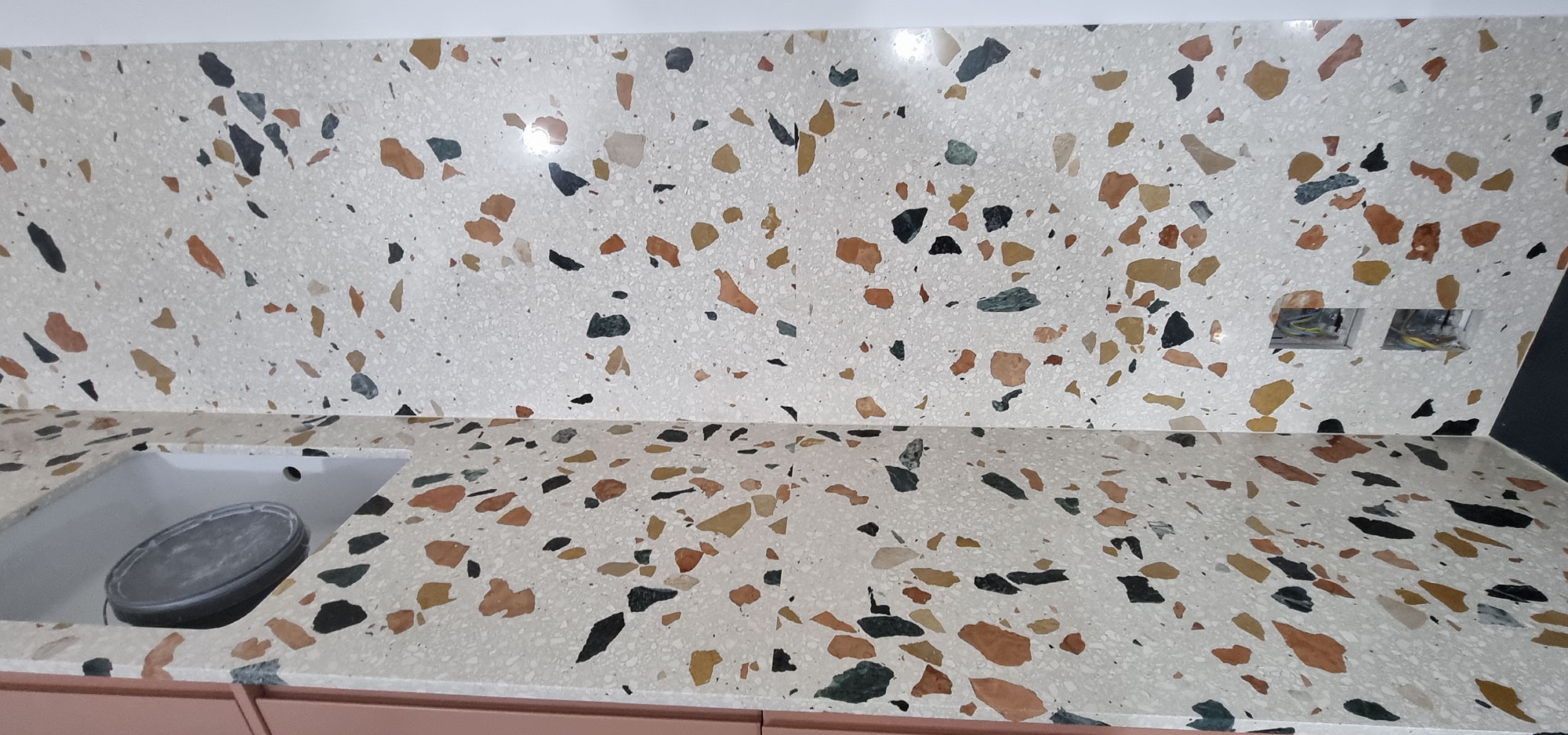 5. What variety of colour options are available when choosing terrazzo countertops?
With an array of stone and glass fragments, terrazzo offers a broad spectrum of designs. From minimalist neutral hues to vibrant specks, it can seamlessly integrate with your contemporary home.
Featuring a myriad of bold, beautiful colours, each modern terrazzo design promises a unique blend of veining, colour, and tone, adding a stylish allure to your space.
6. How trendy are terrazzo countertops in current interior design?
Hoping for a timeless, classic design that might also boost your home's resale value?
While the enduring appeal of marble and granite is undeniable, the future trendiness of terrazzo might be worth considering.
While terrazzo's distinctive style might not appeal to everyone, and its trendiness may not be everlasting, its recent comeback suggests it's here for the long haul.
7. What are the challenges faced when repairing terrazzo worktops?
Proper terrazzo installation is crucial as it can crack if not installed correctly.
Although repairable, fixing terrazzo can be relatively challenging and expensive. Thus, entrusting installation to professionals from the onset is advisable to avoid potential future damages.
Are Terrazzo Countertops good for you?
With modern technology and innovative manufacturing processes, today's terrazzo outshines its predecessor, offering higher resistance, low maintenance, and versatile design options.
Ready to embrace the terrazzo countertop trend? The choice is yours!.