Replacement Kitchen Worktops
If your kitchen worktops are starting to look a little old, dull, or worn, you may be thinking about remodeling your whole kitchen. Obviously, replacing your entire kitchen is an expensive, time-consuming, and potentially nerve-wracking process. Sometimes it's worth it, but have you ever considered that simply installing replacement kitchen worktops could have the same effect?. Well, if you want to replace kitchen worktops, we might have some news for you. Here's everything you need to know if you have to replace kitchen worktops, or you are thinking about it!

Here at My Kitchen Worktop, we offer a wide range of quartz, granite, or natural marble countertops among many other materials. Any of these could be the perfect choice for a replacement kitchen worktop. However, we understand that many people may be hesitant at first about replacing kitchen worktops, fearing that they will end up with an ill-fitting work surface and or damaged cupboards. 
For that reason, we'll address the most typical concerns surrounding replacement kitchen worktops as an alternative to a complete kitchen remodel. Read on to find out why you shouldn't delay ordering a new countertop any longer…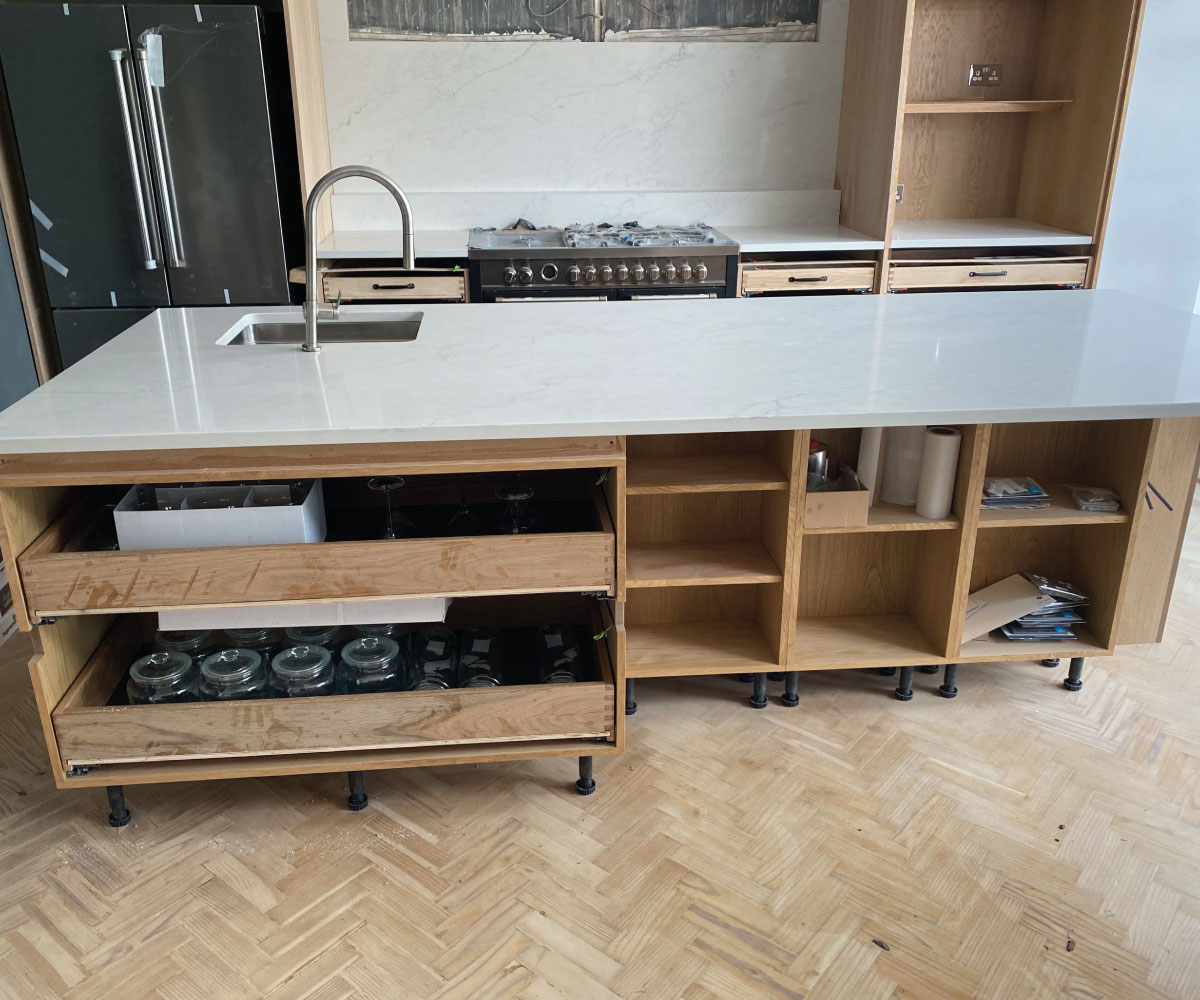 Breaking your fears: we explain it all
Will replacement kitchen worktops damage my cabinets?
One of the biggest reasons to replace kitchen worktops is worn-out, mundane, stained or old countertop. If a dull, stained worktop makes your entire kitchen look tired, replacing it can radically transform the appearance, but the last thing you want to do is damage the rest of your cupboards in the process. The good news is that installing replacement kitchen worktops shouldn't cause any damage to the rest of the elements in your kitchen.
What's more, the worktop installation will be carried out by a professional from our team. Thanks to our installers' wide experience and attention to detail, you're guaranteed to be more than blown away by the final look. And of course, there will be no damage to your kitchen furniture!. Rest assured about your cabinets or any other kitchen furniture because when you replace kitchen worktops with our stunning worktops, you simply jazz up your kitchen with the best, without damaging any other element.
However, you must be careful to cover the cabinet doors (with plastic sheeting or pieces of cardboard, etc.) to prevent scratching. It is also crucial to check the strength of the cabinets to make sure they can support the weight of your new surface. As long as these simple measures are taken, there is nothing to worry about.
Will replacement kitchen worktops make the rest of my furniture look older?
There seems to be a real concern among our customers that if they simply replace their worktops, it will highlight the need to replace the rest of the kitchen. This is not the case at all. Updating the countertops dramatically improves the look of the kitchen environment. Instead of enhancing the aged doors, it gives them new life, drawing attention away from them to their shiny new surface.
If you're still not sure, or perhaps your doors are too deteriorated, there's another easy and cost-effective solution to make everything your kitchen look as good as new after you replace kitchen worktops: a coat of paint.  With a simple coat of paint on your kitchen doors, you can improve their appearance without replacing the entire piece of furniture. It's also a great opportunity to completely refresh the look. You can touch up the existing shade or go for a whole new color palette. Your visitors will be amazed: they'll think you've done a total home makeover!.
Will it look good? Will it look like a patch?
Kitchens are the heart and soul of most homes and should look great: the perfect place to cook, spend family time and host visits. That's why choosing a quality surface that fits the space is key. It is essential to get the measurements and materials right, so that it blends in perfectly with the space. That is why it is advisable to leave it in the hands of experts, like our team at My Kitchen Worktop. 
In short, forget about patches! We will be there to listen to you and advise you according to your budget, your needs, and the aesthetics of your kitchen. We'll help you take measurements for absolute accuracy, and we'll advise you on shades and materials, so you can choose the ones that best match the rest of your kitchen.
Our worktops are built to last
We guarantee that our countertops, no matter what material we use, are strong and durable. With proper maintenance they can last for many years, while maintaining a stunning appearance.
At My Kitchen Worktop we work with quality and sustainable materials, provided by the best suppliers in the UK. Get in touch with us if you want to replace kitchen countertops and check out our website for all the replacement kitchen worktops we can offer to create your dream house. We can help you transform your kitchen on any budget!