Cosentino Group's Sensa natural granite is renowned for its stain resistance or protection, which makes it stand apart from other natural worktop materials. Unlike other porous natural stones available in the market, Sensa is integrated with Senguard deep treatment during its manufacturing process.
It helps the stone to eliminate the need for sealing in the future and hence, saves both money and time while reducing the risk of darkening due to resealing persistently. With all the reliable attributes and premium quality, Sensa granite comes with straight 15 years of transferable warranty.
Features and benefits of Sensa by Cosentino:
Natural product
Highly durable
Luxurious and Decadent
Available in many sophisticated designs
Increases resale value of the property
Easy to maintenance
Looks great in modern interiors
Available in subtle earthy hues
Available in different finishes – from polished to honed
The third most durable mineral found on the earth's crust
Non-toxic
Sensa Granite new 2020 colours
Cosentino has launched a new 2020 collection of Sensa granite worktops to help homeowners and designers to blend them with any desired interior or design theme. Here's a list of some stunning colour options to choose from the latest Sensa granite range:
1. Sensa Nilo Mirage: It is a dark natural grey worktop surface with a dynamic veining pattern all over the slab. This surface has been quarried from Brazil and then carefully finished in elegant natural slabs. Not only is it low in porosity but also boasts the latest Senguard protective treatment to protect its surface from regular wear and tear while enhancing the elegance and natural beauty of the stone.
2. Sensa Orinoco: This natural granite worktop shows off the unique appearance with a versatile design and wild veins running all over its surface. Boasting the intense black backdrop with gold, white and copper veins, along with silver minerals, Sensa Orinoco is excellent for creating minimalist and unique appearance in any home interior. Aside from its characteristics and durability, this natural granite offers impressive benefits of the revolutionary treatment while making any kitchen shine with unique elegance and lustre.
3. Sensa Indian Black: For those who admire the sophisticated look of black worktops, Sensa Indian Black is an excellent granite worktop with the polish finish and intense dark appearance throughout its volume. The black background of the worktop is enhanced with captivating crystalline veins that add more charm to its enriching aesthetics.
4. Sensa Ice Blue Granite: It is another stunning polished texture with striking white backdrop with tan and cream veins atop. It adds wild and exotic appeal to any modern interior that needs oomph.
5. Sensa Glacial Blue: Another earthy tone from the Sensa collection is the Glacial Blue. This surface features polished texture with silver-tone, which is combined with different areas that offer crystalline look to the worktop. This ensures that the material is great to bring life to any space wherever it's installed.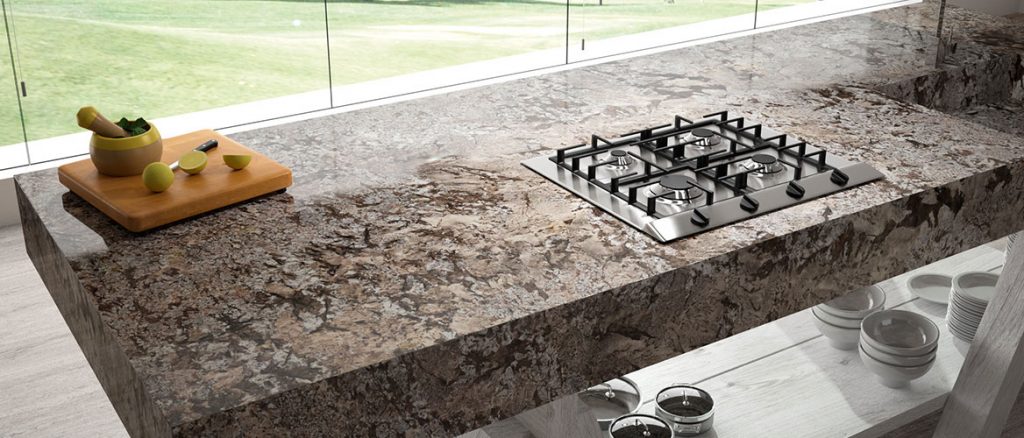 6. Sensa Black Beauty: Another striking black worktop from Sensa is the Black Beauty. As the name suggests, this surface adds a sophisticated and luxurious feel to any classic yet modern looking interior in need of some glamour effect.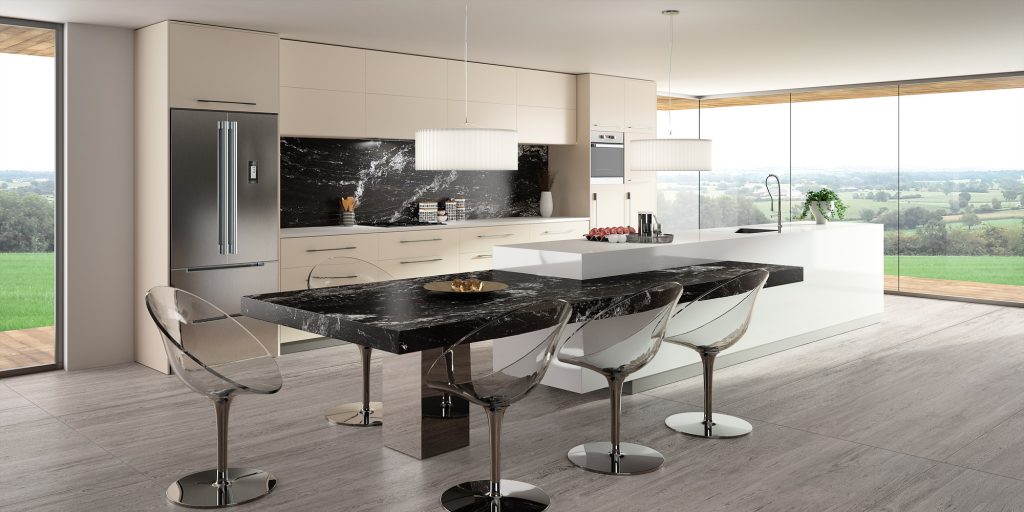 Sensa Black Beauty granite polished worktops[/caption]
7. Sensa New Zealand: For those who are not into dark-themed kitchens, Sensa New Zealand is a great option. This light grey granite boasts grey scattered flecks with burgundy spots throughout its surface. It is made with the revolutionary process to protect the surface from stains and other effects of regular wear and tear.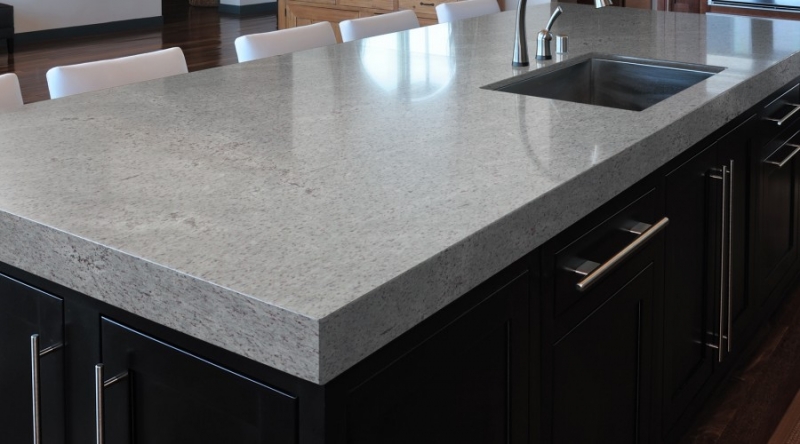 8. Sensa Thailand: This is a beautiful granite surface with a light grey backdrop and darker grey, swirling effect on its surface. That makes it a unique worktop that's suitable for kitchen/bathroom worktops, wet rooms and wall cladding.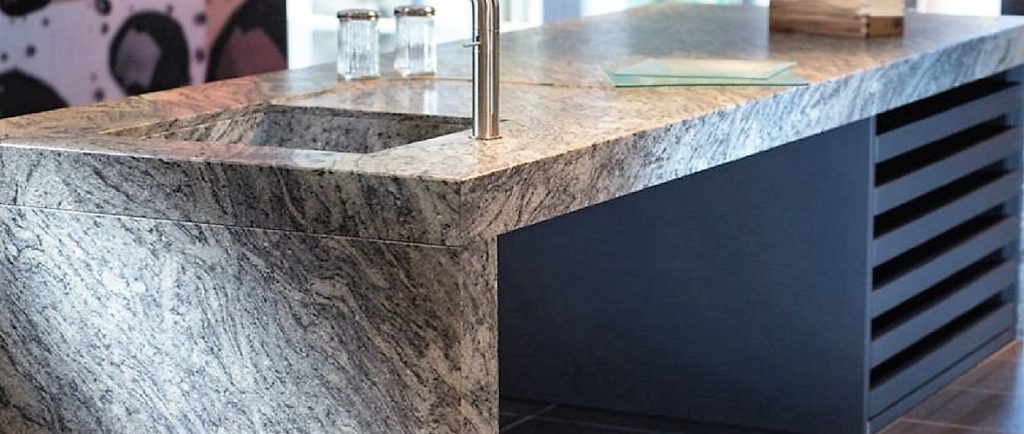 9. Sensa Colonial White: To add a contemporary feel to any granite surface, Colonial white is a fantastic granite surface from India. This gorgeous surface shows grey to pale grey background that's mixed with blurry silver and small black speckles. It bears a revolutionary Sensa protective layer on the surface to offer protection against daily impact. Hence, it's suitable for a wide range of applications, including kitchens, bathrooms or other areas.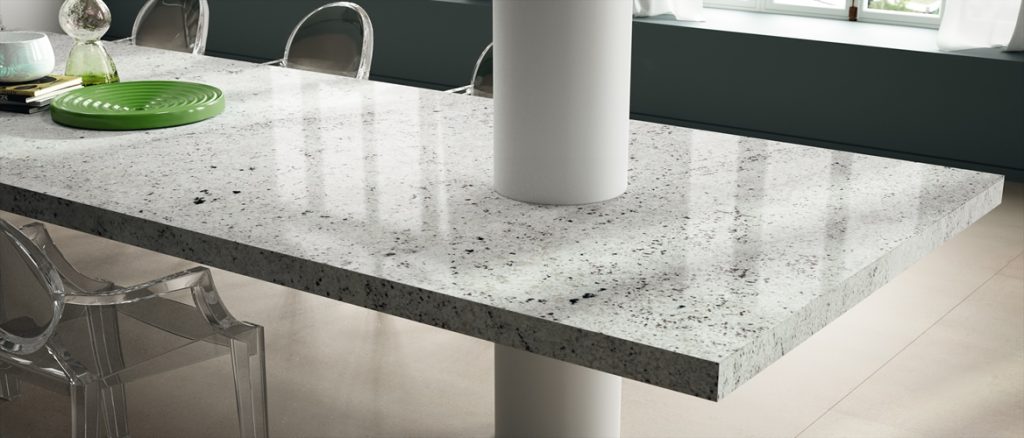 10. Sensa Gabon Granite: It is luxurious pure black granite to add unbeatable aesthetics to any given space. It's an incredibly durable worktop material with the unique look of natural stone. It is an incredibly tough material with exclusive stain protection technology. Its innovative features are obtained by Cosentino to let homeowners enjoy a durable and robust material that's aesthetic at the same time.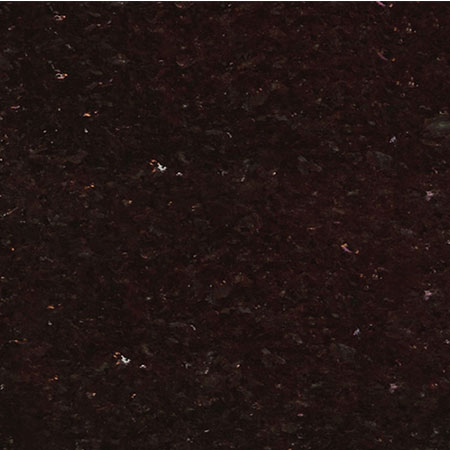 Published by Jesus Alberto Mouzo on May 26, 2020