Cosentino has come up with a new Silestone colour design, to help homeowners deck up their interior with an eternal veining effect in 2020. The blend of natural aesthetics and functional stone is likely to be a perfect addition to urban homes. 
The kitchen is a vital area of any home, and the countertop is the centrepiece of this space. However, some homeowners are not sure of the right material and colour for their kitchen worktops. To make this more comfortable for you, Cosentino, the world leader in manufacturing quartz surfaces, has added a gorgeous design to its accessible Eternal colour collection.
Silestone Silken Pearl is the new version of Silestone Eternal created to mimic the beauty of marble textures in the most natural way possible. The timeless elegance of marble is precisely found in this quartz surface, which is known to be one of the famous worktop materials for different residential and commercial projects.
Silestone Silken Pearl
Silken Pearl is influenced by a creamy marble stone, whose refined and smooth base boasts white veining effect. The striking calming look of this quartz worktop enables designers and architects to install in different architectural designs.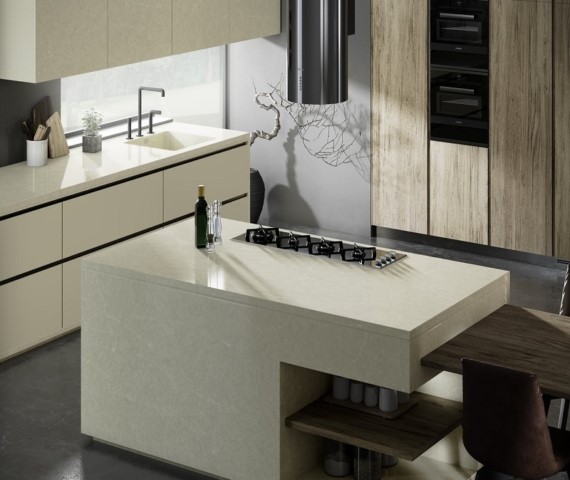 Unlike marble, Silestone Silken Pearl worktops have a non-porous and solid surface and hence, are durable and reliable. Keeping in mind the philosophy of Eternal collection, the veining plays an important role. The randomly scattered veining patterns give a distinct yet elegant look to the worktop surface while lending a unique sense of completeness and continuity to this material.
The Eternal Series of Cosentino Silestone inherent exquisiteness of natural stone. However, the advanced technical properties of Silestone make it a highly durable material. Silken Pearl, as well as other colours from this collection, is also treated with Silestone's N-Boost technology that helps in giving more intense hues to the surface. Meanwhile, this latest technology makes the surface extra shiny and smooth for easy cleaning and maintenance.
Why Choose Silestone Silken Pearl?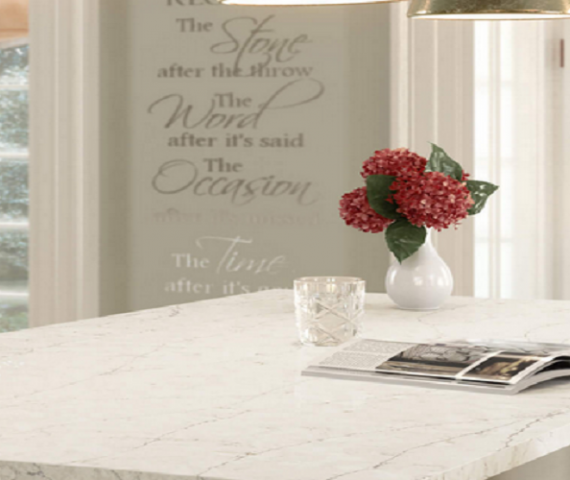 Just like Silestone Statuario or any other Silestone worktop, Silken Pearl boasts some durable characteristics that make it one of the best choices among homeowners. Some of these features are:
1. Non-porous Surface
A Silestone worktop has a non-porous surface that makes it highly resistant to stains, viruses, and bacteria. Talking about its manufacturing process, quartz worktops have antimicrobial that prevents bacterial growth on its surface. Hence, it is considered as one of the most hygienic worktop surfaces for modern homes.
2. Easy to Maintain
Silestone Silken Pearl surface is easy to maintain. Although it mimics the beauty of natural stone, it doesn't need any sealant or special maintenance. All you need is a soft cloth and a non-abrasive cleaner to protect its glossy surface from regular build-up, as well as wear and tear.
3. Stain Resistant
Due to the non-porous surface, Silestone kitchen worktops are highly resistant to stains. Even when acidic liquids or food substances (like wine, coffee, lemon juice, tomato, olive oil, or vinegar) spills on its surface, there won't be any issue of stains. However, it would help if you wiped off the spillage sooner to avoid any dry staining.
4. Impact Resistant
Silestone is also highly resistant to impact. It enables homeowners to handle any object in their kitchen without any fear of destroying or damaging the surface. When compared to marble which rates number 3 on MOh's scale, quartz rates number 7, making it the third hardest rock on the planet, following Diamond and Ruby.
5. Scratch Resistant
This worktop surface is also highly scratch and scorch resistant. Since quartz is highly durable, Silestone countertops make it one of the hardest surfaces that are difficult to scratch or chip. It makes it an ideal choice in open rooms or busy kitchens.
6. Available in Different Formats
The different sizes and formats of Silestone worktops depend on its treatment. But, generally, Silestone worktop formats are available in two sizes – Standard 55 x 120-inches and jumbo 63 x 128-inches. It is even possible in different floor tile options – 24" x 24", 18" x 18", 12" x 35", 12" x 24" and 12" x 12". Besides, these worktop surfaces are available in different thicknesses, such as 3cm, 2cm and 1.2cm.
7. Warranty
Silestone kitchen worktops often come with an available manufacturer's warranty. One needs to consult its Silestone approved supplier to find out about their specific warranty information. For a valid warranty, homeowners must ensure not to damage the product due to the dropping of any heavy object on the worktop, placing hot pots or pans on the countertop, using abrasive cleaning agents for cleaning the surface or using a sharp knife to cut vegetables directly on the surface.
Published by Jesus Alberto Mouzo on March 21, 2020