Of the many popular synthetic stones in the UK., Cambria quartz has also taken the lead. Generally speaking, the Cambria Waterstone Collection is engineered to complete a home or office design in all aspects of functionality, resistance, quality, and infinite beauty.
For those who like simplicity along with luxury, this collection offers the most creative surfaces for diverse use at a condominium or a commercial space.
In addition, its outdoor application also captures an extra charm with this fine material. Here is a rich selection of the 6 most popular Cambria Quartz colours in the UK that match any lifestyle that you may lead.
Cambria Berwyn
The first of the six most popular Cambria Quartz colours is Berwyn. Mostly composed of rich properties from quartz worktops that bring the most natural look and resembles Bianco Carrara marble and also the deep aesthetic touch of Alaska and Bianco granite. Its peculiarities are displayed in a spectacular off-white background and delicate grey tones that make it ideal for a rustic or urban style. It is a five-star product, recommended for builders and architects worldwide.
Cambria Brittanicca
If you want to cause a visual impact and impress your guest at home, Cambria Brittanicca will achieve this object and then some. It is inspiring and the balance between a white background, grey veins, and impeccable texture make it the proper material for worktops. It is highly resistant to abrasion and areas with a lot of foot traffic. Therefore, it is also suitable to apply on flooring and hallways.
Cambria Oakmoor
Satisfaction is the key to find the right surface solution for your home. After all, it is not only about aesthetics. Cambria Oakmoor brings out the most original marble and granite patterns. It comes in a velvety beige depth and light brown veining that shows dazzling waves spread all around the slabs. Available in polished and semi-gloss finishes to continue the reflection of natural or superficial enlightenment. The stone does not need maintenance, all that it requires is a daily basic cleaning with soap water and a dry cloth.
Cambria Summerhill
Summerhill brings the beauty of summer in an off-white background and in a rare masterpiece view outlined in dainty grey veining. If you want to achieve more exclusivity, combine it with wooden furniture in your kitchen to make the beauty of the stone predominant. There is no doubt that this one, out of all the most popular Cambria Quartz colours, will leave you astonished!
Cambria Ella
Discernible and striking, Ella suits all environments for traditional and modern trends. The ivory white and grey veins are uniquely engineered. Its endurance is stronger than marble and granite altogether. The best attribute about it is that the colour resists the test of time with an irreplaceable durable product, thus, making it worth your investment.
Cambria Swanbridge
If you have high requirements, Swanbridge will certainly exceed your expectations with its fascinating projection on a white background and definite grey veins. From extra large kitchen flooring to kitchen worktops, the material remains intact under high temperatures. It protects your kitchen from fungus proliferation and keeps all of the surroundings clean and hygienic while retaining its primary appealing characteristics.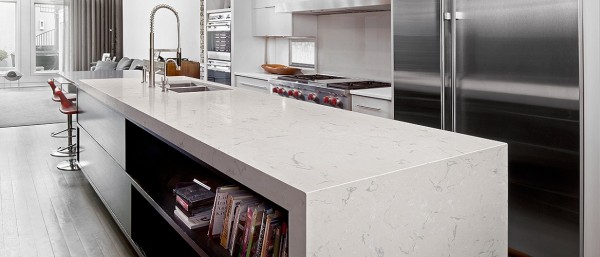 What do you think of the six most popular colours of Cambria Quartz? Don't forget to check our blog to be up-to-date on everything related to our kitchens!
Save
Published by Jesus Alberto Mouzo on August 12, 2017