Trendy Quartz Worktop Colours & Patterns to Transform your Kitchen
For those who are looking to upgrade their kitchen interior in 2020, quartz worktops offer plenty of colour options for any kitchen style or theme. Just pick the hue that suits your lifestyle and preferences to create an outstanding kitchen.
Quartz is an engineered stone that comes in an extensive range of colours and patterns. Therefore, many architects, designers and homeowners are in awe of quartz worktops because they effortlessly blend into any give kitchen style.

Why Choose Quartz Worktops?
Quartz worktops are indeed one of the best materials that can be used in any kitchen. Some of the best features of quartz are resistance to stains, scratches and heat. Needing just minimal maintenance to look as good as new, these non-porous surfaces need simple cleaning with soapy water and clean cloth.
Since quartz worktops are non-porous, unlike natural stones, this material can be a hygienic option for the cooking space. It is because it doesn't let water seep into the surface and thus, prevent the breeding of germs, bacteria or viruses. The quartz surface is around 99.9% bacteria-free, making it ideal for kitchens.
Besides, quartz is highly durable, unlike natural stones, and able to resist corrosion from liquids and cooking oils, as well as other household cleaning products. It doesn't require resealing of surface like many natural stones as well. So, it's virtually maintenance-free.
Common Quartz Colours for Modern Kitchens
Whether you want pure white quartz worktops or the ones mimicking marble/concrete or providing mirror-effect, there are endless choices when it comes to selecting contemporary quartz worktops.
One can get lost into countless colours, textures, patterns and finishes of this modern and practical worktop solution. So, we have compiled a list of some popular quartz worktop colours to consider for your cooking space.
1. Grey Quartz Worktops
You can find grey quartz worktops in many light or dark shades to give a traditional or contemporary feel and appearance to your cooking space. Light plays a significant role when deciding the right hue for your kitchen worktop. Cooking spaces with a dark tone and minimal light often absorb light rather than reflecting it. It makes a given room appear almost dingy and uninviting. Therefore, a dark grey tone must become offset with a reflective white shade for scarce light supply. To add a striking touch to your kitchen interior, you may wish to mix your grey quartz worktops with coloured undertones of red, blue or yellow to create an under or overstated worktop appearance.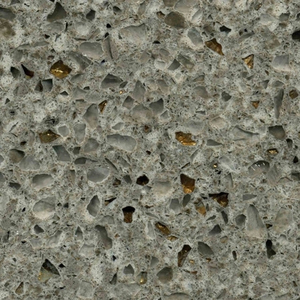 2. White Quartz Worktops
White is a classic choice for any kitchen design with a traditional or modern feel. For a striking and luxurious touch, you may even choose a white mirror quartz worktop for deceptively engaging cooking space. Be it a plain white or white surface with some veining or other patterns; this subtle worktop is likely to give a stunning appearance to any dull-looking kitchen. Furthermore, it gives an illusion of more space, as it reflects light onto the interior. Even a white backsplash is a great option to consider for a minimal yet visually appealing cooking space. White kitchen worktops also look great with elegant wooden stools or stainless-steel appliances at sight.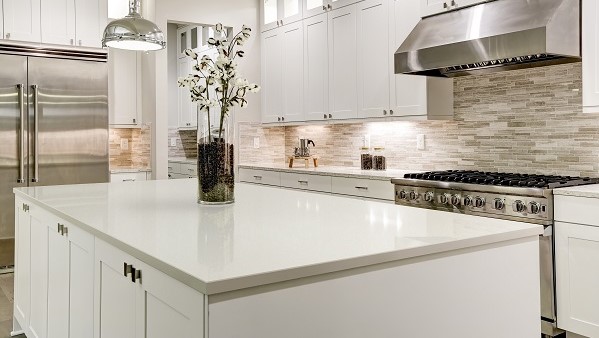 3. Black Quartz Worktops
For an ample cooking space, homeowners can pick a dark themed kitchen interior to create a gorgeous, exciting, sleek and stylish appearance. There is a reason why every year a "new black" is introduced. It is because black has almost everything, so quartz countertops allied with this hue show a unique splendour. To create a classic monochromatic look, designers may consider using black quartz worktops with traditional white cabinetry or vice-versa. This combination is unmatched and looks appealing. Since all-black kitchen may seem dark and intimidating, choosing a charcoal grey with brickwork on the walls or black & white monochrome theme is a great way to turn any unfriendly space into a gorgeous area for preparing meals and socialising.
4. Cream Quartz Worktops
While commonly beige, white, black and grey quartz dominates the kitchen designs, cream quartz worktops have recently broken into the top five list in kitchen interiors. The colour cream is a subtle and versatile colour that goes well with any rustic style or contemporary interior. Even painted cream cabinetry looks great with any dark coloured or soft-toned kitchen worktop. Cream countertops can virtually add dimension to any cooking space, as its simple allies with light. Therefore, more modern kitchens in 2020 can benefit by opting for this colour for the interior.
5. Blue, Aqua and Green Quartz Worktops
Homeowners who wish to make a striking and bold statement in their cooking space can consider green, aqua or blue quartz worktops. Reportedly, more and more homeowners are inclining towards coloured and stylish cooking spaces. It not just adds a fresh touch of colour to a kitchen but also makes a room more exciting and livelier to look. The shades of green, aqua and blue also appear magnificent with different fixture designs. No matter which colour you prefer, these shades are likely to give a magical touch to any cooking space.
6. Brown Quartz Worktops
Homeowners who want extraordinary vibe and feel into their cooking space can choose brown quartz colour. Brown quartz worktops would look great with cream cabinets or flooring without compromising the class, style or overpowering a room. It also enables home decorators to add a classic feel to the interior without changing the space dramatically. The way brown worktops are becoming popular among homeowners, it might overtake black worktops in the coming years.
7. Yellow and Orange Quartz Worktops
While homeowners who like minimal and subtle interior won't prefer these colours, yellow and orange quartz worktops are perfect for brightening a space if anyone is looking for a unique, bright hue. These colours look amazing when installed in a warm, sunny room. Just like most quartz worktop colours, orange and yellow are available in different shades and tones. So, there is no need to worry about your kitchen turning into a stark yellow or orange. Some quartz worktops are also available with a few flecks of yellow and orange to add a perfect amount of brightness and freshness to any modern interior setting.
8. Marble Effect Quartz Worktops
The marble effect worktops from Caesarstone, Silestone, Compac Quartz or CRL Stone brands' collections boast natural veining that we usually see in marble. However, the marble effect quartz has no disadvantages of marble-like porosity or staining issues.
When designing marble-inspired quartz, manufacturers replicate the best features of natural marble and ensure that the quartz surfaces are durable, non-porous and easy to maintain. With a wide range of soft shades to add lightness and natural veining effect to any cooking space, manufacturers offer some of the trendy marble effect quartz for homeowners.
The extensive range of these marble-like quartz worktops means that these are ideal for creating any modern and sleek interior or traditional cooking space. Marble effect quartz is also suitable for walls, flooring and bathroom.
You can choose marble effect quartz worktops in endless designs and shades, such as:
Silestone Eternal Calacatta Gold quartz
Compac Unique Calacatta Quartz
Caesarstone London Grey Quartz
Caesarstone White Attica Quartz
CRL Calacatta
9. Concrete Effect Quartz Worktops
We all are aware that materials like concrete need sealing to make them suitable for wet environments like a kitchen or bathroom. Despite requiring regular maintenance to keep it looking good, concrete is found in many areas of traditional, as well as modern, homes. However, those who don't want to deal with the flaws of concrete can easily pick concrete effect quartz worktops that are highly durable, practical and retain tactile and natural qualities of concrete surface. Concrete-like quartz is available in many colours, finishes and designs, making it easy to blend into any kitchen style.
Here are some common concrete-effect quartz worktops to choose from:
Caesarstone Rugged Concrete Quartz
Compac Dark Concrete Quartz
Technistone Noble Concrete Grey Quartz
Silestone Cemento Spa Quartz
Caesarstone Rugged Concrete Quartz
Unistone Concreto Quartz
10. Mirror Quartz Worktops
For creating dramatic yet luxury feel to a kitchen space, install low-maintenance white and black mirror quartz worktop in the kitchen for creating monochromatic contrast with a neutral colour scheme.
Installing white mirror quartz worktop into a compact or dark space helps in reflecting light and giving the illusion of more space. With embedded anti-stain treatment, these worktops can resist scratches and stains, as well as mildew and mould patches. It means they are likely to stay looking great for years to come.
You can find mirror quartz worktops in a wide range of colours, patterns and textures. These are available in 20mm and 30mm thicknesses in only or fully processed material that's installed by experienced fitters for wholesale, trade and retail.
You can find different mirror quartz worktop colours in various retail stores, showrooms. Some popular mirror quartz worktops colours are Marble White, White Mirror Quartz, Mirror chip quartz, Snowflake Quartz, Frost White, Calacatta Quartz, Carrara Quartz and more.
These standard quartz colours are quite popular in modern homes today. Regardless of the quartz colour you choose, it's important to add dimension to the given space with the brilliance of these colours. The result would be a stylish cooking space with a magnetic focal point.
Published by Jesus Alberto Mouzo on March 31st, 2020