If you are a fan of innovation then you must know Dekton by Cosentino; a revolutionary new category of materials for façades, floors, walls, worktops and other indoor and outdoor applications. The composition of Dekton is the result of mixing three technologies: glass, porcelain and quartz surfaces, such as the popular Silestone. This ingenious light blend produces and fabricates massive slabs in various sizes, thicknesses and finishes. According to the manufacturer, the ultra-size slabs can achieve dimensions of 3200x1440mm of the pure smooth texture in thickness of 8, 12 and 20 mm, depending on application specifications. Dekton provides mechanical strength, extreme resistance to scratches, stains, UV rays, stains, abrasion and hydrolysis. In addition, it offers excellent thermal characteristics; such as fire resistance, heat, as well as resistance to very low temperatures, including areas with freezing weather conditions such as patios, terraces, gardens and/or balconies. To explain this material further, the material is trusted and infinitely durable back by the Dekton manufacturer who offers a comprehensive 10 years UK warranty upon product registration. At My Kitchen Worktop, we would like to show you all the features related to this material.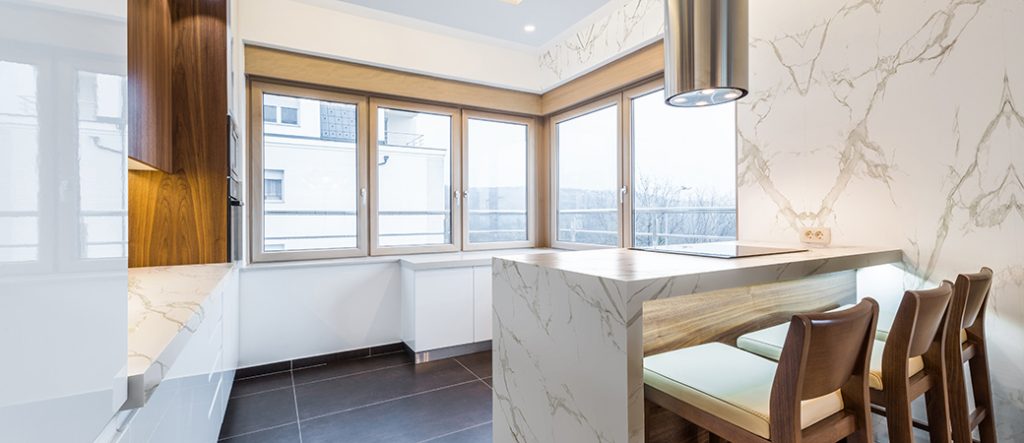 Dekton also has zero dilation, it is very functional and the insulation inherent on the final product makes very little requirement when it comes to joining different pieces together. Its founders want to create smart strategies for the diffusion of the product with a versatile product of Dekton kitchen worktops applications, but also to work directly with renowned architects and designers in the development of the material and suitable projects, as they are the professionals that created some of the demand for a new product for external areas such as ventilated façades and floors. To create Dekton, it was necessary to develop an industrial blueprint specifically for test purposes, which boasts the world's largest hydraulic press. With a capacity of up to 25,000 tonnes,  the strength of the press used to make Dekton is the most powerful in Europe and equates to the weight of two and a half Eiffel Towers put together, which makes this material the most ultra-compact product worldwide. Cosentino develops an exclusive product, ensuring unique identity to the building. The Dekton colours are varied, and a new collection appears yearly, with new colours being launched approximately every six months. The firm develops an exclusive product, with unmatched performance characteristics.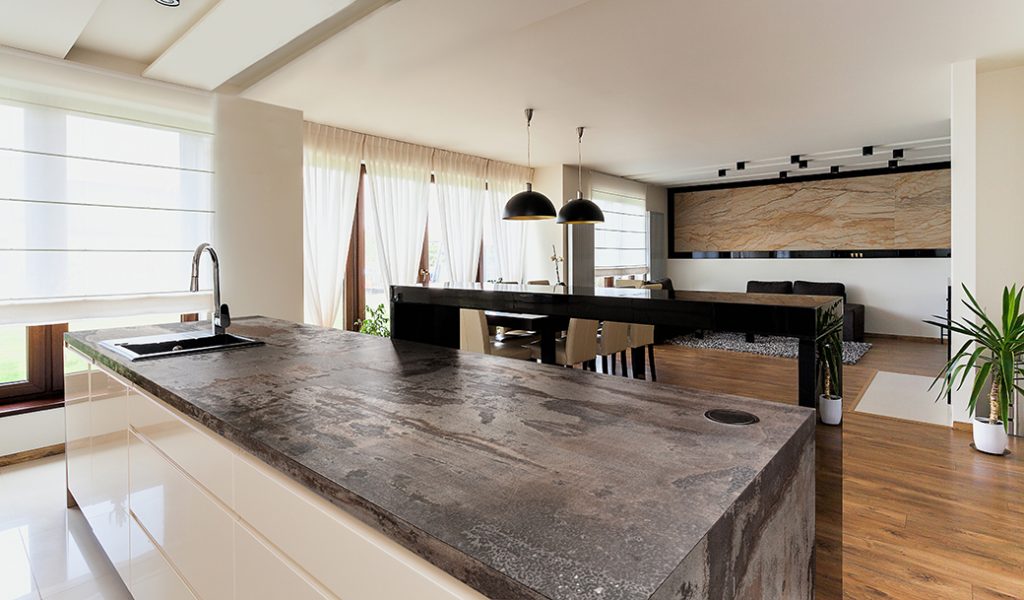 The pallet of colours is split in some popular collections introduced: The Solid Collection, Wild Collection, Natural Collection and the Tech Collection. The different ranges of Dekton have one attribute in common: deliver balanced spaces, sober, unique and elegant tones through their different colours, such as:
       

Tech Collection: a range of materials that supposes a landmark by its transgressive intention in a very natural looking hue and extraordinary architectural inspiration. The colours available are Keon, Stratos, Kadum and Keranium; a must for Dekton worktops.

       

Ventus, Korus and Galema (from the Solid Collection) incorporate a range of materials that are characterized by the purity of grey tones, highlighting the smooth touch and irresistible feel of the surfaces. Other available colours from this range include Domoos, Zenith and Sirius, which are ideal for applications such as Dekton kitchen worktops.

       

Kelya (from the Natural Collection) excels in a series of unique features of the nature in dark and deep looks and delicate veins that draw exclusive and unique features and details. Other available in this range are Sirocco, Vegha, Edora, Danae, Irok, Kairos and Aura 15. Perfect for Dekton countertops and Dekton bathrooms.

       

Borea and Makai (from the Wild Collection) are two new colours of wood texture that provide organic creativity with their dark and intense looks and elegant veins. Another two colours have just been introduced to the marketplace: Ariane and Akanke, which have a smooth appearance.

       

Dekton Xgloss: Xgloss is the latest finish to be brought out by the makers of Dekton, with a collection of colours with unmatchable sheen and beauty. Xgloss colours include Blaze, Halo, Lumina and Splendour from the Solid Collection; Fiord, Glacier and Tundra from the Natural Collection; Qatar and Manhattan from the Basiq Collection.
Try Dekton derivations and experience a new age of impression. And keep watching this space, as we can only expect the very best in terms of performance and originality from this innovative range of products. Save
Published by Jesus Alberto Mouzo on March 27, 2017