Neolith is a product which belongs to the current range of revolutionary materials which were launched in the last few years to meet the growing design and architectural needs of professionals and homeowners alike.
If you are looking to purchase Neolith worktops, it is important to know how it is made and what are some of the most common problems found with, for example, black Neolith surfaces.
This post will help you understand more about this worktop and cladding material which is suitable for both indoors and outdoors applications, and what are some of the problems and issues you may face when you choose this material.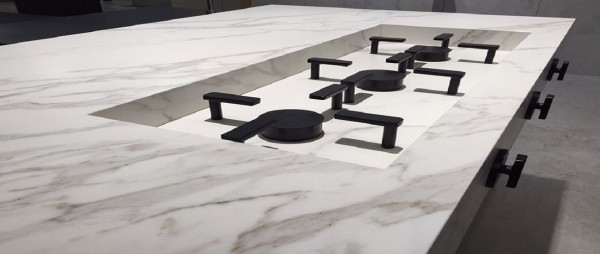 Neolith is one of the latest of worktop materials to enter the architectural world. If you are looking to invest in a Neolith worktop, then please refer to the Neolith Price Group 2019. It is important to know some basic things about this material to make an informed decision. Neolith is actually an extremely resistant product that surpasses the strength and resilience found on most natural stone types such as marble and limestone. It is made with a more advanced technology to that employed in traditional quartz surfaces and hence having a few advantages over those materials too.
What is Neolith made of
Neolith is mainly composed of three different types of natural elements. It contains granite minerals, such as feldspar and pure quartz which provide it with strength and hardness, minerals from silica and glass for chemical stability and natural oxides for chromatic properties.
All these elements are treated under very high pressure and temperature to create a material which is almost indestructible. Rather than being made at a granular level, blue Neolith with sintered particles which is what makes it impervious to stains and foods with colourants such as curry.
Neolith Issues and Problems
Maintenance: The finish of Neolith kitchen worktops defines its maintenance and cleaning needs. While it requires minimum maintenance, it is important to ask Neolith suppliers for Neolith worktop review to understand better about the care and maintenance it would require while purchasing the material be it for a worktop, vanity top, flooring and/or wall cladding.
Look and quality

: Apart from this, the surface is scratch-,

water-

,

fire-

, stain- and high

traffic-resistant

,

hygienic

, light in weight, and perfect for

kitchen worktops

.

Applications

: Apart from worktops, Neolith can also be used for

cladding

on

floors

,

walls

, and

cupboards

. The

material

is available in a wide range of

colours

, making it easier for the potential buyers as well as other users to coordinate it with the appearance of the area in which it is installed.

Installation

: It is very important to find an

approved supplier

of

Neolith worktops and flooring

as they will need to be experienced in handling the installation of this material which differs slightly from

granite

worktops direct

,

quartz

or

marble

. Anything under an experienced fabricator can easily

chip off

the edges,

crack

the material or produce a

wrong final look

.

The

machinery

employed to fabricate

Neolith

is adapted to this material, starting from the

bed

of the

cutting facilities

to the speed and type of saw required to

slice

and

divide

the material in an efficient and

smooth

manner in order to achieve desired results.

The

slabs

are very

flexible

, yet require

professional handling

: they must be loaded, unloaded and transported by means of a

forklift

, bridge, crane or other hoisting device and whenever handling and transporting, the slabs must be

balanced

taking their centre of gravity into account by using

A-Frame trolleys

or similar transport tooling and machinery.
The advantages of having Neolith as surfaces are second to none and the best advice we can provide is to choose with a Company that is approved by the supplier and that has vast experience in working with the material since it will eliminate all and any of the issues mentioned above.
We also recommend you to read – Neolith Porcelain – Inspired by Innovation Interiors!
If you are looking to purchase a durable and efficient kitchen worktop which offers value and requires minimum maintenance and care, Neolith is definitely one of the best options we have come across over the last few years. My Kitchen Worktop is the largest approved supplier of Neolith Worktops in London, UK.
Published by Jesus Alberto Mouzo on July 16, 2018