Cashmere Kitchen Ideas
Grey and white kitchens, a staple of classic design, have been adorning homes for generations. Yet, if you're a fervent follower of interior design trends on platforms like Instagram and Pinterest, you've likely spotted an elegant newcomer making its mark in the palette of choice. Yes, we're talking about the warm and sophisticated cashmere hue, increasingly seen enhancing the aesthetic of kitchens around the globe. With its soothing presence, the cashmere colour is adding a soft, yet distinctive touch to kitchen interiors, including those iconic cashmere kitchen worktops that are becoming the heart of many homes. So, let's delve into this design revolution and understand why cashmere kitchens are stealing the limelight!.

What is a cashmere kitchen?
Don't you know what we are talking about? Cashmere is in the brown section, but it's closer to white than brown on the color wheel, near beige, and it's perfect for both modern and traditional style kitchens.
This trendy new shade creates a calm and light atmosphere. With its warm undertones, as well as the unique goat wool that gives it its name, a cashmere kitchen will be cozy and inviting, whether your kitchen is large and spacious or more compact and smaller.
Since it is a neutral, warm color, a cashmere kitchen can be matched with kitchen worktops in a wide variety of colors and materials, both neutral and bolder. Now from My Kitchen Worktop we share with you our selection. Don't miss it, it will inspire you for sure!.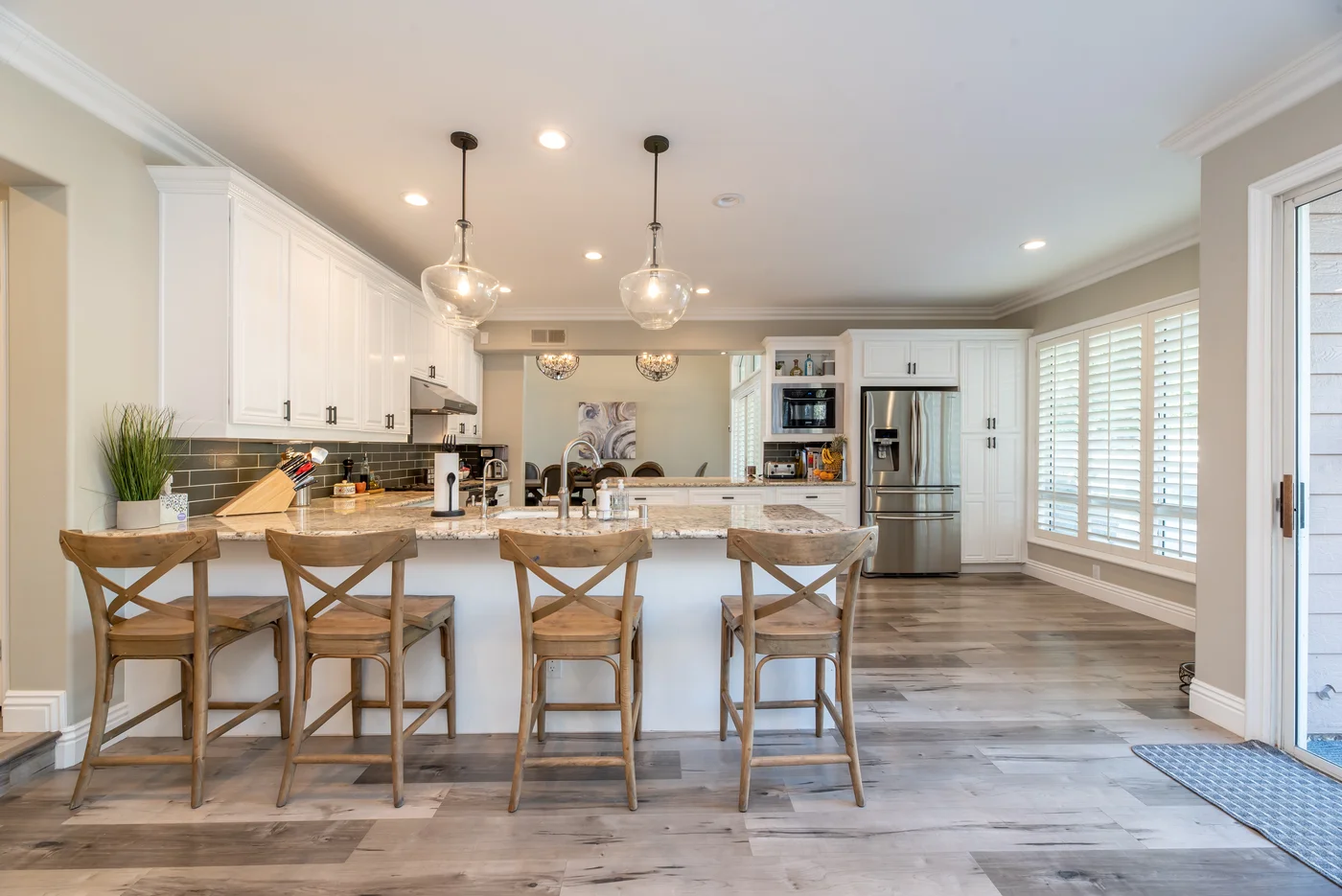 What colour is Cashmere?
Cashmere, in terms of colour, is a soft, neutral hue that's somewhere between beige and grey. It's a warm shade often associated with luxury, comfort, and sophistication. This understated colour can effortlessly blend with various other shades and is frequently seen in interiors for its timeless elegance and versatility. Its visual similarity to the colour of natural cashmere wool is where its name originates.
Colours that go with cashmere kitchen
Inspo: Our top 4 Cashmere worktops for kitchens
To keep it simple, we offer you a selection sorted by color, so you don't get lost with so many models:
 1. Brown models
If you are looking for a couple of colors that combine in perfect harmony, this is definitely your solution. We suggest Coffee Brown Granite, which will give your kitchen an elegant and classic look. On the other hand, if you are looking for something more casual, then you can opt for Cappucino Marble, a lighter and cheerful material that recalls, as its name suggests, the foam of the delicious Italian coffee.
Moreover, all these models are available in different designs and finishes, adapted to your tastes and needs. Of course, in all cases we are talking about high quality materials and adjustable to any size.
 2. White Marble Look-a-Like models 
This option is neutral and very original and combines perfectly in any kitchen. These are materials that, as the name suggests, imitate marble, but are much more affordable. In particular, the materials used for worktops in these tones are usually ceramic, porcelain and quartz.
 For example, we love Ascal Ducal Gold, from our Ascale By Tau collection. This material is inspired by the well-known Calacatta gold with a golden yellow grain and silver on the white piece to generate that contrast desired in the most exclusive and luxurious spaces.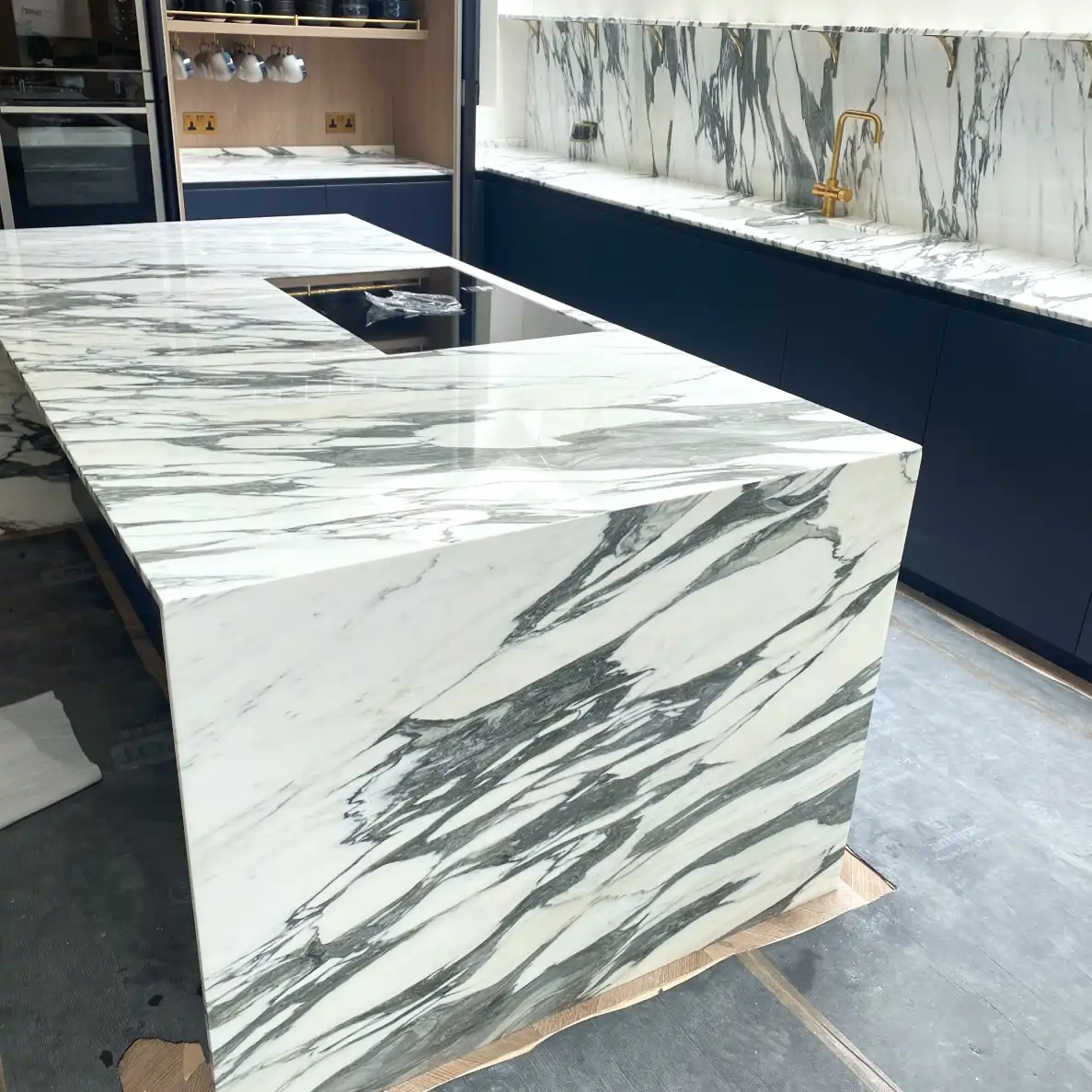 3. White models (Cashmere kitchen with with white worktop)
White worktops are one of the most popular options on the market. After all, it is one of the most basic, classic, and elegant models that combines perfectly in any environment.
 In this case we have chosen Neolith Nieve, within our Colorfeel Collection. As its name indicates, Snow, this model brings the sensation and the off-white tone of this natural phenomenon. In addition, we also propose Compac Afion, a natural stone model that offers a homogeneous appearance and high performance.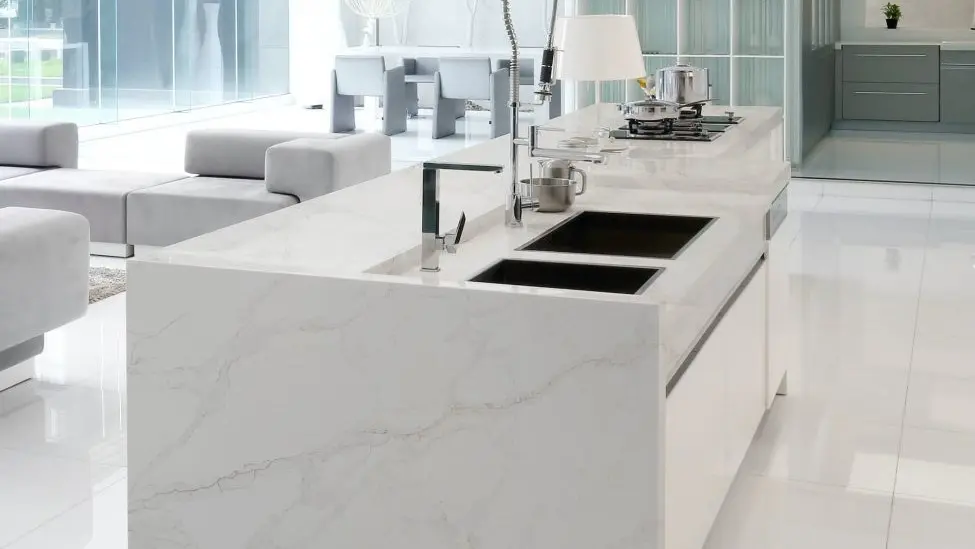 4. Black models (Cashmere kitchen with black worktop)
For the more daring, you can combine your cashmere kitchen with black worktops to add a modern and edgy touch to your home. For example, you can choose black granite models with white dots that seem to come from another galaxy, such as Cosmos Black or Black Galaxy Granite.
 Finally, although we have not mentioned it so far, terrazzo is also an incredible and fun option. We propose the Technistone Taurus Terrazzo Black, a model that rediscovers the timeless and unparalleled beauty of traditional terrazzo through the integration of quartz. And of course, its performance is also unparalleled!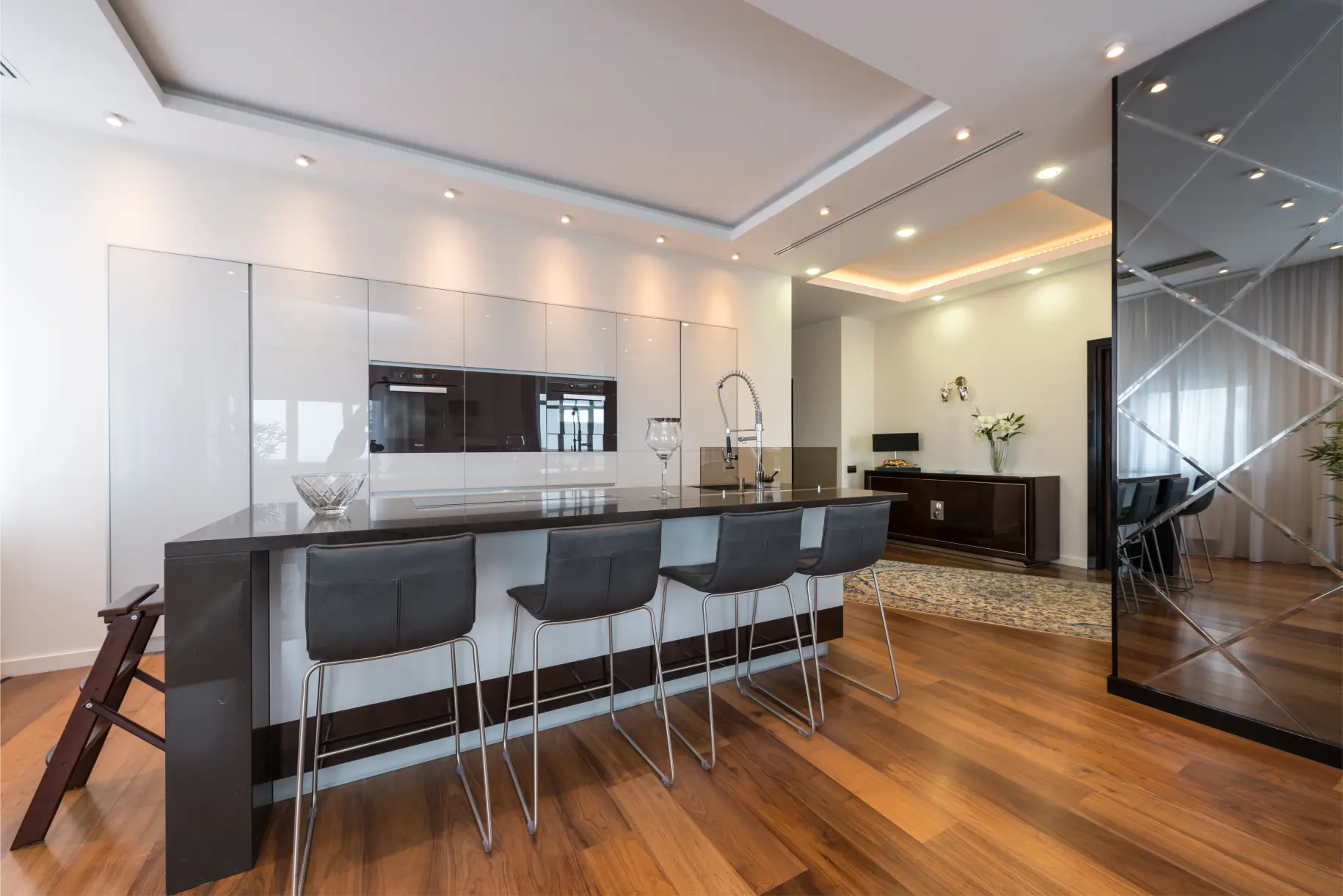 Is cashmere a good kitchen colour?
Absolutely, cashmere is indeed a great colour for kitchens. Known for its warmth and elegance, this subtle, sophisticated hue is rapidly becoming a favourite among homeowners and interior designers alike.
There are several reasons why cashmere is such a fantastic choice. Firstly, it provides a versatile neutral backdrop. This allows it to effortlessly blend with a wide variety of other colours and finishes, enabling you to easily update your kitchen's look with different accessories and appliances over time.
Secondly, the soothing quality of cashmere makes it a calming influence in the kitchen, a space which is often the hub of the home and can sometimes be bustling and chaotic.
In addition, cashmere is a timeless colour that won't date as trends change, ensuring your kitchen continues to look stylish and inviting for years to come. Whether you're going for a modern minimalist look or a more traditional style, cashmere can add a touch of quiet sophistication to your kitchen.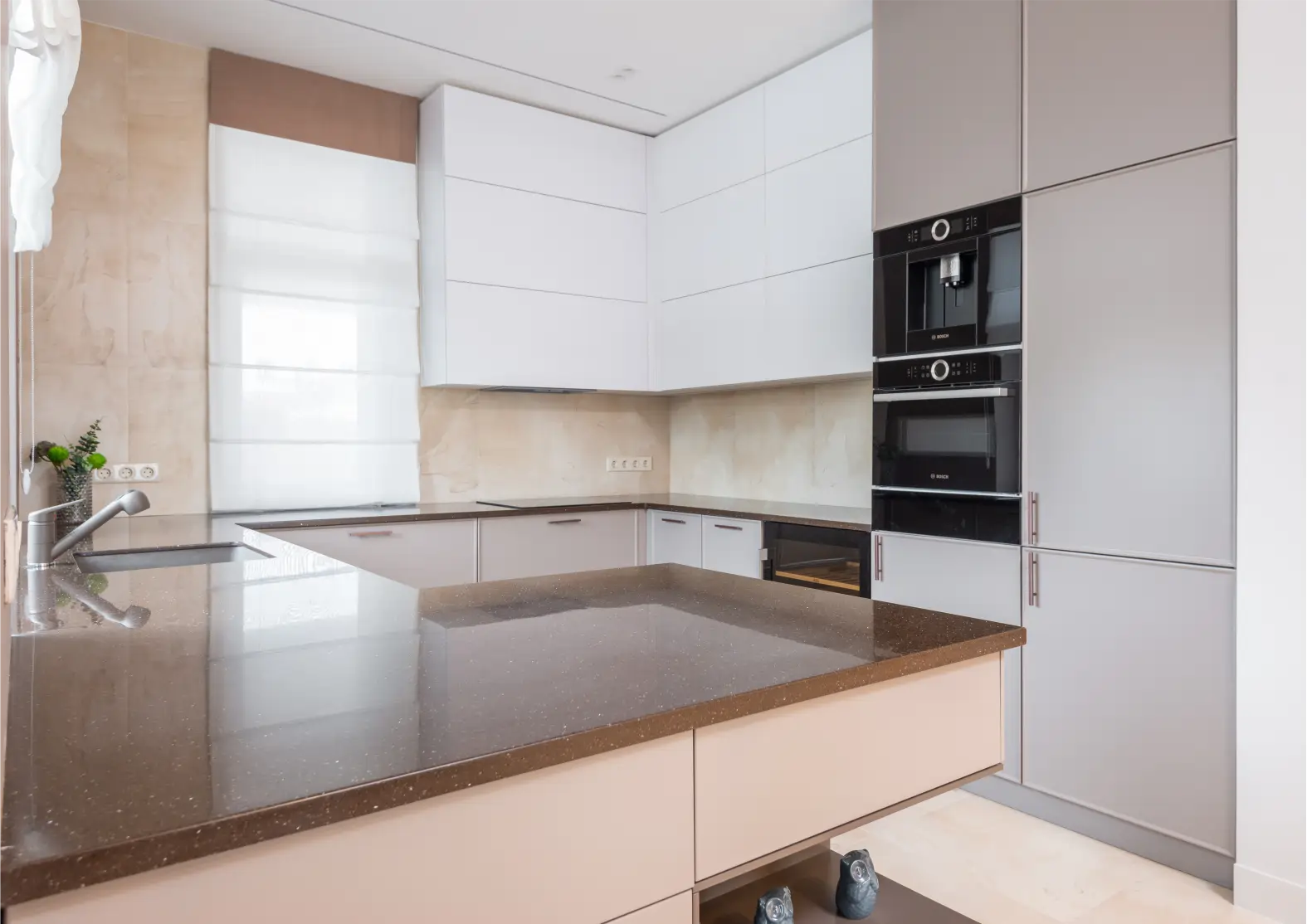 What colour floor tiles go with cashmere kitchen?
As a seasoned kitchen designer, choosing the right colour for floor tiles to go with a cashmere kitchen is an interesting task. The beauty of cashmere is its versatility. It's a soft, neutral colour that can pair well with many different shades.
For a warm and inviting look, you could consider tiles in a light, natural wood tone. This creates a cozy, comfortable space, ideal for a family kitchen. Alternatively, a more dramatic contrast can be achieved with dark grey or black tiles. This can give your kitchen a modern, sophisticated vibe.
If you're after a more traditional look, cream or beige tiles can work beautifully with cashmere cabinets. These colours help to maintain a light and airy feel in the kitchen.
Remember, it's not just about matching the colours perfectly but also about creating the right mood for your kitchen. Always consider the lighting, the size of your kitchen, and your personal taste when making your choice.
What worktop goes with cream kitchen?
Choosing the right worktop for a cream kitchen can significantly enhance the overall aesthetic of your space. Here are a few options:
When choosing a worktop colour, consider the other colours in your kitchen, such as the backsplash, the floor, and appliances. Also, factor in the amount of natural light the room receives. Darker worktops can add contrast and drama, but they can also make a poorly lit room seem darker.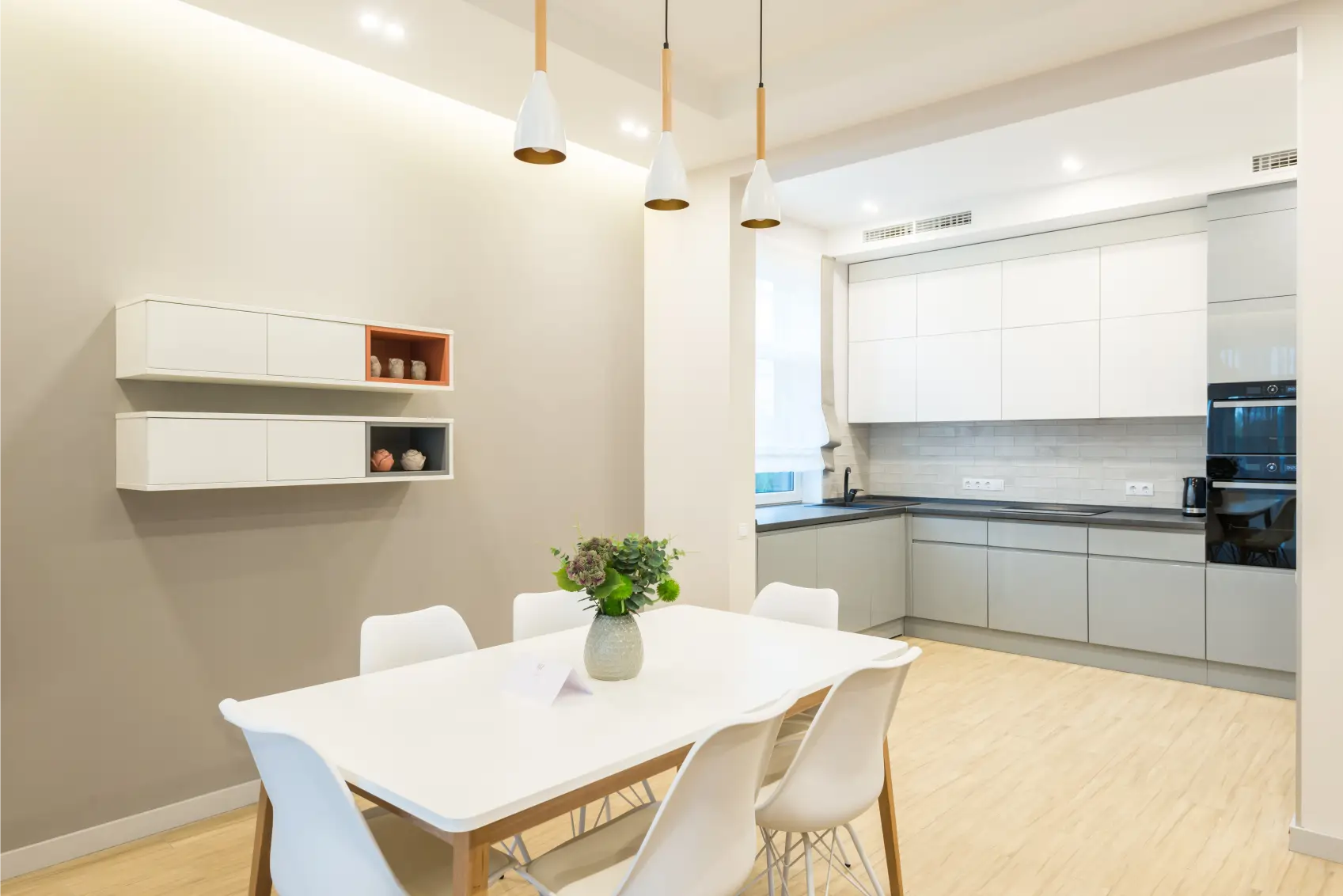 What worktop for cashmere kitchens is most ideal? Decide for yourself!
After checking out our selection, it's time for you to make your own decision. Maybe you prefer the darker tones, or on the contrary the lighter ones, glossy or matte finishes… It all depends on your needs and, of course, on your tastes!
In our wide online catalog, you will find hundreds of materials, colors and finishes in different price ranges. In My Kitchen Worktop we work together with the main suppliers in the UK to offer you the best materials, always ensuring an excellent value for money, affordable for all budgets. If you have any questions, do not hesitate to contact us without obligation, we are always willing to help you create your dream kitchen!.
Cashmere kitchen ideas