6 Alternatives for Carrara Marble Worktops
Carrara marble is undoubtedly the most sought after products in the world and it has been for centuries, being extremely popular amongst Roman and Greek Empires alike.
Almost every man-made stone seeks inspiration from the natural and timeless beauty provided by Carrara marbles which as its origins in the north of Italy.  As with any natural stone, Carrara marble worktop requires due care and maintenance and despite standing for many hundreds of years in popular monuments, establishments and statues; the material is porous and can be prone to staining, etching and/or scratching if not looked after properly.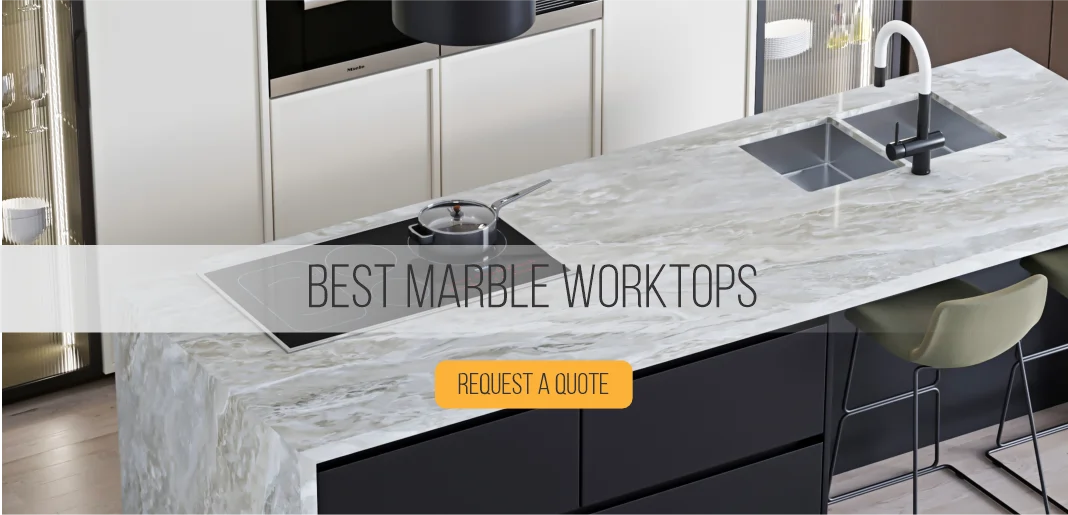 As opposed to the natural stone that comes with certain amount of peculiarities, the technological marvels that have been recently created in the stone industry eliminate any drawbacks in the natural stone, yet provide the same look to any interior or exterior, to making these the ultimate products for use as worktops in kitchens.
Here are 6 great alternatives for Carrara marble worktops:
Silestone Lagoon
Available in standard slab sizes with dimensions of 3040x1380mm and a  jumbo format with dimensions of 3250x1590mm, thicknesses of 12mm, 20mm 30mm and finished in  Suede and Polished, Silestone Lagoon quartz is a beauty that knows no bounds. With a white background and faint veining that appears bluish-grey; it will definitely amplify any surroundings in which it is applied.
You can use Silestone Lagoon at any given area- bathroom, living room, flooring, wall cladding, kitchen worktops, splashbacks, sink or stove surrounds. Its beauty transcends all barriers that may associate it with natural stones, whilst keeping the very same looks and timeless appeal.
Compac Carrara
Uniqueness exhibits in every inch of Compac Carrara quartz. Its white background and hints of warm shading with grey coloured veining and a touch of earthy hues in its pattern produces a subtle and gentle mixture of calmness and relaxation to any area in which it is installed. You can place any food item directly on the worktop surface since acidic or stain-inducing substances have no effect on Compac Carrara quartz surfaces.  Compac Carrara quartz is available in standard slabs dimensions of 3040x1400mm and thickness of 12mm, 20mm and 30mm. Available finishes in Polished with an immaculate sheen and Glace which is a matt finish and soft at touch that will compliment traditional and classic designs.
Silestone Lyra
Silestone Lyra quartz by Cosentino offers unique grace at the highest level to any surrounding in which it is applied. It comprises an elegant white background and striking grey veins that suit modern, contemporary and traditional settings alike.
Its composition includes pure natural quartz with up to 95% content and resins that constitute the remaining 4-5%, creating a stable and uniform material in terms of shade and colouring. The new N-Boost process ensures the protection of the surfaces works at a molecular rather than granular level, ensuring liquid repellence and providing it with an extreme resistance to staining and no possibilities of etching.
Silestone's immense strength, resistance and durability make it a favourite in the kitchens, bathrooms, as worktops, wall claddings and splashbacks.
Caesarstone 4141 Misty Carrera
With no requirement to seal or wax its beautiful surface, Caesarstone 4141 Misty Carrera quartz, is the perfect blend of awesomeness and usability. You can place your tea cups, oranges or pickle jars directly over the surface and its non-porous surface will not absorb a thing! It is very easy to clean and low in maintenance.
Caesarstone 4141 Misty Carrera is made out of pure quartz crystals on a clean white backdrop and faint grey veins which provide an elegant option to any architectural and/or interior design scheme.
You will never need to seal, wax or varnish for any reason. It is built from the purest quartz properties which are meant to last a lifetime with minimal supervision.
Caesarstone 4141 Misty Carrera quartz comes in standard slab sizes with dimensions 3040x1400mm and thicknesses of 13mm, 20mm and 30mm accompanied by a manufacturers' warranty of 15 years upon product registration at Caesarstone's website.
Caesarstone 5000 London Grey
Another magnificent addition to a replacement of a natural marble worktop is Caesarstone 5000 London Grey which is a new reinterpretation of the popular Bianco Carrara marble from Italy and possesses an eloquent opaque light grey with soft charcoal veins which can be used in different areas of any residential property including living rooms and bathrooms, or as a kitchen worktop and splashback. In bathrooms, you can place it around washbasins, or you can also place large sized tiles on the floor for an elegant feel. You may also want to use it as wall claddings in the living room to cover a boring wall texture or as a covering for a fire surround in halls and other areas.
Unistone Carrara Misterio
Unistone Carrara Misterio is a Carrara marble inspired creation that intakes all the visual properties of the real marble that gives it distinctiveness. Misterio comes from Vietnam and it is meant for indoor applications as a wall decorative item, tops for bathroom, kitchen worktops, table tops, interior window sills and floors.
It adds poise and excellence to the space by combining a pure back background composed of 90% pure quartz and grey veining achieved with resins that provide stable colours.
Unistone is available in slab with dimensions 3000x1400mm and Jumbo sized formats of 3300x1650mm that will suit to supply the largest seamless areas possible in the market.
Unistone Carrara Misterio comes in a Polished Finish with a shiny gloss, Letano Finish which is a slightly brushed surface that accentuates the colour and pattern of the stone and in Velluto, which is a velvety matt Finish with a satin gloss.
Save
Published by Jesus Alberto Mouzo