10 Gorgeous Composite Marble Worktops for a Luxe Interior
If you wish to add a touch of marble into your interior without dealing with its high-maintenance requirements, composite marble worktops are an excellent alternative to meet the different needs of any project.
Composite worktops are a combination of two or more materials to form a solid surface. By combining different elements, their benefits are also coupled to create a more versatile and durable surface.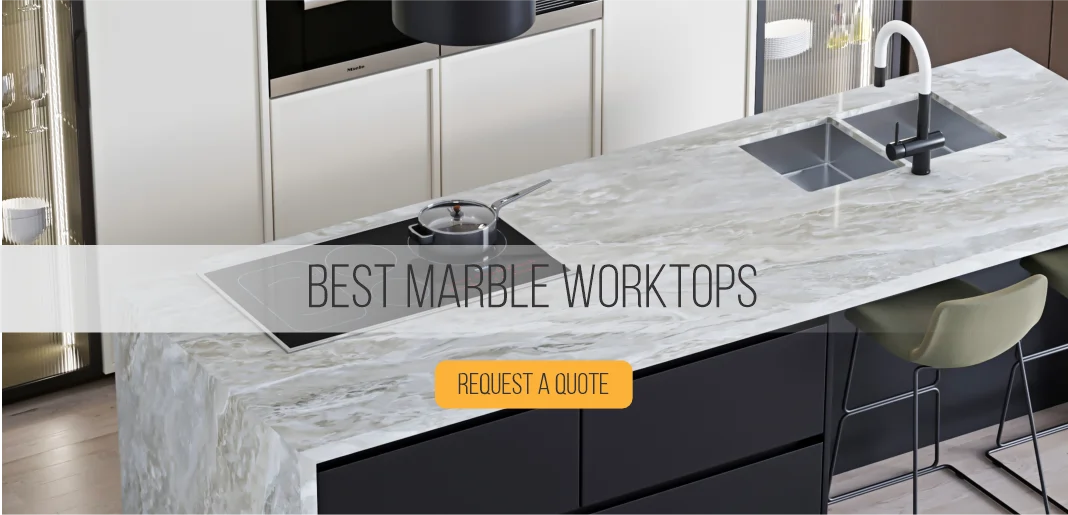 Why do people prefer composite worktops?
Using composite worktops for a home project is also a cheaper option compared to other natural stones. The cost of composite surfaces is lower compared to the cost of marble or granite.
Despite their low prices, composite kitchen worktops are sturdy and high-quality surfaces. The two most commonly found materials in composite worktops are quartz and acrylic materials. Furthermore, these materials interact with polymer resin, colour pigments and other bonding agents. The outcome is a stronger surface material that's easier to maintain and highly resistant to scratches, damages, stains or heat impact.
Popular Colours of Composite Marble Worktops
For those who love the elegant and sophistication of marble but don't have enough time for taking care of its porous surface, these are fantastic substitutes. Composite coatings are available in various hues mimicking the natural marble effect. Here's a list of some popular composite marble worktops to install in your modern home or office project:
1. Unimarble White: This is a stunning composite marble material which is created by mixing pure marble crystals with raw materials, resins and polymers. Which results in the formation of this ultra-compact engineered natural marble worktop with uniform colour and pattern throughout the surface.
2. Unimarble Black: It is an ideal non-porous surface for people who would like to deck up their kitchen interior in an intense black theme. This composite marble worktop is created by mixing around 90% marble crystals with polymers, resins and raw materials.
3. Quarella Aida White: Another sophisticated composite marble worktop to add a contemporary touch to a living space is Quarella Aida White. It boasts a beautiful display of marble crystals with light grey flecks and spots on a stunning white backdrop.
4. Compac Samoa: Boasting grey base and subtle coral intrusions on the surface, this Compac Samoa composite marble offers excellent performance to any space. This sturdy surface with a touch of nature is also hygienic due to minimal water absorption ability.
5. Unimarble Beige: These composite kitchen worktops boast a natural look of beige marble. Their surfaces mimic the image of the pure Perlino marble or Italian Botticino marble and offer high performance in spaces like kitchens, spas, bathrooms, etc.
6. Unimarble Grey: This is another best selling worktop colour from the composite marble range. This engineered marble surface boasts dark flecks and dots across its mid-grey surface. This worktop material is ideal for floors, kitchen worktops, bathrooms, stairs, hallways, etc.
7. Compac Sunset: This composite kitchen worktop boasts a yellowy beige background with limestone speckles spread all across its surface. Besides its superior performance, Compac Sunset also adds great aesthetics to an interior.
8. Quarella Polare: Quarella Polare has a subtle white background with fine speckles on its surface to bring the elegance of nature into any residential and commercial interior.
9. Compac Dakar: Featuring an impressive beige background with limestone speckles all over its surface, Compac Dakar is another great engineered composition for urban homes or offices.
10. Quarella Trocadero: This elegant composite marble has fragments of coloured glass and resins scattered over its surface. It is intended to blend easily into urban buildings and lifestyles while offering an easy solution to today's busy living.
Published by Jesus Alberto Mouzo on December 25, 2019