8 Best Marble Worktops for Victorian Properties
Buying a Victorian house is a dream come true for a lot of people in the UK. The way these houses revive the historical styles combined with influences from Asia and the Middle East makes them one-of-a-kind properties. But now that you've purchased a Victorian property, it might need a bit of remodelling to enhance its beauty further and keep up with your daily needs.
If you struggle to make a decision when it comes to picking the right kitchen worktop for your Victorian house, you are in the right place. The majestic beauty of marble is known to emulate the antiquity of Victorian decor, making it an excellent choice for kitchen worktops in such houses. If you are still undecided to select the right marble for your kitchen, one from the below recommendations is sure to impress you.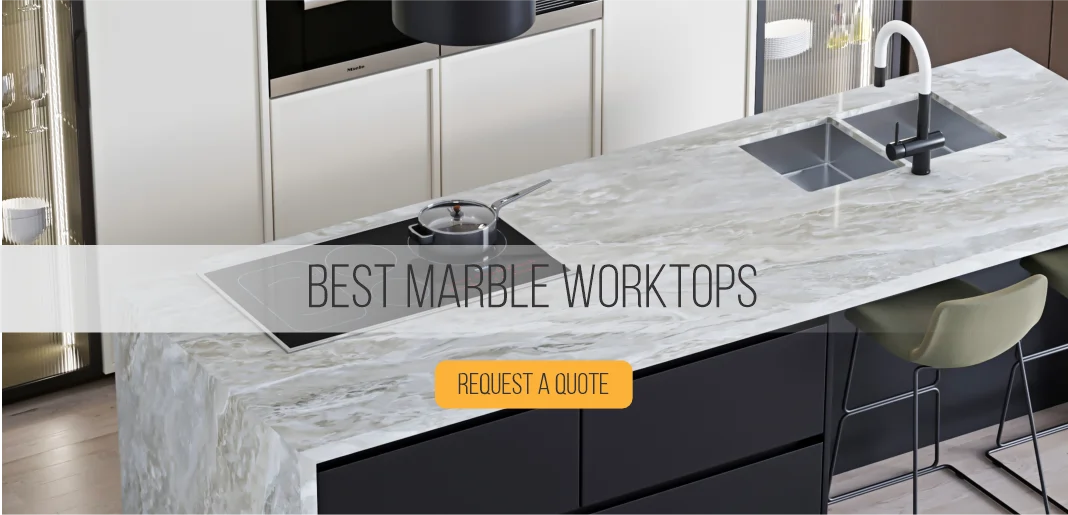 1. Carrara Marble
Quarried in Carrara, Italy, the Carrara Marble is one of the most popular marbles that you can find. Apart from interior residential projects, it is also very commonly used for building decor and sculpture. The classic white marble with grey veining is highly versatile and can easily blend with Victorian decor as well as many other design styles. Contrary to what you may think, marble is a sturdy stone and it is extremely durable and hard-wearing if you know how to take minimal care of it surfaces. Carrara marble has gained even more popularity over recent years as it offers a classic appeal without overpowering with its presence.
2. Calacatta Gold Marble
Calacatta Gold Marble is also a white marble but features grey thick veins with golden highlights. The elegant and sophisticated beauty of this marble has graced Victorian homes for many centuries and Calacatta Oro is Italian sophistication at its very best. If you are looking for a way to enhance the look and value of a Victorian or Period home, Calacatta Gold is the perfect natural stone. It will surely be a great option that embellishes any space in your Victorian property with luxurious feel and grace.
3. Statuario Marble
Statuario Marble is another very popular white marble  ideal for your Victorian home. It features dramatic grey veining to suit your period property. Unlike Calacatta and Carrara, the veining of Statuario is made from a combination of heavier and thinner patterns in darkish grey in general. Statuario marble is also original from the Northern part of Italy, bringing rich history and evident heritage which is transmitted to any space in which you will apply it. Apart from kitchen worktops, it is also an ideal option for when you wish to design interesting patterns in splashbacks, floorings, and bathroom vanities.
4. Statuarietto
Statuarietto is also an Italian marble of thin to medium-vein. It is well-known for its white background and consistent veining in grey scattered throughout a pure white surface. If you want your kitchen worktop to be the focal point of your kitchen, the dramatic beauty of this marble can deliver the expected results. Statuarietto marble, as well as its counterpart Statuarietto Extra marble, come with rich veins and patterns. You can combine these with book-matched pieces to complete a majestic look which is also very popular in Victorian properties.
5. Grey Marquina
If white is not the colour you are looking for, Grey Marquina with its grey backdrop and random white veining might be the one for you. Quarried in the Middle East, this dark grey marble blends very well with the design aspects your Victorian house. In addition, it effortlessly enhances it further. It offers sophisticated elegance with timeless beauty for your space. The marble is available in many different finishes to perfectly match your décor. And is also available in thickness of 20mm and 30mm, which are ideal for any horizontal and vertical applications you may wish to create.
6. Calacatta Nero Marble
While the Victorian decor is known for its antiquity, a lot of homeowners prefer adding a splash of drama to it. Calacatta Nero Marble can be an excellent choice if you are one of these homeowners. The white marble with grey veining in striking patterns can easily spruce up the startling beauty of your kitchen, while also making it more functional. Calacatta Nero offers you the best of Italian looks with exotic dark lines, bringing subtle dynamism to your designs.
7. Rosa Egeo Marble
While white and black are popular marble choices, there is no shortage of other colours for your Victorian home. Rosa Egeo Marble is from Greece. The stone  has a unique light-pink background and white patterns throughout the surface which adds a delicate touch to your kitchen. Apart from its unique beauty, it is also an affordable marble option if you are on a tight budget. Rosa Egeo is also available in several finishes and thicknesses, which makes it versatile for any of your creations.
8. Statuario Altissimo
Statuario Altissimo is an Italian marble with white background and a combination of thick and thin veining in grey. While the marble looks like the Statuario Marble, upon closer inspection, you'll see the veining significantly vary. The marble is highly versatile and can be used for worktops, walls, floorings, and a host of other interior projects.
The Victorian decor has been in trend for centuries and is still a preferred choice for a lot of homeowners. Combine the decor with one of the marble worktops mentioned above and see how it not just blends with other elements of your kitchen but enhances them further.
Published by Jesus Alberto Mouzo on July 30, 2018