Looking for the best countertop to renovate your kitchen or bathroom design? Have you ever wondered what's the difference between marble and quartz? They are both known for their unique characteristics, and you need to consider various factors before choosing the best option for your work surfaces.
Kitchens units and bathrooms can be costly, when it comes to renovation. For this reason, you need to be sure of the material when selecting the worktop for your kitchen or bathroom. Have you ever wondered which factors you should take into account when choosing a worktop material? When buying your next worktop, you need to consider various factors. Some of them are the appearance of the worktop, the installation process, the surroundings and your budget.
Marble and quartz materials are among the most popular options for worktop surfaces across the globe. But you need to understand how both these worktop materials perform in different conditions and how to tell the difference between quartz and marble.
Understanding the Difference between Quartz and Marble Countertops
1. Appearance
Marble worktops can add a luxurious and exotic feel to a home. They are made from all-natural and raw marble that's quarried, cut, water-blasted, buff dried and further polished into shiny slabs found in worktop stores.
Quartz worktops, on the other hand, are engineered and composed of natural quartz, along with resins, polymers and pigments at a ratio of somewhere between 93 % and 97 % and 7 % and 3 % synthetic materials. This blend of different materials gives quartz slabs flexibility and consistency in colour and pattern.
So is it better to have quartz stone kitchen worktops or should I go with marble? If you want to add timeless beauty and elegance to your interior, naturally veined marble is your ideal choice. But you need to make sure that you take good care depending on the type of marble that you may choose. This is because its porous surface is prone to staining. Generally, you will find that the lighter the colour of the marble, the more chances it may be prone to staining. Crystalline marbles that are semi-transparent are a no-no for kitchen work surfaces.
But if you don't have time to maintain marble, you may opt for the non-porous Carrara quartz worktops that beautifully mimic natural marble without bearing any flaws of the natural stone.
Another difference between quartz and marble is the consistency of pattern and colour. Since quartz is a manmade material, each slab will have consistent colour, pattern and texture. On the other hand, each piece of marble is unique and doesn't match with another piece/slab. This means that the marble worktops that you choose are unique to your household, reflecting your taste and personality.
Both marble and quartz countertops won't alter in appearance over the years. Marble is likely to get dark appearance with age, but only when exposed to UV rays. When it comes to quartz, the sun is its biggest enemy, as UV radiation can make polymers and resins within the quartz worktops turn yellowish over time. Therefore, you need to protect quartz kitchen worktops from UV rays.
2. Installation
Both marble and quartz worktops are complicated to install, as both materials require professional and careful measures to secure the slabs on bathroom or kitchen worktops.
The main problem with marble is that if two slabs are combined, they must come from the same block, avoiding any differences in colours and pattern between these two pieces. The difference between quartz and marble, however, is that  quartz worktops are consistent in designing and combining two slabs with less visible seams. Quartz manufacturers produce their materials in large batches which can be of thousands of slabs at the time, making it easier to purchase two quartz slabs of the same batch for your design.
Nonetheless, the issue with the installation of, for example, quartz stone kitchen worktops, is that it's heavy and needs careful cabinet manufacturing to have a sound foundation. Being a heavier material, this countertop is more difficult to install.
3. Durability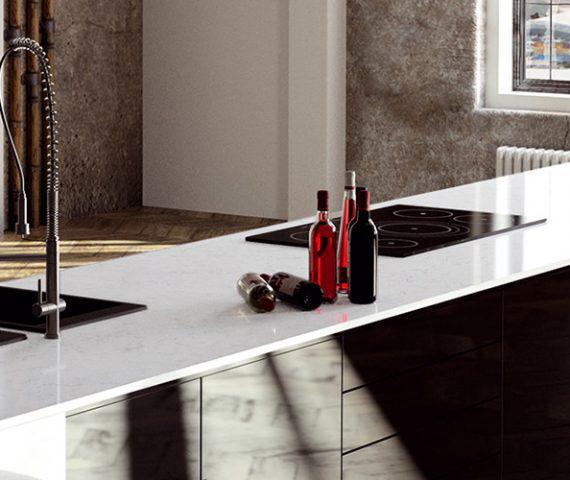 Compared to Carrara quartz or other designs of this material, the main difference between quartz and marble is that natural marble is more porous. Being a porous material, marble may get stained if spillages are not wiped off quickly. It may also etch when it contacts acidic substances like wine, lemon juice, tomato, vinegar, coffee, etc. You also cannot clean marble with any chemical cleaner because harsh cleaners could damage its surface. Therefore, you can use PH neutral cleaners such as Lithofin Power Clean, that are designed to clean marble surfaces. Marble also needs sealing once every eighteen to twenty-four months after installation. Sealing marble is very simple, inexpensive, and it can also be done at home.
And what's the difference between marble and quartz when it comes to durability? Well, quartz worktops are non-porous and highly stain resistant. Hence, these can easily be cleaned using only warm water and soap. It also doesn't need any sealing to protection. Quartz is a hard and solid surface that won't etch or scratch with daily use, which means that quartz kitchen worktops are scratch resistant work surfaces. If maintained properly, these hard surface countertops are likely to last a lifetime.
4. Price
Marble slabs of common materials are very affordable. Whilst the most exotic and striking patterned marbles can be expensive when compared to quartz worktops depending on the type and quality of the material you chose. Quartz worktops and marble worktops generally carry the same labour prices due to its the fact that both materials are easy to fabricate and install when compared to denser materials such as granite or natural quartzite. So, the cost difference between these two materials is not too dramatic.
So what is the price difference between marble and quartz? Marble prices costs start at approximately £59 + vat per square metre whereas quartz costs start somewhere around £78+vat per square metre.
5. Heat Resistance
Quartz is more heat resistant compared to marble, which makes it a better work surface, as quartz stone kitchen worktops can easily withstand heat. In this sense, the main difference between quartz and marble is that although marble is heat resistant, a sudden change in temperature may lead to hairline cracks. However, still, it's recommended not to put hot pots or pans on the surface of quartz to prevent it from burning of its resins when sudden temperature changes occur.
6. Resale Value
Both these worktop materials are likely to increase the resale value of your home. However, marble is considered more luxurious in appearance, though it requires more maintenance. For homeowners who prefer marble but don't want to deal with its natural flaws, marble-inspired Carrara quartz is a great option for them to enhance the resale value of their property, as in that case most people do not know how to tell the difference between quartz and marble.
Published by Jesus Alberto Mouzo on March 6, 2020