Silestone, a global leader in the quartz surfaces segment, has further expanded its Eternal range of stone surfaces with five new and distinctive marble colours. The Company has recently become the centre of attention with the launch of its Calacatta–inspired quartz surfaces. The brand launched Eternal Calacatta Gold as one of the five colours of their Eternal range in 2017. Following up on the popularity of this quartz surface, this new 2018 launch from the brand includes two different variations of the popular Calacatta marble –Silestone Calacatta Classic and Silestone Bianco Calacatta. Do you want to know the main differences between Silestone marble colours? Keep reading to be up-to-date.
The materials are to be launched imminently for the United Kingdom. In addition to these colours, it will also include Silestone Eternal Marfil, Eternal Emperador and Desert Silver quartz surfaces.
In the meantime, allow us to have a detailed look at these Calacatta-inspired surfaces from Silestone.
Silestone Calacatta Gold
Launched in the year 2017, Calacatta Gold effectively captures the true essence of the Calacatta marble. But it also adds a modern touch to it. The surface features thick veins in grey that are elegantly detailed with a golden tone on a bright white background. The idea behind Silestone Calacatta Gold was to pay tribute to the Calacatta marble, which is not just popular in the modern times, but was also held in high regards in the ancient times, too. Especially, the golden glints perfectly exude the richness of the past. Are you starting to see more clearly the differences between Silestone marble colours?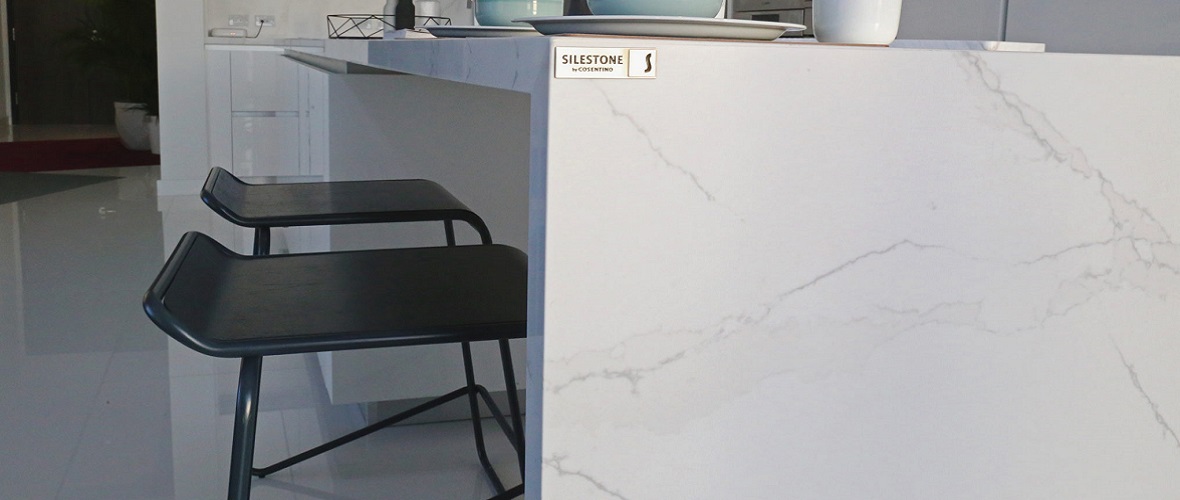 Silestone Classic Calacatta
Silestone Classic Calacatta is one of the five new colours being launched by the company in 2018. Subtle and elegant, the surface effortlessly reinterprets Calacatta marble in the most realistic manner. The surface has a translucent appearance with grey veins throughout on top of the neutral base to resemble the real stone. Combined with the durability of quartz, Calacatta Classic quartz, Silestone, is surely an exceptional choice for kitchen worktops and large kitchen islands. Classic Calacatta will be available in thicknesses 12 mm, 20 mm and 30 mm and Jumbo slabs with dimensions 3250×1590 mm which brings large seamless panels into interior decoration. Among the differences between Silestone marble colours, this one stands out in a noticeable way.
Silestone Bianco Calacatta
If you are looking for a more dramatic appeal, Silestone Bianco Calacatta from the Eternal Collection 2018 can be a great choice. The notable white hue of the Calacatta marble is combined with electric, thick veins in grey for the right amount of contrast and style. If you want your kitchen countertop to be the focal point of the room, Bianco Calacatta can surely deliver the expected results. Bianco Calacatta quartz, Silestone, is available in both polished with beautiful sheen and Suede leathery finishes which will make it very popular across modern and traditional kitchens. The main differences between Silestone marble colours have now become more than apparent.
Notable Differences:
While all the three quartz surfaces are inspired by Calacatta marble, Silestone worktops has ensured that the surfaces are significantly different from one another in their appearance. While the Calacatta Gold that was launched in 2017 has lighter grey and bluish veins with a slight golden shade, Classic Calacatta launched in 2018 has a more translucent appearance with uniform veins in dark grey.
While both Calacatta Gold and Classic Calacatta are perfect to add warmth to any environment, the recently released Bianco Calacatta has a more theatrical appearance. It has thicker electric grey veins on a luminous greyish backdrop, which looks striking in any contemporary or traditional setting.
All three surfaces benefit from the new Silestone's 'N-Boost' technology which makes them liquid repellent, being more resistant to stains and easier to clean than ever before, providing the surfaces with vivid colour. And, of course, even after knowing the differences between Silestone marble colours, the most important factor stays the same: all of them offer an unmatched quality to your kitchen worktop.
The surfaces are available in different slab sizes, thicknesses and with different edge formats to perfectly suit your requirements and help you create your dream home. Do not hesitate either to check out more of our brands and materials at My Kitchen Worktop.
Published by Jesus Alberto Mouzo on January 8, 2018