Installing Carrara marble or Carrara Quartz into your interior is a matter of personal preference and your routine lifestyle. However, before making the decision, you must find out about the differences between these two stylish surface materials.
Carrara marble is probably one of the most popular decoration materials throughout history. Also, it's one of the most beautiful natural kitchen worktop materials in the market. However, natural marble requires a little bit of maintenance that may not suit a busy routine.
If your heart is set on the gorgeous White Carrara marble, but you are not ready to commit to the extra care and precautions while cleaning, do not worry. In that case, you can consider choosing the white Carrara quartz countertop that perfectly resembles the natural marble without any inconvenient resealing or the need for regular maintenance.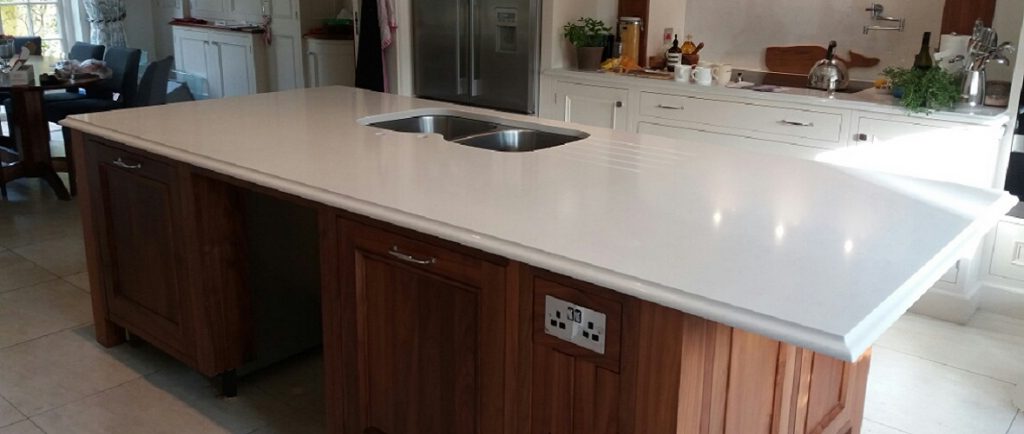 Even though marble is popular among interior designers, architects and homeowners, quartz that mimics marble can easily fool the eyes of viewers or even the savviest buyers. In some cases, even when you take a closer look at an image, you cannot clearly differentiate between Carrara marble and Carrara quartz worktops. However, there are major differences between these two materials, apart from just their appearance. Let's find out the differences between these two worktop materials.
Geographical Location
Carrara marble is quarried from the mountainous region of Carrara, in Tuscany, Italy. As a matter of fact, Carrara is the only place in the world in which this marble is available. Similar stones from other parts of the world, such as China or Turkey, may be given the 'Carrara' name by the quarries for purely commercial purposes. It is therefore recommended to ask your fabricator the origin of the marble you intend to purchase. Besides being the country of origin of Bianco Carrara marble, the Italian process of polishing and finishing the slabs is known to the best in the world. This ensures that not only the pattern but also the look of the finish surface will be superior to that of another 'Carrara-looking' stone from other countries may have to offer.
Similarly, Italian. Carrara marble is famous for its beautiful white aesthetics and smoky-grey veins. These smoky veins distinguish Carrara marble from other marbles available in the market. It is, therefore, it's not surprising why this marble is the most popular choice when it comes to high-end luxury worktops. Its natural aesthetic charm is an epitome of wealth and high class. That's the reason it's consistently on popular interior trend year after year.
Carrara quartz, on the other hand, is a man-made stone, which is engineered within industries to mimic the natural Carrara marble. This stone is a result of advanced technology that blends resin, natural quartz and coloured pigments to create a marble-like effect. Since Carrara quartz worktop materials are made by a plethora of different brands, production facilities are allocated to the different countries of origin of these Companies. It is recommended to check with your stone supplier if the Carrara-effect quartz material you intend to purchase has been manufactured under Bretonstone guidelines. Bretonstone is the Company that created the process to make engineered Carrara quartz, ensuring the product is non-porous. Leading quartz manufacturers employ this process to make the slabs. It is also worth noting that most quartz brands and therefore manufacturing facilities, are placed in European countries including Spain, Germany, Czech Republic, Italy, etc. There is also a limited number of quartz brands and manufacturers outside the Old Continent, in countries such as the USA and Vietnam.
Carrara Quartz vs. Carrara Marble
Looks
Despite some of the natural fissures and flaws of marble, those who understand its great qualities, appreciate the beauty of this natural stone. As a matter of fact, most professionals in the stone decoration field will attest that there is nothing like the beauty of natural Carrara marble.
Having said this, we must pay close attention to the evolution of Carrara quartz surfaces, manufacturers are increasingly achieving more natural and realistic Carrara marble looks.
Porosity
Despite its immense beauty, natural Carrara marble is naturally porous, which means that you will need to seal its surfaces every couple of years. Sealing marble is extremely simple and inexpensive, so this is not something you should particularly worry about.
Due to the porous nature of Carrara marble, you may see marks of everyday spills or food stains on its surface. Some acidic foods and drinks like lemon, vinegar and wine often leave stubborn marks on the porous marble surface.
Its alternative, Carrara quartz bears the natural marble-like appearance , but it's highly resilient and stain-resistant compared to the natural stone.
Unlike Carrara marble, Carrara quartz is made as a non-porous surface that makes it highly resistant to stains and spills. If you love the natural elegance of Carrara marble but don't want to deal with the problems associated with this natural stone, you can choose Carrara quartz worktops, as it's a long-lasting material that will look the same for many years.
Cleaning and Maintenance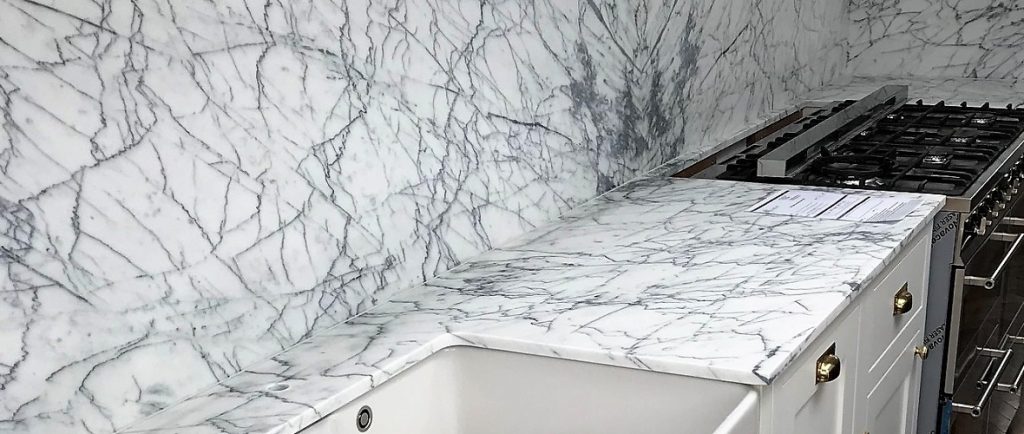 When using Carrara marble, you should immediately wipe off the everyday spills to avoid stain marks. You must use a soft cloth and non-abrasive cleaning agents to clean marble surface.
When using Carrara marble, you should immediately wipe off the everyday spills to avoid stain marks. You must use a soft cloth and non-abrasive cleaning agents to clean marble surface.
But when it comes to Carrara quartz, you don't have to worry much about its cleaning or regular maintenance. This is because the non-porous and tough surface is strong enough to bear the potential stains whilst avoiding etching of the worktop. You only need to wipe off the surface with mild soap and clean cloth to maintain its elegance. There is no need to spend money on sealing its surface as well.
Keeping in mind all these points, Carrara quartz seems to be the best choice if you are a busy person. If you instead prefer to keep a natural look throughout your house or office, Carrara marble worktops are an unbeatable choice.
What do you think about this durable marble-like quartz countertop material?
Published by Jesus Alberto Mouzo on September 10, 2019