5 most Popular Marble Edges for Kitchen Worktops
Marble has historically been the surface of choice across different periods of times, be it ancient Egypt, the Greek, Roman Empires up to modern times. This isn't only due the natural beauty seen on marble but also due to its durability, texture and other unique properties found in this distinctive natural stone. Whether it contains veins or has a plain shade, marble is used by artists in sculptures and hundreds of other architectural monuments such as churches, palaces, and etc.
In modern architecture, marble is the preferred material of choice by interior designers, architects and home owners alike due to the above characteristics which make it a timeless product with affordable prices.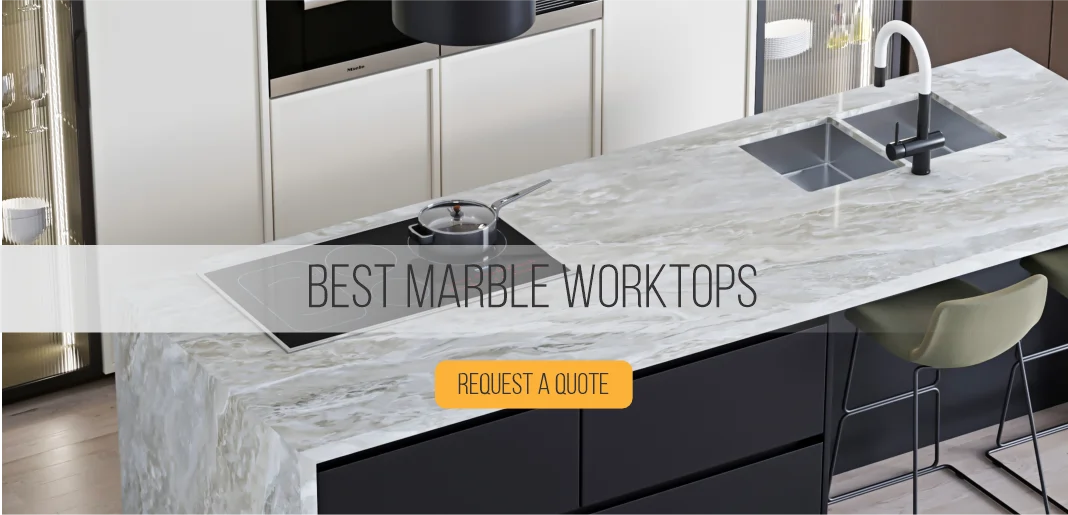 The penetrating finishing in the stone produces luxury and preserves the utmost quality of the natural stone assuring extra poise in appearance, softness and luminosity. This popularity makes marble highly required and recommended for casual and modern styles in unique home improvements as one of the main materials among construction builders and property developers.
Anything is possible with marble for any type and style decoration, as it really is a true piece of art in nature. There are countless types of edges and profiles for each particular specification according to the end user's requirements and taste; including diverse sizes, cuts and coating. The inspiration of marble brought everlasting innovation and introduced a wide range of collections and finished in the stone marketplace. The alternatives renovate each room and look divine in residence and business places alike.
A marble edge defines the finishing touches of any project and help in achieving the look to match the rest of the design scheme at any property, be it residential or commercial.
Here are the 5 most popular marble edges for kitchen worktops and other surface materials to build creative designs:
Pencil Edge
Pencil Edge is the most popular among homeowners, constructors and designers. Industry experts who carve stone as per the end user's preferences will attest to the fact that a Pencil edge is extremely popular. The reason is quite simple, it has a soft pencil-like edge design on its top which is safe, less prone chipping under accidental impact when compared to square edges and it is also easy to clean, children-friendly and due to the lack of sharp corners, it is easier to work with when applying a sealant along the soft front curved edge.
Mostly, you will find a pencil edge in designs of contemporary nature. Please do not let that hold you back from applying this renowned edging for your marble worktops with other designer ideas as well. You can implement a pencil edge for your marble kitchen worktops in the living room, bathroom or kitchen worktop where the wash basin can rest in style; or even at an office or a hotel reception desk where clients and customers will be able to lean over the edge with great ease and comfort.
The clean lines that a pencil edge provides for marble worktops offer more visual interest and a surrealistic appeal in the eyes of the beholder.
Bevel edge
Three different types of design styles are possible with a Bevel edge profile.
Stone wide Bevel edge- As the name suggests, the Stone Wide Bevel Edge has a large inclined front portion with a steep vertical right below it. This style gives repose when leaning against a marble worktop and looks stunning while offering good value.
Such a design is eminently used at museums or parks where you read the history about a monument or an artefact of significance. In a marble worktop application, it brings strength and support when applied at offices or workspaces such as kitchens. A small flat portion at the very top provides a set space to keep objects that will add value and nurture grace to the marble worktop in the Bevel edge.
Stone Reverse Bevel edge or Chamfer edge- A Stone Reverse Bevel Chamfer Edge is most widely used in luxury hotels, spas, airports and at places of significance where displaying style and offering the best value to customers is a mandatory requirement. The reason for implementing it is that the reverse edging gives the stone a rich look and the flat top surface offers incredible strength when a person presses down on it with hands or places a bag on top.
The edge is curved and not sharp, achieving a particular finish which does not hurt your elbows when placing your arms on it. This Bevel Edge crafting is perfect for writing or signing documents, placing papers, books or placing heavy items over the marble worktop.
Stone Bevel Chamfer edge- Simply put, the Stone Bevel Chamfer Edge finds an excellent use as a substitute for a table or desk edge where you can write on the flat marble worktop surface. Popularly implemented at hotels, or office reception desks, this type of Bevel Edge imparts higher productive value while upholding its simplistic integrity.
The chamfered edge is good for leaning against the marble worktop, or placing a bag or purse while collecting items out of it. Sometimes, the sharp edges do not feel safe to lean against or put our precious objects over them, but the Stone Bevel Chamfer Edge takes care of this problem.
All the three varieties treat a marble stone with utmost elegance and give proper credits to the impeccable work of masonry. The edge of the natural marble stone holds very high value and it is more easily noticed depending on the thickness of the slab.
Bullnose Edge
Bullnose Edge also comes in three different forms that offer great value to any marble worktop. Implement the Bullnose Edge either at home as a marble kitchen worktop; in your living room, bedroom, bathroom, or even as a table worktop in the backyard for a small bar, the Bullnose Edge will match any requirement with comfort.
The three types of Bullnose Edge are:
Half Bullnose Edge- This edging is perfect for use at home, where the top part is flat and offers maximum stability, durability and support for use as the marble kitchen worktop. The curved edge ends with a vertical steepness but it is easy to clean and safe when you have children running around the kitchen. It is best used on the kitchen counters; around the sink or stove. A full bullnose edge offers a classic look to any worktop whilst offering a safe solution when accidental impact occurs.
Demi Bullnose Edge- Demi Bullnose Edge looks exactly the same from the top part of the marble kitchen worktop although the main difference arises on the edges where the bottom part of the curve is more enclosed to the remaining body. Unlike the half Bullnose edge, it does not end steep. You can find a fantastic use for it in the kitchen as a centerpiece or in other spaces such as the living room, bathroom vanity top or a mantelpiece because a marble worktop is a highly resistant material when it comes to decoration finishes.
Full Bullnose Edge- Full Bullnose Edge forms a complete curve on the edge and it is best used as a kitchen countertop or a full-length table permanently seated in the middle of the kitchen. It can also be used as a salad station or a bar in the living room or a commercial premise including pubs and restaurants where it can be commonly seen. A Full Bullnose Edge emanates pure royal look and there is nothing else like it. When used in items in an office, such as a personal custom-made desk, or a board room table top, it makes the room look more dignified and elegant.
Shark Nose Edge
The Shark Nose Edge is an S-Shaped curved edge profile, which can be implemented on marble stone to create a marble kitchen worktop. This type of profile is often used in association with both traditional and soothing designs as well as in modern design settings. When used in areas such as bathroom vanities and wash basin surroundings or a utility cabinet, it offers distinct value like no other type of edge profile. When used in a marble kitchen worktop, it is best seen as a centre table in places such as kitchen islands so a maximum number of people can be accommodated. It would be best appreciated when having large pieces because that is a key to showcasing this beautiful edging which stands out brilliantly when used with white marble or grey granite worktops and quartzite, to name a few stones.
Eased Edge
An Eased Edge profile in a worktop is the most commonly seen around households of a slightly older feel. Today with increased advancement in technology, multiple types of stone crafting are possible but in the past years, slightly-eased or completely eased edges were in high demand. When choosing squared edge profiles some associated risks such as safety when it comes to children or pets at home as razor sharpness on edges may be more prone to these, should accidental impact occur.
A squared edge is also more likely to break or chip and most certainly events such as this may not particularly please you in the long run. This is why a slightly eased may better rather than a square edge profile. A completely eased edge offers a lot more stable smoothness around them, especially when grabbing on to that portion of a marble kitchen worktop as support. It is a premium service offered by marble kitchen worktop suppliers and all you need to do is to ask ask for it.
If you want to establish harmony without lacking in any aesthetic attribute, the enlisted individual collection will certainly fulfil all requirements for kitchen worktops. The prices may vary from product and dimension scheme. It is an investment that will pay off in benefits and aesthetic features which will build an original and unique place.
The surface edge has the market expanding like never before. An accessibility to own the most popular series is one-click away. Browse online, be amazed and consider renovating your space with the utmost natural stone performance. If you need some more help or assistant with these products, visit My Kitchen Worktop. The Company provides a whole team to advise and answer all your doubts. When purchasing a marble kitchen worktop from My Kitchen Worktop, you can ask them specifically to craft your edge of choice, or even seek consultation with an expert.
Published by Jesus Alberto Mouzo