The cheapest Kitchen Worktops:
Thinking of upgrading your kitchen worktops? Then you've probably wondered how to do it without breaking the bank. Don't worry, the first thing you should look for is to reflect your lifestyle. For example, if you have a large family, you may want a worktop that is low-maintenance and durable. Once you've got your priorities straight, we'll take care of the rest, read on!

What should I consider when looking for the cheapest kitchen worktops?
Preparing a budget for a kitchen worktop involves many variables that will tip the scales from one side to the other. There's a multitude of factors to consider when hunting for the cheapest kitchen worktops, and none of them involve settling for less than the best.
Creating a budget for a kitchen worktop is akin to orchestrating a grand symphony, with each variable playing its own unique note. 

Therefore, below we will analyse the main parameters that affect the final price of a worktop:
Dimensions
As you can imagine, the dimensions of a worktop are a crucial factor in pricing. A worktop can have very different sizes from one home to another, and consequently the costs can be very different. 
However, our experience assures us that the standard dimensions are usually around three and a half metres long and around 60 cm deep, with an additional 3 cm margin.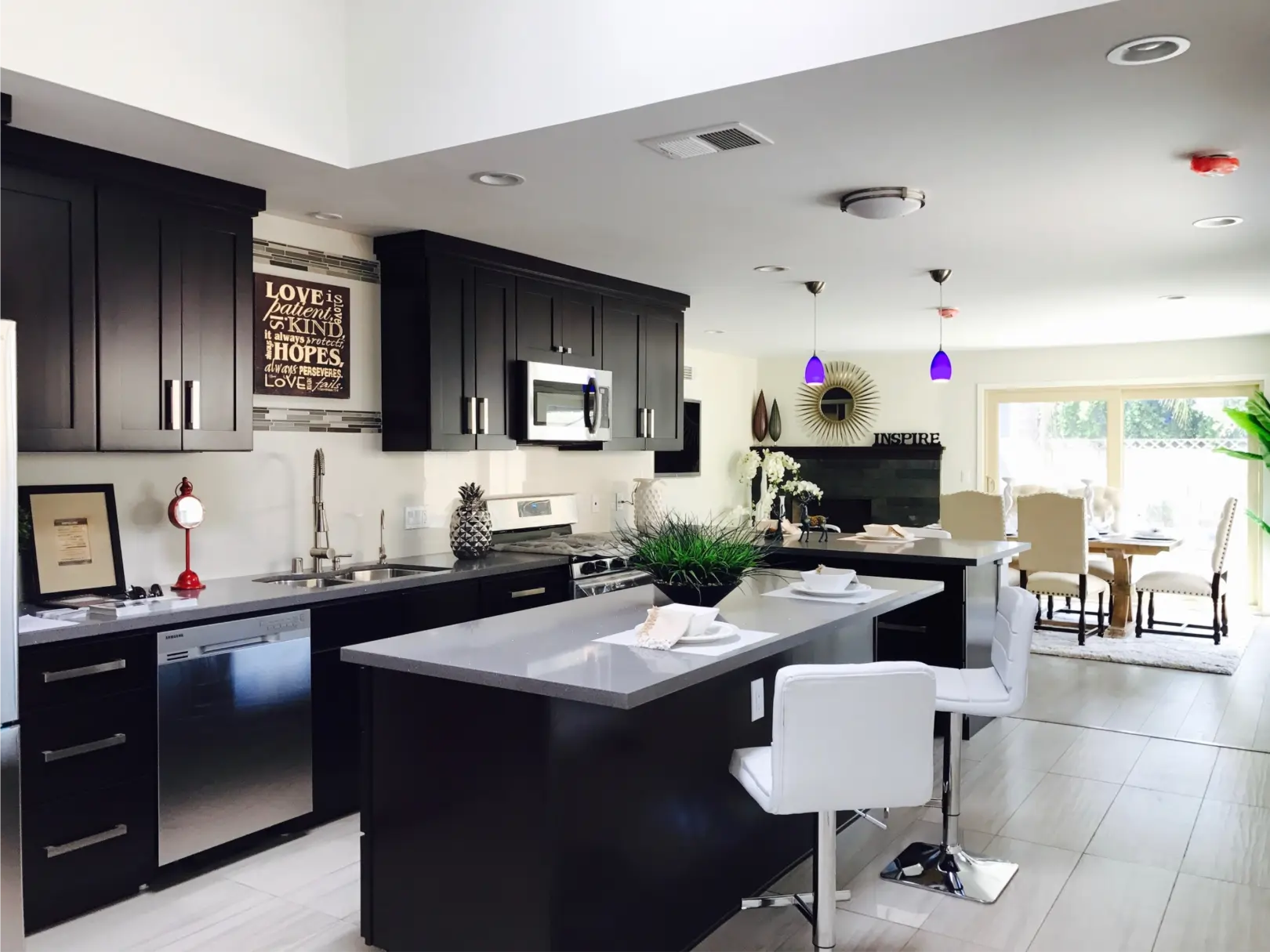 Thickness and edge
Today the most common thickness is around 20 mm, although many manufacturers also offer 30 mm. The main reason is that the price difference for the customer is minimal, but for the producer it is noticeable. Thin materials are more expensive to manufacture, as they are more delicate.
As for the edge, it refers to the outer shape of the worktop. If you are looking to cut costs, the best option is the pencil edge, as it is the default option and does not usually involve additional costs.
Material 
The star soloist. The choice of material impacts the cost greatly. From quartz to granite, ceramic to marble, each has its own price tag. 
Complexity of the worktop Design:
The composer. A simple rectangular worktop is going to be cheaper than one with complex curves and cutouts.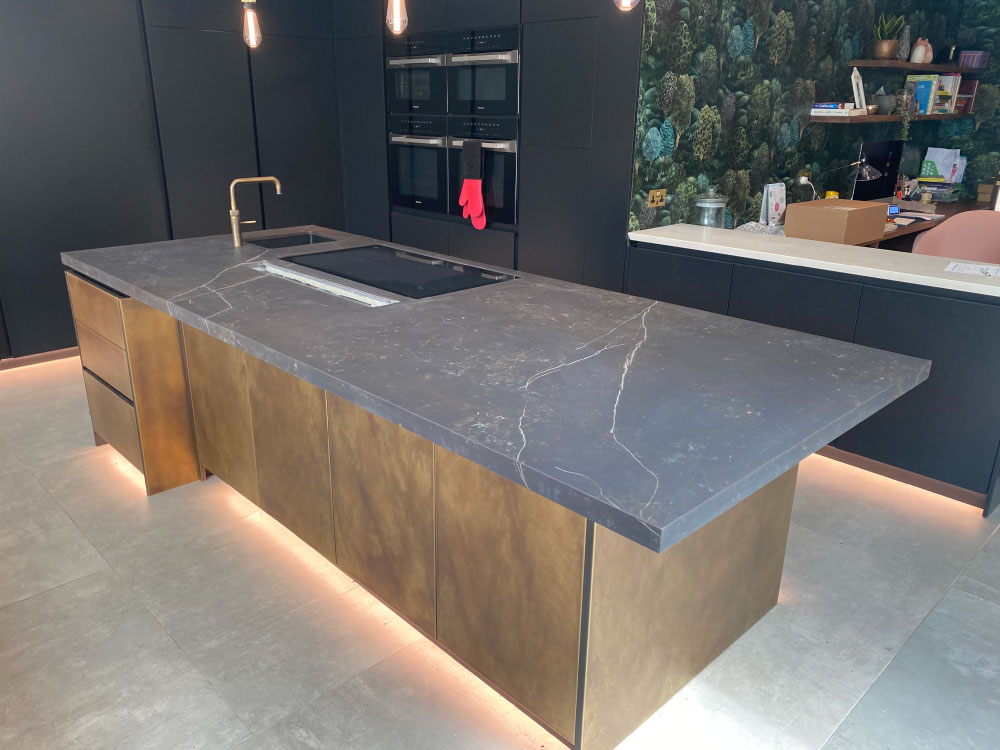 What other factors make a kitchen worktop affordable?
Extras: integrity sinks, upstands, splashback…
In case you want to add extra features, you must consider that they are an extra cost. For example, integrated sinks might be a desirable extra, as they convey a sense of unity because they are made of the same materials.
Installation:
The stage setup. It involves not just the cost of labour, but also the challenges involved in installing the worktop.
Maintenance:
The after-show care. Some materials require regular sealing or special cleaning products, adding to the long-term cost.
Furthermore, in recent years there has been a growing trend to install splashbacks in the worktop or upstands to achieve a more minimalist aesthetic. This involves covering the wall space between the worktop and the kitchen walls or cupboards with the same material. In short, we are talking about extra slabs that would involve considerable expense. 
So, when you're on the quest for the cheapest kitchen worktops, consider these variables. They're the key to finding a worktop that doesn't just fit your budget, but also sings the perfect melody in your kitchen symphony.
Although we have not mentioned it so far, the material of the worktop determines the price range. Our aim is that every customer can achieve their dream kitchen, whatever their budget. Therefore, hercheapese is a selection of our most affordable materials: 
1. Granite 
Granite is one of the most popular materials because of its excellent properties. Granite is scratch-proof, it withstands high temperatures and requires little maintenance as it is easy to clean (just use soapy water). As it is made from a natural material, each stone is unique, which undoubtedly adds a touch of originality to our kitchen. 
2. Quartz
Also known as engineered stone, quartz is made from stone waste mixed with resins and dyes, making it a cheap and environmentally friendly option. This material is non-porous and resistant to scratches and stains, as well as acidic foods. Finally, it is heat resistant, so you don't have to worry if you put hot objects in direct contact with it. 
3. Composite Marble
If you've always dreamed of a luxurious natural marble worktop, you're sure to love this imitation. Among the characteristics of cultured marble is its resistance to impacts and scratches, as well as its easy cleaning. It is a recycled material whose percentage of marble is not 100%, as it is mixed with polyester resin or coloured pigments, so the price is lower.  
Do you have a very tight budget, but your current worktops are no longer shiny or are full of stains? Then you can give them a new look with a coat of paint. There are hundreds of possibilities on the market and, although this process may be more tedious than simply buying a new worktop, you will save a significant amount. 
In a nutshell
As we have seen, we must carry out rigorous research if we want the cheapest kitchen countertop. However, you should also weigh up the quality and your taste. After all, a kitchen renovation is not something you do every day, so opting for quality and beautiful materials will be a worthwhile investment.
At My Kitchen Worktop we work with the best suppliers in the UK to provide you with the best value for money materials. Commitment to customer satisfaction has been at the heart of our company for decades. Don't hesitate to contact us without obligation!.