Laminate countertops are a cheaper option than stone, but they tend to lose their initial glow with time. This can have a powerful effect on the whole aesthetic of the kitchen, and end up spoiling an otherwise carefully curated design. But, what if one doesn't have enough budget to replace a whole countertop? Is there any option left? Can I paint a kitchen countertop? Luckly, the answer is yes.
Can I Paint a Kitchen Countertop?
As we have just said, yes, you can. It is actually more or less within the reach of most handy people, and you don't need to have a very specialized equipment: normal paint, a good primer and resin will do the trick.
As far as materials go, laminate is the best candidate for this makeover. It is easy to paint, and the paint holds up pretty well over time. Many people wonder how you can paint a laminate kitchen countertop when these surfaces are often wet, have to withstand heat, scratches and a lot of movement in general. Well, strangely as it may seem, if the painting is done correctlStone y, you will find that years later no signs of mistreatment are visible on the surface. Needless to say, you can't treat a laminate worktop the same way as a stone worktop, especially as far as heat and scratches are concerned, but it should pass the test of time if used properly.

How to Paint Laminate Kitchen Countertops
So, now that we've dealt with the main considerations, let's dive in. What sort of materials do I need to paint a kitchen countertop? What type of patterns or colours are recommended? Let's dive in.
Tools Required to Paint a Kitchen Countertop
This may come as a shock, but you don't need a special type of paint in order to give your worktop a makeover. It is not a matter of the paint that you apply: the important thing is to use a top-quality primer and sealer. In addition, if you are looking for that glossy look that will make your kitchen look brighter, you can always apply a resin topcoat. The good thing about this coat is that it will endure all the scratches, stains and tests of time, while the paint remains untouched. As a result, your painted countertop will last longer.
 As far as colours go, you have a very wide array of options. "Can I paint a kitchen countertop red?" Yes, of course you can! It all depends on the design of your kitchen and on your own taste. There are kits in the market that replicate stone patterns, such as granite or marble, so this could also be an option if that aesthetic suits your home.
Steps to Paint a Kitchen Countertop
So now that you have chosen the right pattern or colour, and you have taken a trip to the hardware store to buy all the necessary equipment, it's time to roll up your sleeves and  get this DIY project started. So, how exactly can I paint a laminate kitchen countertop?
Protect the rest of the kitchen from paint and dust.

Preparation is essential when paint is involved. Cover the

cabinets, floor and appliances

, so they do not get dirty in the process. Use

tape

to avoid any leaks, and do not forget to wear old clothes, as well.

Clean the surface.

The first rule when one is going to work with a surface, no matter what the task in question is, is to

prepare said surface

by cleaning it thoroughly.

Sand the laminate worktop. In order to get a great finish, it is better to lightly sand the laminate surface. This will leave a soft and plain surface for the primer, and the final look will be better.
Apply the primer. Before using it, you should carefully read the instructions or ask the person who sold it to you if you have any questions. Two coats are often advised, but remember to let the first one dry before applying the second one.
Paint the surface. Once the primer is dry, you can open your paint bucket and start applying it to the laminate surface. Again, it is best if you apply two coats, but you should always wait until the first one dries. Remember to open a window while you work with these products, as their smell can be quite strong.
Seal the laminate countertop. The final step would be to apply another two coats of sealer. Read the instructions from the manufacturer to make sure that you are using the product correctly.
Apply a resin topcoat.

This step is optional, but, if you want your laminate countertop to have a

glossy final touch

, do not hesitate to apply a resin topcoat. This will also help with any scratches or stains.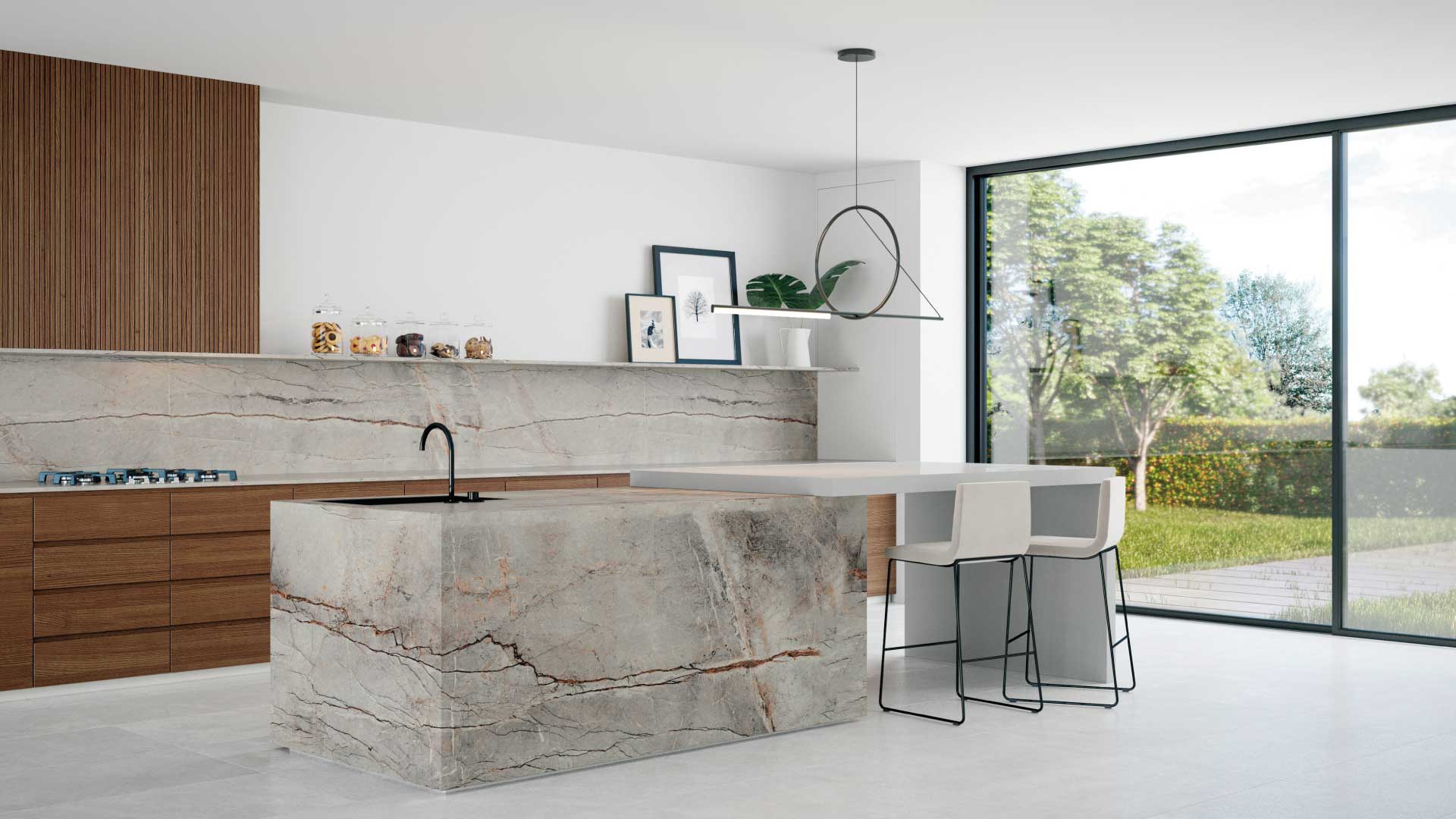 Painting kitchen countertops is an interesting and cheap way of giving your kitchen a makeover while you have some fun working on a DIY project. However, as stone worktop providers, we cannot help but underline that, once you have gathered the money, choosing a stone surface is a lifelong investment that will definitely pay off in the long run. If you are still on the fence about it, do not hesitate to contact our team of experts and ask them for advice.