Everything You Need To Know About Terrazzo Countertops
What is Terrazzo
Terrazzo worktops were born in the 18th century in Italy. However, its origin dates to the Egyptian Civilization. Now, these worktop surfaces are being used in various modern architecture designs to boast elegance and aesthetics.
Terrazzo worktop, also termed as "pre-cast" Terrazzo, is a composite stone. The term "Pre-cast" is referred to the casting of an object built outside a construction site, hence enabling its development under controlled conditions. This formation is done using terrazzo slabs for ensuring that all products meet industry standards. Terrazzo slabs are used to ensure that products match the industry standards.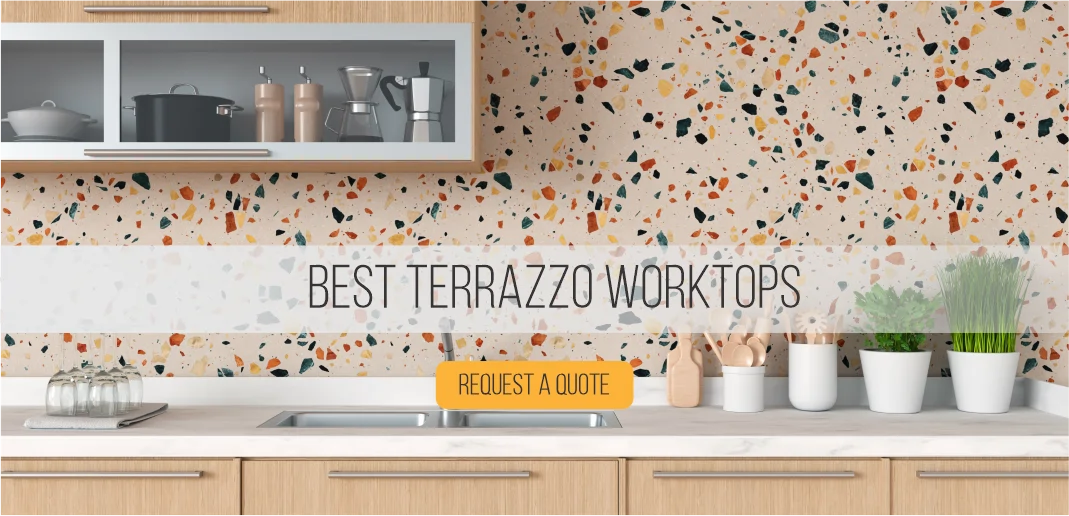 What Is Terrazzo Material
Terrazzo is a composite material made from marble chippings fixed into marble, granite or cement. It originated in the 16th century in Italy for reusing stone offcuts. It is either pre-cast within blocks that can be cut into different sizes or poured in situ manually. You may even purchase it as ready-made tiles that are easy to apply directly onto the walls and flooring. Most modern terrazzo is made by mixing natural stones which are then Vibro-compressed in industrial environments. This results in Terrazzo surfaces that are compact, low in porosity, and easy to clean and maintain. If you are looking to install terrazzo for commercial projects, you will be glad to know that the marble-based terrazzo can be re-polished after a few years, bringing out its original sheen.
Why Choose Terrazzo?
Terrazzo is virtually available in endless material and colour options. Its fragments can be anything from quartz to marble, metal and glass. Moreover, it's hard-wearing. Since it's made mostly from natural products, terrazzo is an eco-friendly decoration piece.
It is also an economical substitute to poured terrazzo and its slabs are commonly used in London kitchen extension. Many architects and owners prefer terrazzo tiles or slabs in different urban settings due to its aesthetics and sophisticated visual appeal.
Understanding Terrazzo
Terrazzo tile manufacturers develop pre-cast slabs that are the outcome of combining natural stones like granite, marble and limestone. This combination of natural stones is done for creating an artistic vibe using selected materials.
Designers need to maintain the natural feel and look of stones, which they have been practising since the very first time they built terrazzo in Italy. The final finish gained after the amalgamation of pre-selected stones ensures high-performance and sophisticated terrazzo material.
Naturally, the combinations and permutations, which artisans create after the blend of a variety of stone options, deliver various tile and slab designs to choose from. Furthermore, it is available in multiple finishes, individual colour options and different textures to suit a plethora of home styles in urban spaces.
Applications of Terrazzo
Considering the way how Terrazzo is constructed, it would be amiss not to speak about how you need to take care of this material. Terrazzo is often chosen as flooring material that is easy to maintain than most worktop surfaces. Neutral cleaners (that are not too acidic or alkaline) are ideal for the daily maintenance of terrazzo floor and wall tiles. Meanwhile, the infrequent buffing is enough to restore its shiny surface. The ease of maintaining the natural look of this stone enables wealthy options, especially those that are suitable for modern home interiors in the UK.
A regular pre-cast terrazzo worktop in homes can cover around 4 to 5.5 square meters area. Therefore, you may consider inlaying alongside the circumference of a swimming pool with a natural touch. The contemporary kitchen styles are decorated with terrazzo splashback designs, which are the prized selections for creating jointless design panels for worktops with a seamless look.
Terrazzo marble is suitable for both outdoors and indoors. It is a perfect selection for many applications that range from floor tiles to vanity tops, tabletops to furniture units, steps and handrails to staircases, lounge areas to the fireplace and various external facades to foyers.
If you choose terrazzo tiles, worktops and splashbacks, your home is likely to appear like a winner in all situations. It also adds value to your modern home. So, do find a range of stunning terrazzo worktops, along with natural marble worktops or other natural stones, to make the most of the great repository kitchen materials.
What Are The Innovations?
Nowadays, the resin is being utilized, along with traditional cement, for producing terrazzo. It is a durable worktop option that comes with a smoother finish that's also resistant to cracking and scratches.
How Much Does Terrazzo Cost?
Standard terrazzo tiles start at approximately £75+vat per square metre. Moreover, the gorgeous bespoke terrazzo worktops start at £309+vat per square metre including installation and proper polishing.
Which are the popular Terrazzo worktop materials this year?
Terrazzo surfaces are available in different sizes, thicknesses and finish. Standard pre-cast terrazzo slab will cover areas ranging between 3.69 m2 to 5.12 m2 depending on the type of terrazzo selected.
Compac Venecia
Venecia by Compac, is a quartz-based pre-cast terrazzo material boasting a non -porous surface. In addition, this stone is highly resistant to high temperatures, scratches and staining. If these performance features were not enough, the brand offers a 30-year manufacturer warranty on all its products upon registration of your installation. You can avail Compac Venecia white terrazzo worktops in thicknesses of 20 mm and 30 mm. With a slab dimension of 3050 x 1440 mm, this product is sure to liven up any space with large surfaces without the need of placing any joints.
Quartzforms Lavic Navajo
Lavic Navajo is made by Quartzforms, a renowned Italian Company with german engineering. The culture of blending Italian tradition and german industrialized concepts result in non-porous materials that can withstand high-traffic and extensive use. You can choose Lavic Navajo from thicknesses in 20mm and 30 mm and a gorgeous polished finish. The slab dimensions of this product are 3050 x 1400 mm, enabling you to create original designs and bespoke panels. Quartzforms offers a manufacturer warranty of 10 years against faults and/or defects in all its products.
Techinstone Taurus Terrazzo Black
Taurus Terrazzo Black is a new product by the leading producer of conglomerate surfaces in the Czech Republic. Not only that the surfaces come with bacteriostatic characteristics, but they are also very durable. If you are looking for a reliable surface material at affordable prices, Technistone Taurus Terrazzo Black worktops will definitely tick every box. You can choose Taurus Black Terrazzo worktops from thicknesses in 12 mm, 20 mm and 30mm. The dimensions of each slab are 3050 x 1440 mm which are ideal for large kitchen islands and splashbacks. In addition, you can choose from finishes in polished and matt, making this a versatile product for traditional and modern interiors.
Neolith Retrostone
Neolith is a sintered stone made from raw materials such as marble, glass, porcelain and granite. It is compressed industrially, resulting in a practical surface that can be suited to both interior and exterior designs. Retrostone offers a warm coloured base with terrazzo aggregates, bringing a natural feel to interiors. Neolith Retrostone offers a completely different look to those seen on other terrazzo materials, setting it apart when it comes to its design features. Its UV also brings a whole new world of possibilities, enabling you to continue any design outdoors. Another benefit of using this terrazzo product is that it comes in large slab dimensions of 3200 x 1600 mm. These can work very cost-effectively since many times it can fit all the kitchen worktops and island in a single sheet of material.
Techinstone Taurus Terrazzo White
Taurus Terrazzo White is another variant of the Collection of Terrazo by Techinstone.It features a multitude of black speckles cracked on an off-white backdrop, bringing the vintage look of terrazzo to any interior. Just like its counterpart Taurus Terrazzo Black, this design can be availed in thicknesses of 20mm and 30 mm. In addition, you can choose Taurus Terrazzo White from polished and matt finishes to suit any theme.
Stone Italiana Terrazzo Grey
Terrazzo Grey by Stone Italiana is a quartz-based terrazzo worktop made by a company with over 40 years experience in producing high-performance surfaces. The brand takes great care when it comes to making luxurious products with original designs. In addition to high resistance to staining and scratches, Terrazzo Grey recycles quartz and ceramic grits with fragments made from raw materials, resulting in large non-porous slabs suitable for kitchens worktops. You can avail this stone in thicknesses of 20 mm and 30 mm, making it versatile for any area of interiors. Although Stone Italiana products come with a price tag, they have shown to be very reliable over decades.
Techinstone Taurus Terrazzo Dark
Taurus Terrazzo Dark is another colour from the collection of the leading Czech manufacturer of quartz surfaces, belonging to the Terrazzo Collection. Not only that this stone will bring a truly vintage look to any kitchen, but it is also highly resistant to scratches and stains. Taurus Terrazzo Dark offers a black-based with coloured fragments and you can avail it in a thickness of 20mm and 30 mm. Additionally, as with other designs from this range, you can select Taurus Terrazzo Dark matt or polished finishes.
Published by Jesus Alberto Mouzo on January 8, 2020