Being one of the most crucial elements of all kitchens, the worktop has to be selected with care and caution. Right from the material choice to the looks and appeal, everything should be per your taste and the kitchen décor. Due to the durability, strength and incredible aesthetic appeal, marble and granite are the two most popular kitchen worktop materials.
As marble and granite worktops come in a wide variety of colors, patterns and shades, you can have a hard time picking ones that suit your requirement perfectly. To make the choice easy for you, here we have brought a list of the most popular marble and granite worktop trends that you can have a look at.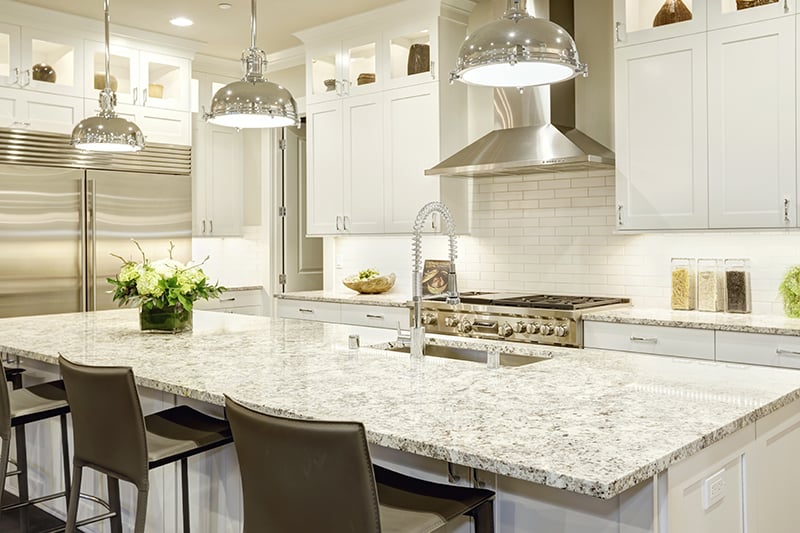 Calacatta Marble Worktop
White marble with blue-grey veining that has been used the world over to make the world-famous monuments, such as Marble Arch in London and Taj Mahal in India. If you wish to bring the same luxurious effect to your kitchen, this marble type should be your choice. Besides having a stunning aesthetic appeal, Calacatta marble has high durability, low liquid absorption and high heat and cold-resistance.
Black Granite Worktop
For a modern and contemporary kitchen design, you should try out classy looking black granite kitchen worktops. The best part is that you can have these worktops in a wide array of shades and styles.
Sensa Granite Worktop
If you pick Sensa granite worktop for your kitchen, it means you are selecting a beautiful and durable surface that boasts an unmatched level of stain resistance. Yet another likeable thing about this material is that it is available in a wide selection of colours.
Pietra Grey Marble Worktop
Pietra grey marble is a naturally occurring grey stone with white veins moving in different directions. Its look and appeal are such that it blends well within both modern and traditional kitchen settings. As compared to many other types of marble, this one has comparatively low maintenance requirements.
Star Galaxy Granite Worktop
Worktop made of the super gorgeous star galaxy granite can be an amazing addition to any kitchen. You would love its appeal if you like solid black worktops with a little dramatic effect. These worktops feature small gold and coppery dots on a solid black surface, giving a striking night sky effect.
Honed Granite Worktop
For adding an old and aged element to your kitchen, you can try out a honed granite worktop. With a matte finish and softer texture, these worktops have a minimal sheen. As they are not polished, they are more prone to developing noticeable stains. However, with a little more care and maintenance, and not choosing lighter colours, you can get away with this trouble.
White Granite Worktop
If you are up for installing white granite worktops, the choices are plenty. White granite is available in a wide variety, which you can pick as per your tastes and preferences.
Nero Marquina Marble Worktop
If you are not into granite worktops, there are plenty of marble worktop options available for you. One of these options is Nero Marquina (Negro Marquina), which is a popular marble widely used as a worktop material or for kitchen splashbacks. It looks amazing with fossil fragments and white calcite veins on a refined black background. The material is not flooring friendly, as there is a great amount of organic carbon present in the material.
White Macaubas Granite Worktop
A glossy polished finish is what sets granite worktops London apart from many other worktop surfaces. Flaunting an off-white base with brown and dark grey veins, this worktop can become the focal point of your kitchen.
Conclusion:
Both marble and granite worktops enjoy massive demand and popularity. You can pick the one that best suits your particular aesthetic and functional needs, as well as also budget.
Published by Jesus Alberto Mouzo on November 18, 2020