As far as colours go, black and white has always been a winning combination. Not only is it an elegant and timeless choice, but it also allows you to change the colours of the elements around without worrying too much, as black and white go with everything. This is why this colour scheme is always among the most popular choices, and many people decide on a white or a black marble worktop for their kitchens. However, why chose when you can have them both? Introducing panda white marble!
Panda white marble is a beautiful stone that has gained popularity over the last few years. It brings to the table the benefits and elegance of a marble worktop, along with a beautiful and original design that includes both black and white, so you don't have to choose. Let's see the reasons why you should opt for this unique pattern and material.
What is Panda White Marble?
Panda white marble was originated in China. It has a white background and a series of large, black veins, which are the reason why we call it panda. This beautiful contrast is what makes it unique, and a perfect choice for those who want the timelessness and elegance of marble, but prefer a bolder pattern.
According to interior designers, panda white marble offers a classy and stylish touch to any space, as well as luminosity. This, together with the basic advantages of owning a marble surface, makes panda white marble a very good option, especially if you want to improve the value of your home or just amaze your visitors.
Why Should I Choose Marble?
Marble has been used for centuries to erect great monuments, make art and build gorgeous façades. However, what are the advantages of buying a marble surface?
For starters, it is very durable, so this is an investment that will not only add value to your kitchen, but it will also last a lifetime. In addition, this is a very hard and resistant material, so it is unlikely to shatter or to crack if a heavy object is dropped on it. That's what makes it a very good option for floor tiles. And what about marble tiles for the wall? Well, again, it's a fantastic material, as it is an excellent insulator, retaining warmth during the winter and staying cool during the summer.
There are, however, some aspects that you need to take into account when choosing marble over other materials. The main issue with marble is that, as a natural stone, it requires care and maintenance. It needs to be regularly polished and sealed, as it can lose its shine and absorb stains because of its high level of porosity.
Applications of Panda White Marble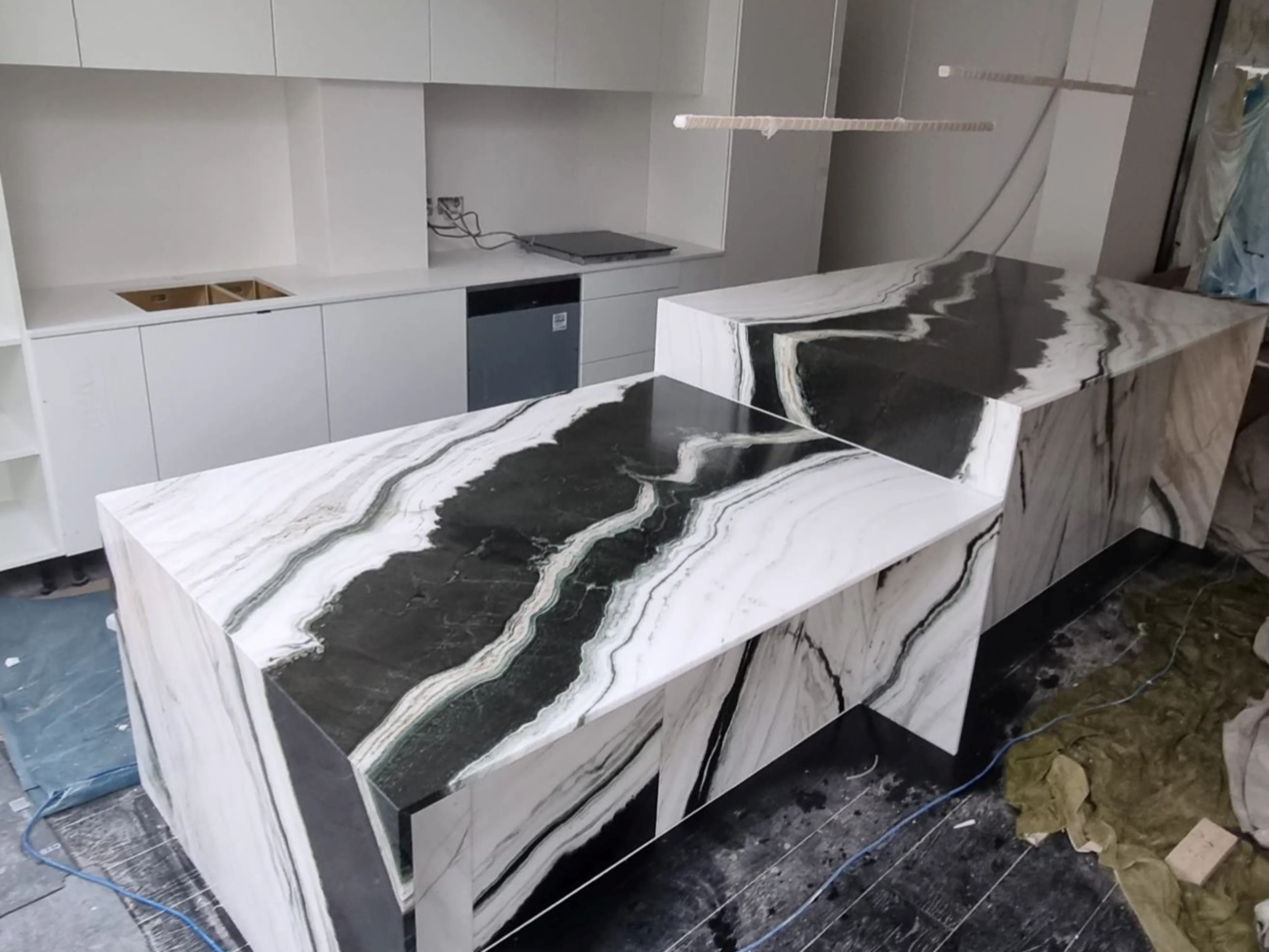 Panda white marble can be used for many types of surfaces. Most people choose this material for their kitchens, as it adds luminosity and style, without making a bold colour statement. If you decide to buy a panda white marble kitchen worktop, it will become the centrepiece of your kitchen, so we recommend plain floor and walls, as well as a limited quantity of ornaments and details. Otherwise, the combination could seem too overloaded.
Apart from the kitchen, panda white marble can also be used for bathroom vanities and surfaces. This works especially well in big spaces, as it captures the natural light and the beautiful pattern glows at its best. We do not recommend it for small spaces, as it can, once again, make the room feel overloaded.
To end with, panda white marble is also quite popular for floor tiles. As we have previously underlined, the natural properties of this stone make it a wonderful insulator and very resistant to impacts and crashing, so this floor could literally last a lifetime. In addition, the beautiful patterns of panda white marble will certainly give a stylish and modern look to your home, but they will not be as present as they would if they were used on a kitchen worktop, so this is a great solution for those looking for a more discrete style.
So, whether you're looking for a unique material for your home or you've always been a fan of the black and white combination, panda white marble clearly deserves an opportunity. This is an investment that will last a lifetime, so make sure to learn all the maintenance and care tips, and your worktop will look as good as new for a very long time. If you have any questions concerning this or any other material, don't hesitate to contact My Kitchen Worktop: our team will help you in any way they can.
Published by Jesus Alberto Mouzo on August 29, 2022