Kitchen remodels are both a fantastic opportunity to get creative and a very easy way of spending way more than you initially expected. This is why we want to help you find ways to save money on your next kitchen remodel, so you can allocate your budget where it matters. What follows are seven ways to stick to your budget and still get the kitchen of your dreams. Read on.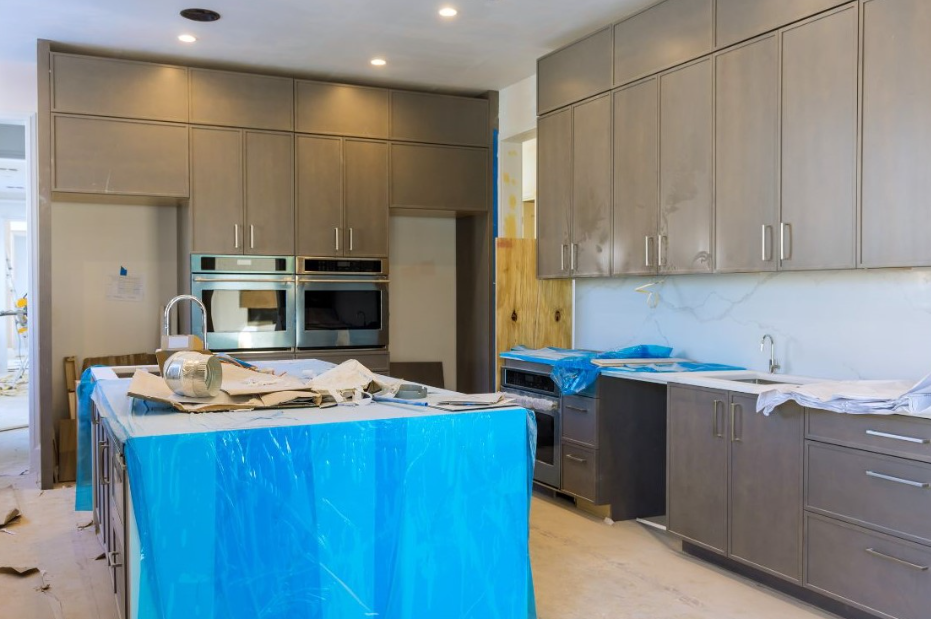 How to save money on a kitchen remodel
 1. Plan and budget beforehand
It may seem obvious, but one of the best ways to save money on a kitchen remodel (or on anything, for that matter) is to carefully decide what you need, how you want it and how much you are willing to pay. Let's put it this way: imagine going grocery shopping without a list and incredibly hungry, chances are that you'll end up buying way more things than you need, and possibly spending more than you should. Kitchen remodelling is the same, you need to decide what changes you need and how much money you are allocating to each of them, depending on their importance. Use your experience as the main user of that space to think of small but effective ways to improve it.
 2. Do not change the layout of your kitchen
 If you are happy with your current layout, stick to it. This will save you tons of money in architects, designers and construction workers, and there is no need to change something that already works. In many cases, people think that they only way to get the kitchen of their dreams is to copy and paste the design from the last cover page of a design magazine, but it is important to respect the space that we are given, and if this is the right layout for it, there really is no point in changing it. Think carefully about what you need, and you will end up saving more money on your kitchen remodel than you could have ever imagined.
3. Update the furnishing instead of the whole kitchen
 This tip goes in line with the previous one. There are many types of remodelling, and not all of them cover the whole kitchen. If you are looking for ways to save money on your kitchen remodel, changing part of the decor or the furnishing instead of the whole kitchen is way cheaper. A new colour for your cabinets, a new texture for your worktop or a new chandelier can have a tremendous impact on the final aesthetics of your kitchen, so do not underestimate small tweaks.
4. Do not rush your decisions
Once again, this tip on how to save money on a kitchen remodel can be applied to any other type of big expenditure. Instead of buying the first marble worktop that you find, compare prices and shop around: you may find a texture or a finishing that you like better, and, more importantly, you may pay way less for it. At the end of the day, suppliers have different prices than retailers, and each brand offers different discounts or conditions. There is no need to rush your kitchen remodel, so write down the numbers and make an informed decision taking your budget into account.
 5. Choose the perfect worktop for you
The thing with kitchen remodels is that you need to turn your kitchen into a practical space for you. Of course, aesthetics are important, and we love design as much as anyone else, but if you want to save money on your kitchen remodel, it is important to be aware of how you use your kitchen. This is especially important when it comes to the worktop. If you are a great cook, you will probably need a heat resistant material. On the contrary, if you only use your worktop as an eating surface, it'll be okay for you to buy a cheaper material. Once again, the key is to think things through: what type of stone is better for me and my needs? If you are not sure, do not hesitate to contact the team of experts at My Kitchen Worktop, and we will advise you.
 6. Recycle the cabinets
 Another interesting way of saving money on a kitchen remodel is to work with what you already have. If your cabinets are not very old, but you have grown tired of the way they look and the vibe that they give to the kitchen, there is no need to throw them away just yet. Hire a carpenter and get some new doors for them, or paint the old ones with a new shade that suits the new style of the kitchen. This way, you will save a lot of money, but still get the feeling of being in a different space. In addition, this is a very ecological solution, which is a very important point nowadays.
 7. Install open shelves instead of closed cabinets
 If you are not fully convinced by the previous tip, we have another alternative. Get rid of the old cabinets that you are so tired of and, instead of spending a huge part of your budget in a new set of cabinets, replace them with open shelves, at least partially. This not only saves money on the kitchen remodel, but it also helps your space become more open and luminous, and it gives your kitchen a modern touch.
So, to answer your question. How to save money on kitchen remodel? Basically, plan and prioritize your needs. Think carefully before making a decision and do not see a kitchen remodel as an ultimate integral transformation of this space, but rather as a tool to change the general aesthetics without having to alter the parts that are already working. If you follow these tips, you will definitely save money on your kitchen remodel. And, in case the worktop is part of that plan, do not hesitate to browse through our online catalogue in search of inspiration. Good luck!