Modern Ways to Fit Terrazzo Countertop in Your Home
In recent years, terrazzo has appeared to be more than just a flooring material. Nowadays, it's also used for making fantastic countertops, splashbacks, kitchen worktops, etc. You can use this stylish material in different forms to blend with your modern interior decor.
Terrazzo, meaning "terrace" in Italian, was created to be used in public areas due to its low-maintenance requirements and durability. But later, it was recognised as an easily customisable material to be used in interior decoration as well.
Planning to design a kitchen or bathroom? The trendy terrazzo tiles are wonderful options for creating swanky and colourful worktops, flooring and backsplashes in your home.
Advantages of Terrazzo Material
Besides being a customisable and trendy surface material, terrazzo worktops are practical. It is an eco-friendly material that's made from approximately 95% recycled materials, using the base of concrete or resin and chips of glass, marble, quartz or granite worktop.
Terrazzo has a dense surface that provides great resistance to knocks and accidental impact. Hence, it easily withstands the test of time.
This worktop material is also easy to clean and requires minimal maintenance. This means it's ideal for busy urban homeowners.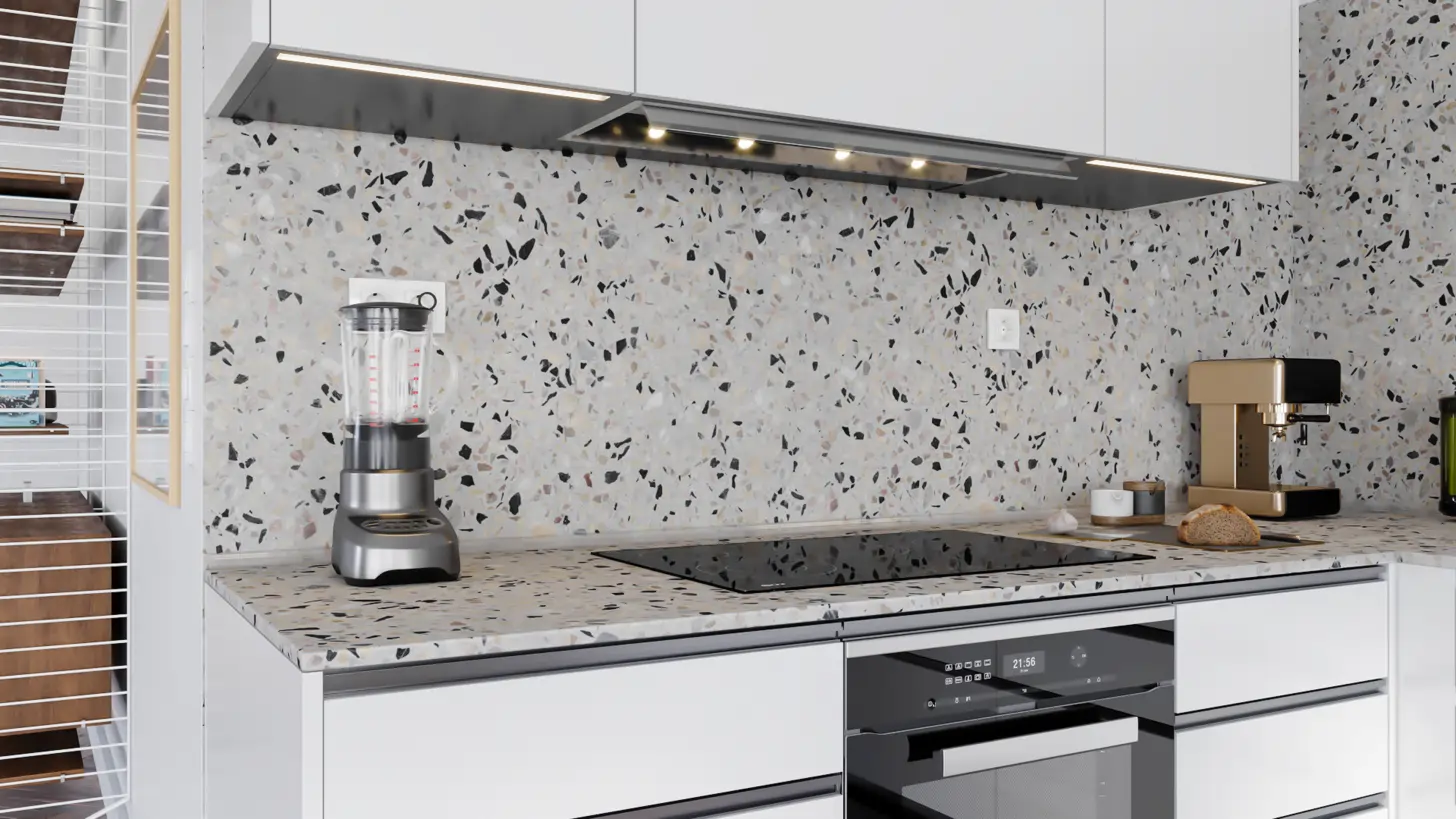 According to several home design experts, there are various modern ways to fit terrazzo into your home. Check out some ideas below:
Install Contrasting Terrazzo Inlay To Get A Dynamic Bathroom Scheme
You can make use of white terrazzo with contrasting black, red or any other bright coloured tile in your modern bathroom to mix-match interesting hues. This will give a chic and dynamic look to your shower room.
Pair Terrazzo Countertops With Metal Hardware In Cabinets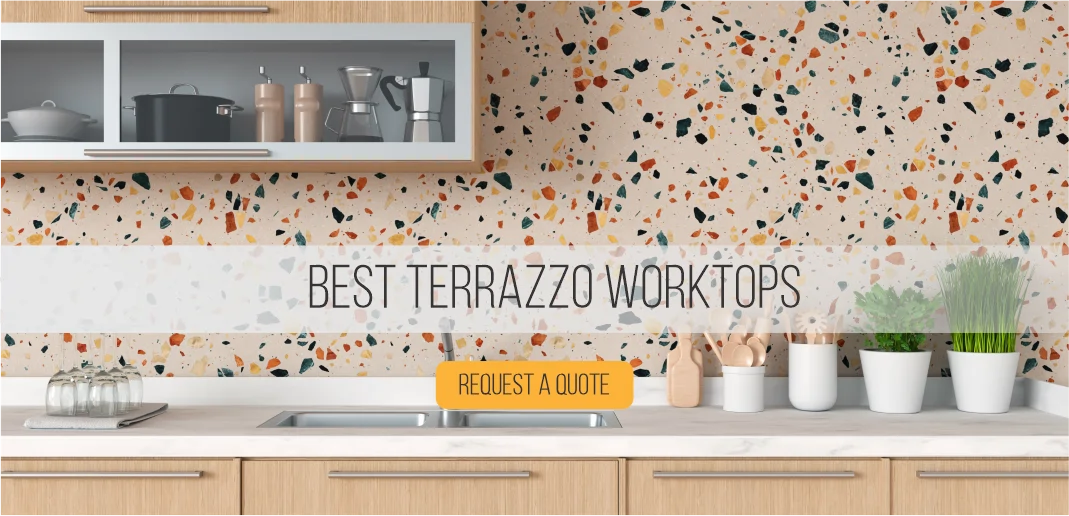 You can pair your stylish terrazzo countertop details with stylish metal hardware on cabinets. From brass and copper to stainless steel, you can choose any metal hardware depending on your personal preference.
A terrazzo-like surface can be used in larger chunks. For instance, you can use it as a worktop, flooring and splashback, provided you choose the right colour combinations. The result will blow your mind.
Choose Terrazzo Instead Of Cement Flooring In Open-plan Houses
The greyish terrazzo can give a unifying touch to any open-plan home. Moreover, it looks chicer and more polished compared to cement flooring.
Whether it's a bathroom or a kitchen, you can use terrazzo walls to create a whimsical vibe anywhere you desire. From subtle colours to bold hues, there are various options to choose for your stylish walls.
How About A Terrazzo Bar?
Besides terrazzo kitchen worktops, this stylish material can also be used to create fancy bar countertops. So, do give it a try if you want a chic home bar.
You can even create a stylish terrazzo bathroom countertop and spruce it up with a matching washbasin.
Create A Monotone Look With Terrazzo
Besides mix-matching, you may even choose a single terrazzo hue for creating the ultra-modern monotone look in your kitchen or bathroom.
Published by Jesus Alberto Mouzo on September 16, 2019